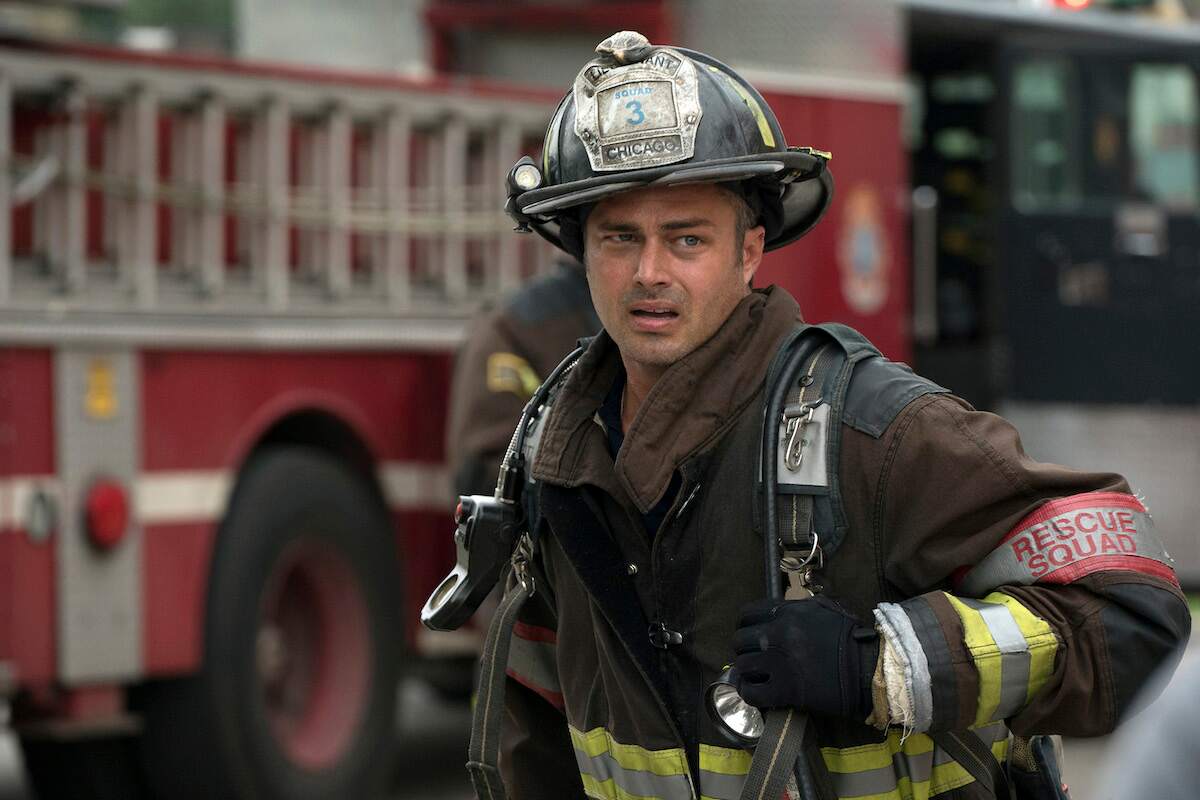 Taylor Kinney as Kelly Severide in 'Chicago Fire' | Elizabeth Morris/NBCU Photo Bank/NBCUniversal via Getty Images
Since Deadline reported that Kinney was taking time off to deal with a personal situation, Chicago Fire fans have expressed concern the actor might not return to the show. Kinney left the firefighting drama in January, and viewers eagerly await more details about his future with the program. According to
Chicago Fire fans were stunned upon learning Taylor Kinney would take a leave of absence from the show. Kinney, who plays the fan-favorite character Lt. Kelly Severide, is leaving to deal with a personal matter, and scripts are being rewritten to accommodate his absence. Now fans wonder whether the actor will be part of the Chicago Fire Season 12 cast if NBC renews the show. 
Will there be a 'Chicago Fire' Season 12?
a little behind-the-scenes fun with chicago fire ‍? pic.twitter.com/ZXoCEg6bnA
— One Chicago (@NBCOneChicago) February 16, 2023
Chicago Fire continues to be a ratings smash for NBC. For a show that hasn't skipped a beat in 10 years, it's a little surprising the network hasn't renewed the firefighter drama for additional seasons. When NBC last renewed Chicago Fire, the network did it at the beginning of the year and for numerous seasons. Now that it's March, fans are worried season 12 won't happen.
Susan Rovner, chairman of entertainment content for NBCUniversal's TV and streaming divisions, offered her thoughts. Rovner has been honest about the One Chicago franchise for years. When The Hollywood Reporter asked about the future of Chicago Fire, she said, "There's a lot of life, and all things stick well. And I'm sure good news will come soon." 
Though the answer was likely intentionally ambiguous, her "good news" remark hints NBC will renew Fire and its peer shows.
Will Taylor Kinney be part of the 'Chicago Fire' Season 12 if NBC renews the show?
Taylor Kinney as Kelly Severide in 'Chicago Fire' | Elizabeth Morris/NBCU Photo Bank/NBCUniversal via Getty Images
Since Deadline reported that Kinney was taking time off to deal with a personal situation, Chicago Fire fans have expressed concern the actor might not return to the show. Kinney left the firefighting drama in January, and viewers eagerly await more details about his future with the program. According to Deadline, the actor's leave was announced to the cast and crew, and script changes were made to account for his absence.
Kinney hasn't confirmed when or whether he'll return to Chicago Fire. Severide has been crucial to the show's plot, so if Kinney leaves, the writers will have a huge gap to fill.
If Kinney returns to One Chicago, seeing how the writers incorporate his absence into the storyline will be interesting. They will also have to develop a new arc for Severide that keeps the audience engaged and maintains the character's popularity. 
How was Kelly Severide written off the show?
Kelly Severide to be written off in 'Chicago Fire' as Taylor Kinney exit hinted https://t.co/3jHA2Ly2pP pic.twitter.com/aTTwV4pbJz
— Newsweek Culture (@NewsweekCulture) February 23, 2023
Related
The 'Chicago Fire' Season 11 Episode Featuring Baby Boxes Was Timelier Than Expected
Since it was announced that Kinney would leave Chicago Fire, fans had been speculating how the character would be written off. One popular theory had Severide visiting his friend Matthew Casey in Oregon. 
One fan wrote on Twitter, …read more
Source:: Showbiz Cheat Sheet
(Visited 2 times, 1 visits today)