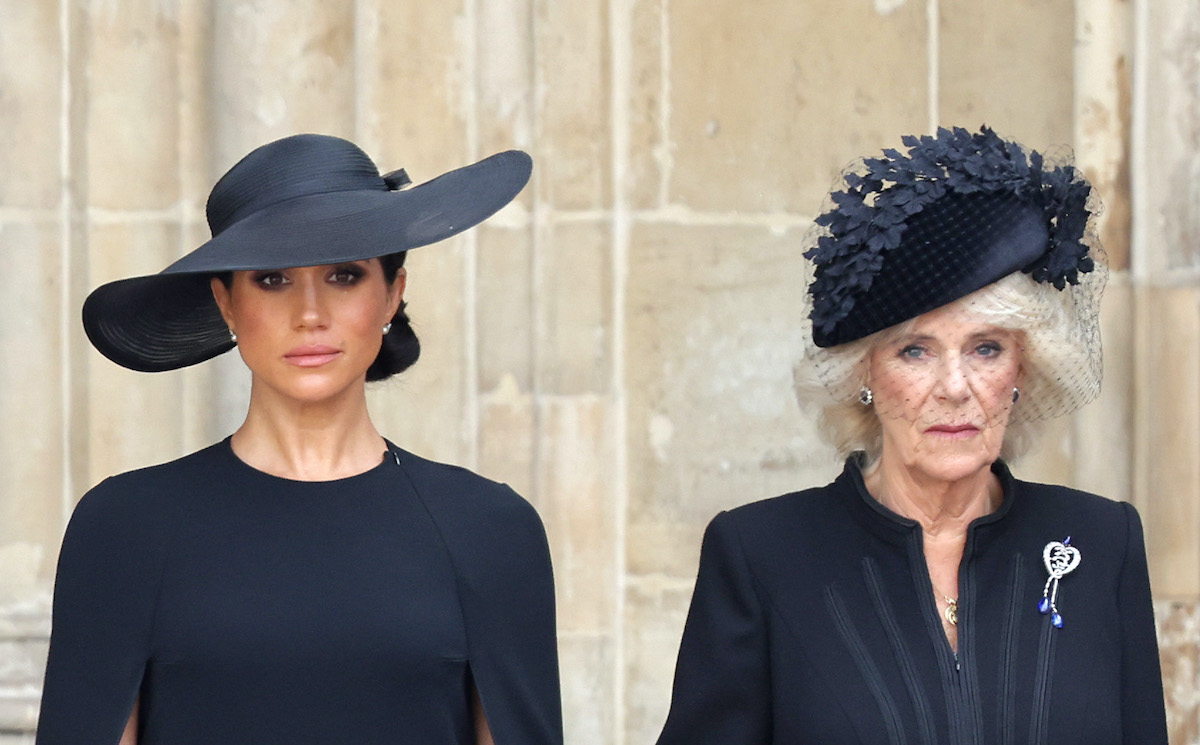 It's fair to say that Camilla Parker Bowles hasn't always been the most popular person in the royal family. Since The queen consort began her relationship with King Charles III while he was still married to his wife, the late Princess Diana, she was often treated less than kindly in the media. In fact, even though Camilla has been married into the monarchy for years, she is still hardly seen as popular amongst the public. However, it seems that she is currently more popular than Meghan Markle in the United States.
Meghan Markle and Camilla Parker Bowles | Chris Jackson/Getty Images
Meghan Markle grew up in the United States
It may surprise some people to learn that Meghan is less popular than Camilla in the U.S. After all, the Duchess of Sussex hails from The States. Born in California, Meghan had a fairly normal upbringing before attending Northwestern University in Illinois. Eventually, her interest in acting brought her back to Los Angeles, where she starred in shows like Deal or No Deal and Suits. But Meghan's life well and truly left the realm of the ordinary when she began dating Prince Harry.
The podcast host has received negative media attention since she began her courtship with Prince Harry
Dating a royal turned Meghan's life upside down. Though she'd been an actor previously, she'd never experienced the level of exposure and media attention that being associated with the royal family brought her. And the exposure was often negative even after the Archetypes podcast host officially wed Prince Harry and the couple welcomed their first child, Archie Harrison Mountbatten-Windsor. Ultimately, the detrimental effects that the media had on Meghan's mental health led her and Prince Harry to leave the royal family.
Camilla Parker Bowles is reportedly more popular than Meghan in the U.S. at present
Considering the vitriol often hurled and Meghan in the media, it's not too surprising that she has a low popularity rating. A recent report from Express claims that Meghan currently has an approval rating of -13 in The U.S. This low ranking is five points lower than that of her stepmother-in-law, Camilla, who also has a low ranking of -8.
Related
Meghan Markle's Royal Tailor Worked Until 4 a.m. To Fix the Bridesmaids' Dresses That Caused All the Drama With Kate Middleton
What might be responsible for Meghan's low approval ratings?
But exactly what is contributing to Meghan having a popularity rate that is even lower than Camilla's? It certainly stands to reason that the media's consistent negative commentary about the duchess could be contributing to the public's opinions. However, overexposure might also be a reason that Meghan's approval ratings continue to sink. Between her and her husband's Netflix special, Harry & Meghan, and Prince Harry's book, Spare, it may just be that some people are sick of hearing about the royals altogether.
Source:: Showbiz Cheat Sheet
(Visited 1 times, 1 visits today)