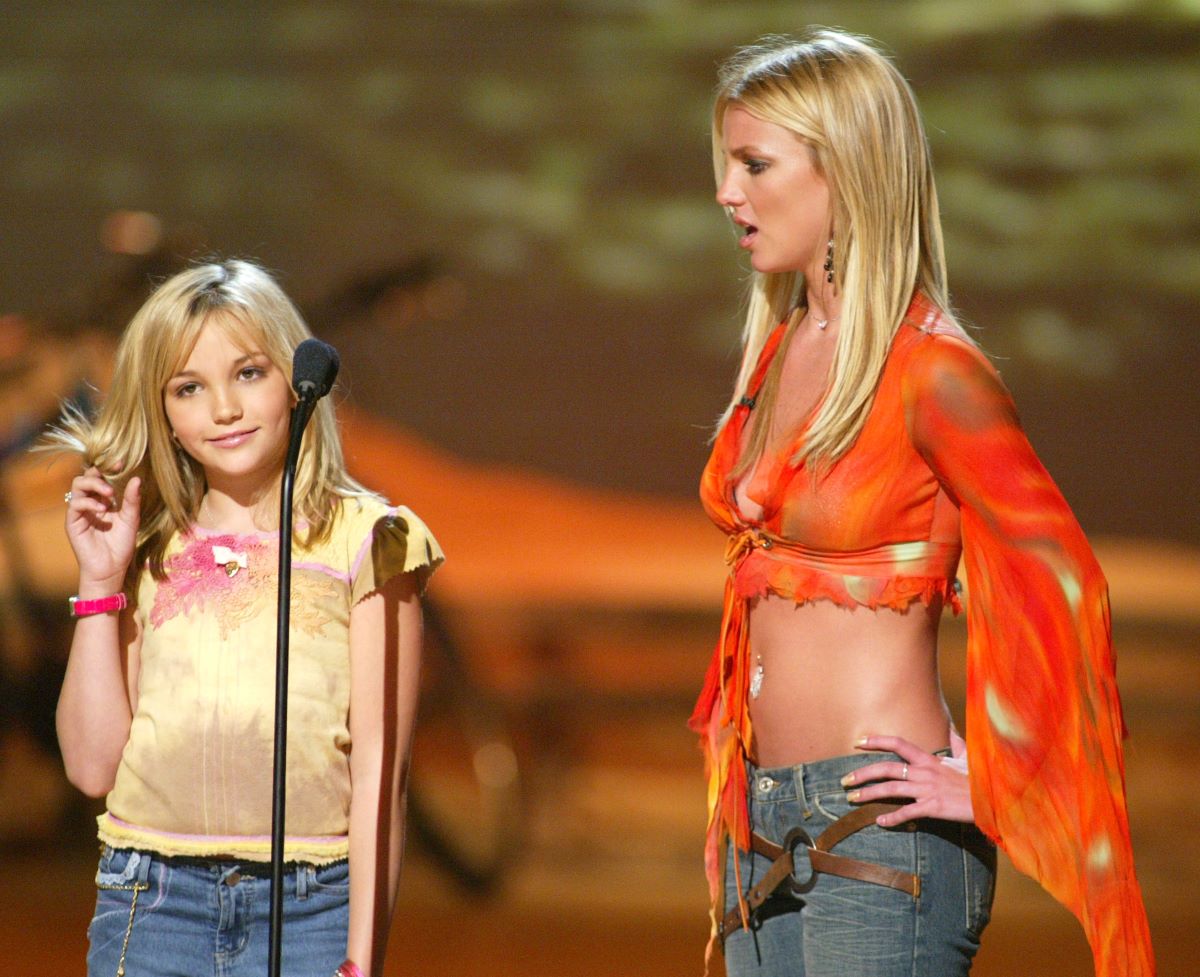 (l-r) Jamie Lynn Spears and Britney Spears | Kevin Winter/Getty Images/FOX
Britney Spears told a court, 'I would honestly like to sue my family.'
It seems that Britney Spears isn't done sharing her story of being locked
Superstar Britney Spears was among the many viewers who watched sister, Jamie Lynn, during her candid interview with ABC News. The younger Spears seemed to deflect any perceived blame for the abuses Britney Spears reportedly suffered while under conservatorship.
However, the pop star took to Twitter to accuse her little sister of attempting to "sell a book at [her] expense." She also let Jamie Lynn know exactly what she did to "bother" her, during the interview and before.
(l-r) Jamie Lynn Spears and Britney Spears | Image Group LA/Disney Channel via Getty Images
Britney Spears: Jamie Lynn Spears 'never had to work for anything.'
According to Britney Spears's Twitter post, Jamie Lynn did two things to "bother" her when she talked about her during the interview. First, she didn't like how she called her behavior "out of control."
"She was never around me much 15 years ago at that time… so why are they even talking about that unless she wants to sell a book at my expense?" Spears asked.
Then, she went on to explain more of her side of the story on another bothersome issue — the problem she had with Jamie Lynn Spears performing a medley of her hit songs.
"I know it may sound like a silly thing to most people but I wrote a lot of my songs and my sister was the baby," she explained. "She never had to work for anything. Everything was always given to her!!!"
So, it seems sitting through 15 minutes of Jamie Lynn Spears performing her biggest hits was too much to let pass. Spears said she asked her little sister why she did it, knowing that it bothered her. According to her, "Her only words were, 'Well it wasn't my idea.'"
"Hope your book does well, Jamie Lynn!!" Spears then offered, referring to Things I Should Have Said.
After that, she took broader aim at her family. "My family ruined my dreams 100 billion percent and try to make me look like the crazy one …"
pic.twitter.com/yZBEysen4O
— Britney Spears (@britneyspears) January 13, 2022
Jamie Lynn Spears: 'I've always been my sister's biggest supporter.'
During Jamie Lynn Spears' chat with ABC News, she lamented the state of her relationship with her sister. "That love is still there, 100%. I love my sister," she said. "I've only ever loved and supported her and done what's right by her, and she knows that. So I don't know why we're in this position right now."
"I've always been my sister's biggest supporter," she declared in the interview and claimed she even tried to help "possibly go ahead and end" the conservatorship. "[I] went out of my way to make sure that she had the contacts she needed …" she offered.
But when asked point-blank if she "didn't always agree" with the conservatorship, she notably didn't seize the opportunity to give a firm answer. Instead, she said, "It wasn't about agreeing with …read more
Source:: Showbiz Cheat Sheet
(Visited 7 times, 2 visits today)