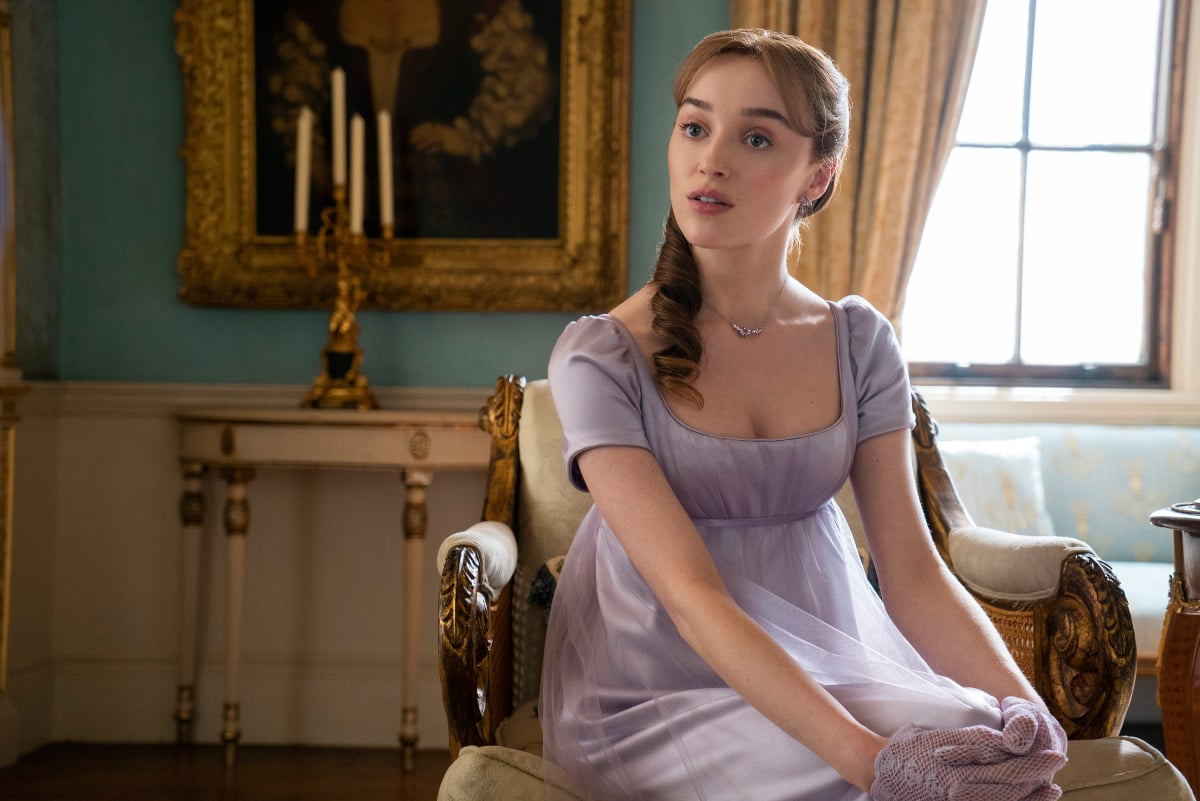 Phoebe Dyvenor as Daphne Basset in 'Bridgerton' | Liam Daniel/Netflix
Anthony and Kate will return for 'Bridgerton' Season 3
Bridgerton Season 2 focused on Anthony Bridgerton and Kate Sharma's romance. Anthony's decision to find an amiable yet loveless match is thrown off the rails when he falls in love with Kate. The season ended with the
Bridgerton Season 3 is moving on to a different Bridgerton sibling's love story. Season 1 focused on Daphne Bridgerton, while season 2 followed Anthony. Now season 3 will tell the story of Colin's romance with Penelope Featherington. Will Daphne and the other Bridgerton siblings still be in the new season?
Phoebe Dyvenor as Daphne Basset in 'Bridgerton' | Liam Daniel/Netflix
Anthony and Kate will return for 'Bridgerton' Season 3
Bridgerton Season 2 focused on Anthony Bridgerton and Kate Sharma's romance. Anthony's decision to find an amiable yet loveless match is thrown off the rails when he falls in love with Kate. The season ended with the pair happily married. Since Anthony is the viscount, fans expected to see him and Kate in future seasons.
Kate actor Simone Ashley confirmed that she and Jonathan Bailey, who plays Anthony, will return for Bridgerton Season 3. "We're going to be back! Kate and Anthony are just getting started," she revealed to Deadline. "I think everything is just starting. I'd like to see Kate just let go a bit more and play more in Season 3 and kind of swim in that circle of love together," the actor continued. "I think they both deserve it."
Jess Brownell wants to see Daphne and all the Bridgerton siblings in future seasons
Season 1 of Bridgerton focused on Phoebe Dynevor's character Daphne Bridgerton and her whirlwind romance with the Duke of Hasting's Simon Basset. Dynevor returned for over half the episodes in season 2. However, Regé-Jean Page did return to his role as the Duke.
Jess Brownell steps into the role of showrunner for Bridgerton Season 3. Brownell confirmed to Variety that Dynever will return for season 3. "We want to keep seeing all of our Bridgerton siblings," Brownell told the outlet.
"We feel like those moments when the whole family is together is what really makes the show and makes all of us, I think, want to be a Bridgerton. So yes, you will definitely be seeing Daphne, Anthony and Kate — how much, I don't want to say quite yet, but you have to tune in."
Related
'Bridgerton' Season 3: 5 Characters We Don't Expect to Return
With this statement in mind, fans should expect to see Claudia Jesse (Eloise Bridgerton), Luke Thompson (Benedict Bridgerton), Florence Hunt (Hyacinth Bridgerton), and Will Tilston (Gregory Bridgerton) return for season 3 as well. Hannah Dodd will take over the role of Francesca Bridgerton in the new season following Ruby Stokes' exit.
Regé-Jean Page will not return to his role as the Duke of Hastings
Although Daphne will return for Bridgerton Season 3, fans shouldn't expect to see Regé-Jean Page as the Duke of Hastings, Simon Basset again. Page has made it clear that he has no intention of returning to the role.
However, the actor told Variety that the show is more than welcome to recast him. "They're free to do as they like," Page told the outlet …read more
Source:: Showbiz Cheat Sheet
(Visited 1 times, 1 visits today)