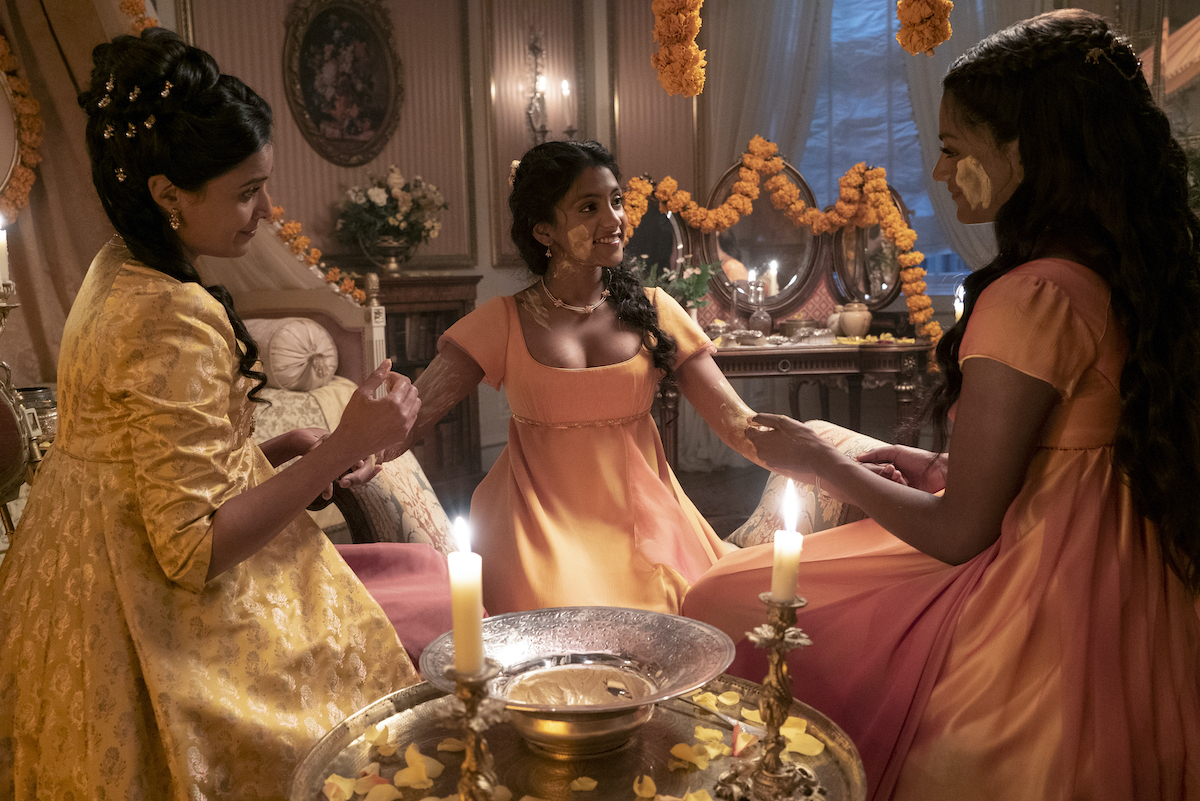 In 2022, Bridgerton, the racy regency drama, came back for a second season and was just as scandalous and engrossing as the first. The Shondaland production made waves in its first season for featuring people of color in a genre that has historically been filled by white actors.
In season two, the Sharma family—Kate (Simone Ashley), her younger sister Edwina (Charithra Chandan), and their mother Mary (Shelley Conn)—added to this diversity in a big way.
Shelley Conn as Mary Sharma, Charithra Chandran as Edwina Sharma, Simone Ashley as Kate Sharma | Liam Daniel/Netflix
Originally introduced in Julia Quinn's books as the Sheffield family, the debutantes in the Netflix series are recast as newcomers to the ton from India, with Kate's mission being to marry off Edwina to a good husband.
'Bridgerton' Season 2 paid homage to Indian culture
Bridgerton Season 2 features even more of the same romance, froth, and scandal that made the first season so successful, but with a new twist provided by the Sharma family and their incorporation of Indian cultural themes.
Particularly, many South Asians felt "seen" for the first time in the entertainment industry after Simone Ashley was cast as Kate Sharma. Thankfully, the representation is more than just the casting and last names of the characters. The Sharmas' Indian heritage is represented throughout the episodes through small yet meaningful touches.
"didi" means "older sister" in hindi. what do you call your siblings?
?: @Bridgerton is now streaming! pic.twitter.com/QvIfmHhjbD
— Golden (@netflixgolden) March 25, 2022
In one of the most endearing references, Edwina respectfully refers to her older sister as Didi (a Hindi word meaning "elder sister"). At the same time, Kate calls her "Bon" (Bengali for "little sister"). The Sharma sisters call their dad "Appa," a term borrowed from Indian dialects, according to MovieWeb.
While many noted that Kate and Edwina are both very Western-sounding names, Anthony, Kate's future husband, reveals in the series finale that her full name is actually Kathani.
Edwina's pre-wedding ceremony with Lady Mary and Kate is a traditional Indian event called Haldi
When spread on an unmarried person, haldi will help them find a worthy partner that makes the rest of the world quiet. pic.twitter.com/IjYo1YXraQ
— Bridgerton (@bridgerton) May 19, 2022
Throughout the season, there are references to Indian culture, including the one right before Edwina and Anthony's wedding in episode six. While Edwina is getting ready for her wedding, the episode opens with a string cover of the enormously popular Bollywood song "Kabhi Khushi Kabhie Gham."
The women of the Sharma household get together, all in yellow, to apply turmeric paste to Edwina's body and face. According to Netflix's Tudum, the ritual—called a Haldi ceremony—is an age-old Indian custom performed before a wedding to provide good luck to the bride and groom.
During the ceremony, friends and family members bless the couple by smearing them with a paste made of haldi (turmeric), rosewater, and gram flour. Besides its antibacterial …read more
Source:: Showbiz Cheat Sheet
(Visited 1 times, 1 visits today)