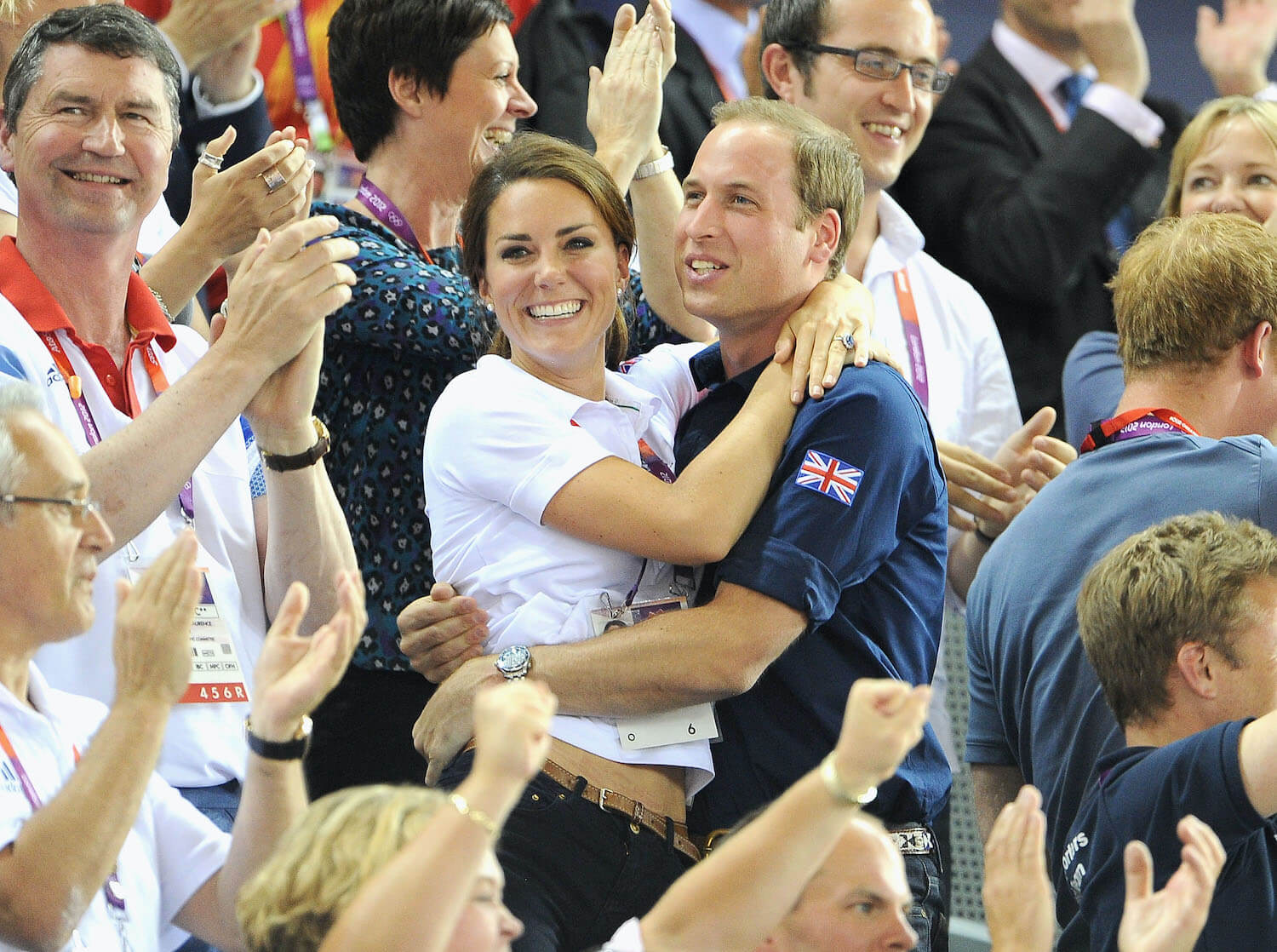 Kate Middleton and Prince William | Pascal Le Segretain/Getty Images
Prince William and Kate Middleton's 'most authentic' PDA moment happened in 2012, expert says
Prince William and Kate Middleton made headlines for their flirty PDA moment at the BAFTAs when Kate gave her husband a pat on the butt. According to a body language expert, there's another moment of PDA between William and Kate that is "more telling" than that viral red carpet tap.
Kate Middleton and Prince William | Pascal Le Segretain/Getty Images
Prince William and Kate Middleton's 'most authentic' PDA moment happened in 2012, expert says
Body language expert Judi James analyzed Prince William and Kate's "most authentic" PDA moment that happened during the 2012 London Olympics.
William and Kate were seen celebrating Team GB winning a gold medal — with William grabbing his wife and hugging her tightly. Kate reciprocated, wrapping her arms around her husband's neck and beaming joyfully.
"Moments of intense and spontaneous celebration like this tend to shine a very telling light on relationships, both friendships and partnerships," James explained to Express.
William 'dropped all his inhibitions' in moment with Kate, body language expert says
The body language expert looked at how William "dropped all his inhibitions" during the celebratory moment.
"For Kate and William, this was a moment that took William, in particular, out of his royal role to act, feel and behave like any other sporting fan when their team wins," the expert noted.
She continued, "His body language shows he has dropped all his inhibitions as he is swept up in a burst of adrenalin."
William's facial expression is pure joy in the moment. "His mouth is open in the widest form of a smile and it is a measure of their bonding that he clearly feels compelled to share this moment of intense happiness with Kate," James said.
Related
Prince William and Kate Middleton Have 'Broken the Mold' When It Comes to Raising Royal Children, Author Says
Kate Middleton Follows 3 Simple Hair Rules for Her Flawless Look
Prince William and Kate Middleton Display 'Intense' Body Language That Shows 'Their Bonding as a Couple,' Expert Says
Expert explains why William and Kate's Olympics PDA Moment is different from their BAFTAs PDA
James also compared the Olympics PDA moment to the BAFTAs moment and pointed out why the 2012 embrace was so "authentic."
"As a result, we get what is probably the most authentic PDA between the normally-reserved couple," she said. "The power of the moment and spontaneity of their mutual responses make it more telling than even their latest tactile and flirtatious outing on the BAFTA red carpet."
The spontaneity of the cute moment during the Olympics was the result of their team winning. "The important thing here is that they will have forgotten the cameras here and just allowed a moment of pure instinctive reaction to the stimulus of the win," James noted.
The body language expert continued, "The fact that William throws his arms around Kate to share the celebration places her in the league of a best friend as well as a life partner."
James noted, "Their celebratory signals here are matching, showing shared thinking and shared enjoyment. …read more
Source:: Showbiz Cheat Sheet
(Visited 1 times, 1 visits today)