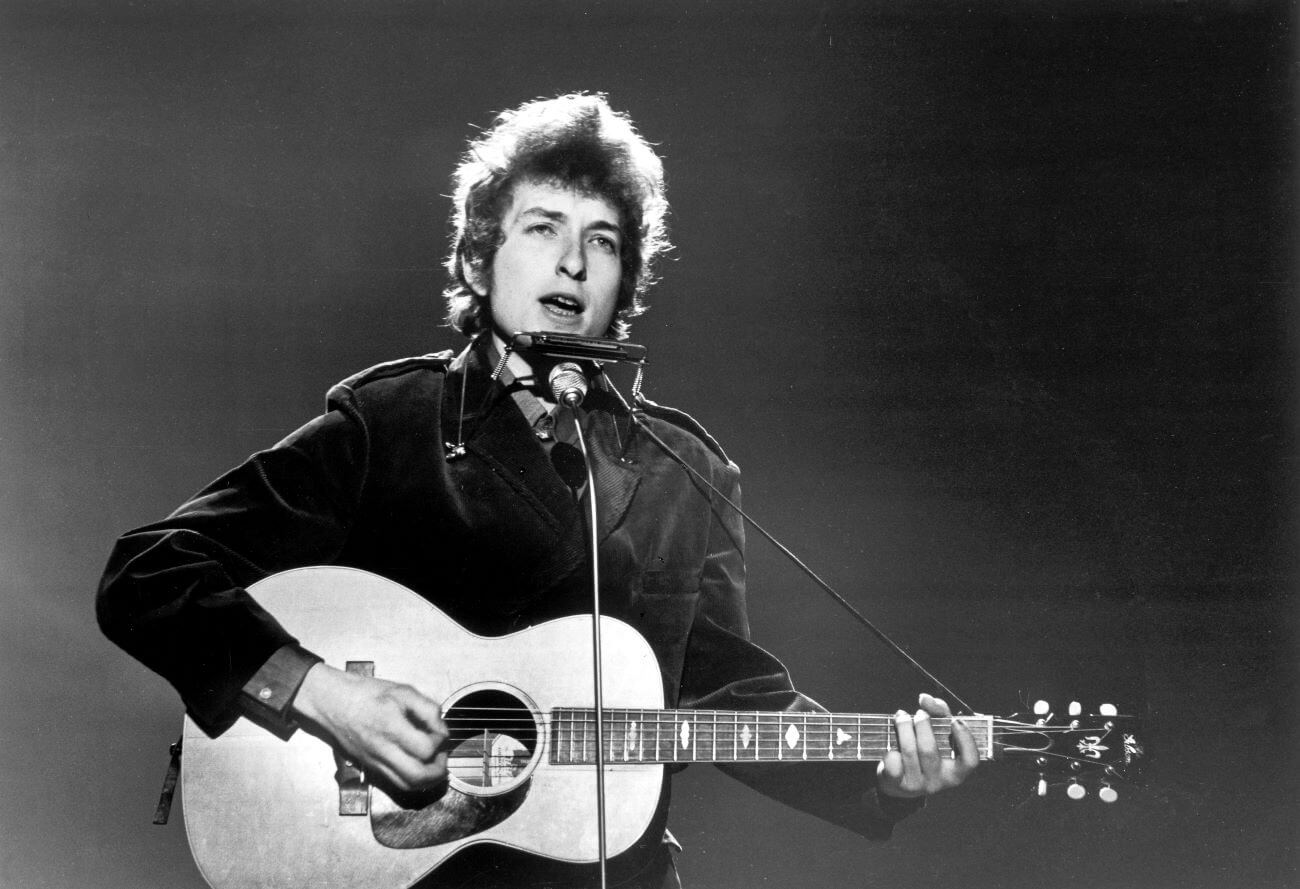 In the early 1960s, Bob Dylan released a number of protest songs that kick-started his career. By the mid-60s, he had moved away from protest music, even claiming that he had never had any interest in the genre. It's difficult to separate Dylan from protest songs like "Blowin' in the Wind" and "Masters of War," but he has kept his distance from protest music for the vast majority of his career. 
Bob Dylan | Val Wilmer/Redferns
Bob Dylan started his career singing protest songs
Dylan has released a number of immediately recognizable protest songs, but he released most of them at the beginning of his career. His 1963 album The Freewheelin' Bob Dylan held many of his classics, like "Masters of War" and "A Hard Rain's a-Gonna Fall," were topical and scathing criticisms.
Dylan's music even brought him to the March on Washington in 1963, which he said was an incredibly moving experience.
"I looked up from the podium and I thought to myself, 'I've never seen such a large crowd,'" Dylan said, per Rolling Stone. "I was up close when King was giving that speech. To this day, it still affects me in a profound way."
Bob Dylan said he was never really a protest singer
Though he is often still thought of as a protest singer, he actively moved away from the reputation. When asked if he had lost interest in protest songs, Dylan said he hadn't. He just hadn't liked protest songs to begin with.
"I haven't lost any interest in protest since then. I just didn't have any interest in protest to begin with — any more than I did in war heroes," he told Playboy in 1966. "You can't lose what you've never had."
He explained that he considered protest songs to be a drag, saying that they were meant for "college newspaper editors and single girls under 14." It's a bit surprising coming from a person whose songs frequently top lists of the best protest songs. Still, does Dylan's skill at writing really make him a protest singer? 
Related
Bob Dylan Used to 'Walk out of the Room' if He Heard Paul McCartney Playing Music
Dylan's desire to distance himself from protest songs may also have been his attempt to set himself apart as an artist. When he first moved to New York, he did so to meet Woody Guthrie, one of his idols. After hearing a Guthrie album, he changed his style of dressing, traded in his birth name of Robert Zimmerman in favor of Bob Dylan, and even adopted an accent. In his early performances, he mostly played covers of Guthrie's music. He had discovered a new idol and was, in many ways, attempting to be him.
This was also clear when Dylan began writing music. Though he penned the songs, they were clearly influenced by Guthrie, who primarily wrote anti-fascist music. His influence on Dylan's songs — particularly ones like "Blowin' in the Wind" and "The Times They Are A-Changin'" — comes through clearly. 
When Dylan …read more
Source:: Showbiz Cheat Sheet
(Visited 2 times, 1 visits today)