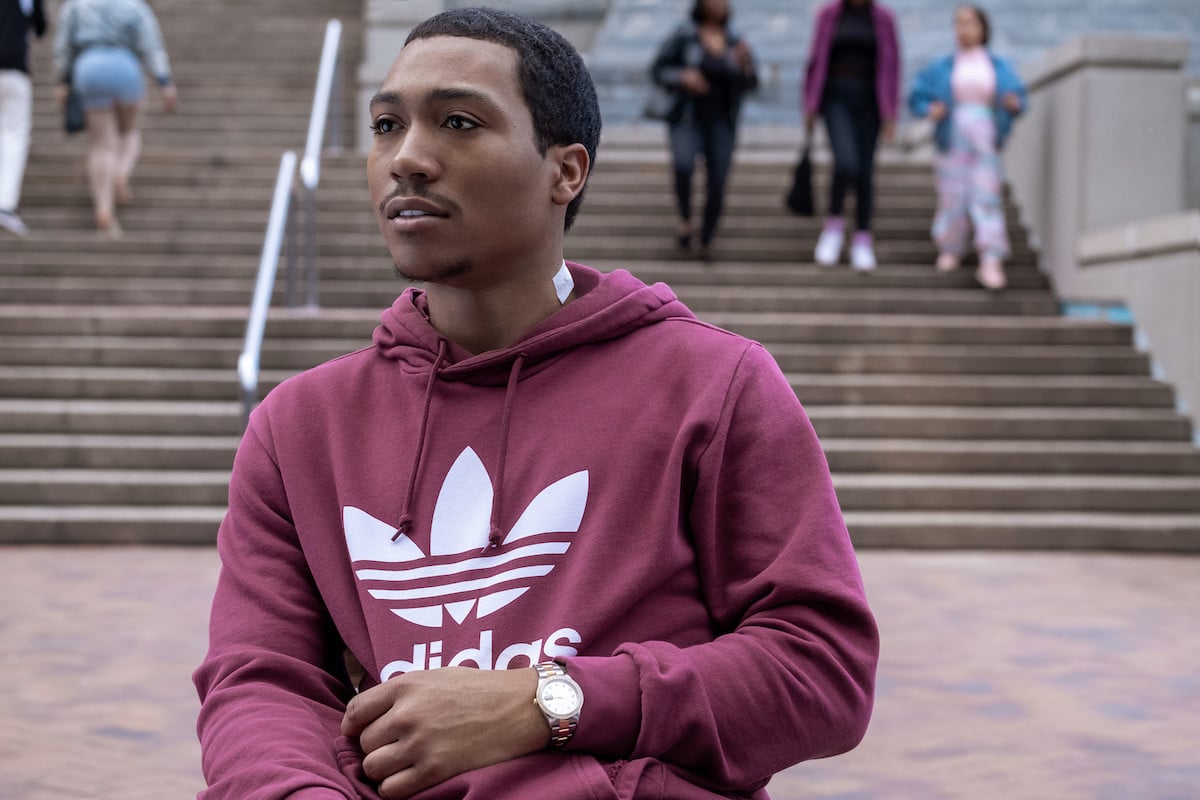 Demetrius 'Meech' Flenory Jr. as Demetrius 'Big Meech' Flenory in 'BMF' | Starz
'BMF' Season 2 finale
BMF is ending its second season with some explosive moments, and Meech is addressing that shocking nude scene from episode 209. The Starz drama series is based on the real-life experiences of the Flenory brothers, who rose from the inner city of Detroit to become two of the biggest drug traffickers in the country. In the series, Demetrius "Meech" Flenory Jr. portrays his real-life father, Demetrius "Big Meech" Flenory Sr. Meanwhile Da'Vinchi stars as Terry "Southwest Tee" Flenory.
As the season winds down, Meech has much to say about that shocking nude scene.
Demetrius 'Meech' Flenory Jr. as Demetrius 'Big Meech' Flenory in 'BMF' | Starz
'BMF' Season 2 finale
After laying the groundwork in Atlanta, Meech and Terry are slated to make major moves in the BMF Season 2 finale. Episode 210 is titled "New Beginnings." The official episode description reads, "Meech and Terry finally handle Detective Bryant, Lamar, and B-Mickie before charting the next big step for BMF's expansion, which will change the course of their relationship
forever."
Those who know the Flenory brothers' story know that as successful as Meech and Terry would become. Eventually they would become estranged. Season 2 has already hinted at that estrangement, especially as Terry has gotten closer to his married lover Markisha (La La Anthony). This relationship will undoubtedly cause issues in season 3.
"Meech has this thing with Markisha. Meech does not like Markisha at all," Da'Vinchi told POPSUGAR. "And I think that starts making the brothers build a certain tension again, which some could argue and say that that could be part of the brothers' demise."
That episode was wild. Catch y'all next week for the #BMF season 2 finale droppin' next Friday. Y'all ready? #BlackMafiaFriday pic.twitter.com/9Z8LcZ5HuA
— BMF (@bmfstarz) March 10, 2023
'BMF' Meech addressed that shocking nude scene
Still, BMF Season 2 hasn't been entirely tense. Fans had much to say about episode 209, "High Treason." During the episode, Meech, Terry, and their crew were in Atlanta for Freaknik. During an evening out at the Magic City strip club, Meech had a sexual interaction with a dancer.
During the scene, his private area was seen on screen, and fans debated over the fact if it was real or a prosthetic. One BMF fan commented on Instagram, "So y'all all gone act like y'all don't know that was fake? Be fr. It was way too high up on his stomach for one. For two, it looked fake."
Meech clearly took offense to the comment because he responded by saying, "Stop hatin' b****"
The explosive #BMF Season 2 finale premieres this Friday at midnight on @STARZ! Written by @TVsRandyHuggins and @JazmenDarnell! pic.twitter.com/HaxS5D7mng
— Mike Nguyen Le (@WriterLe) March 15, 2023
Related
'BMF' Season 2 Finale Overview
'BMF' Season 3
With such an explosive second season of BMF, fans are eager to see what's in store for the third season. Starz has already renewed the season …read more
Source:: Showbiz Cheat Sheet
(Visited 2 times, 1 visits today)