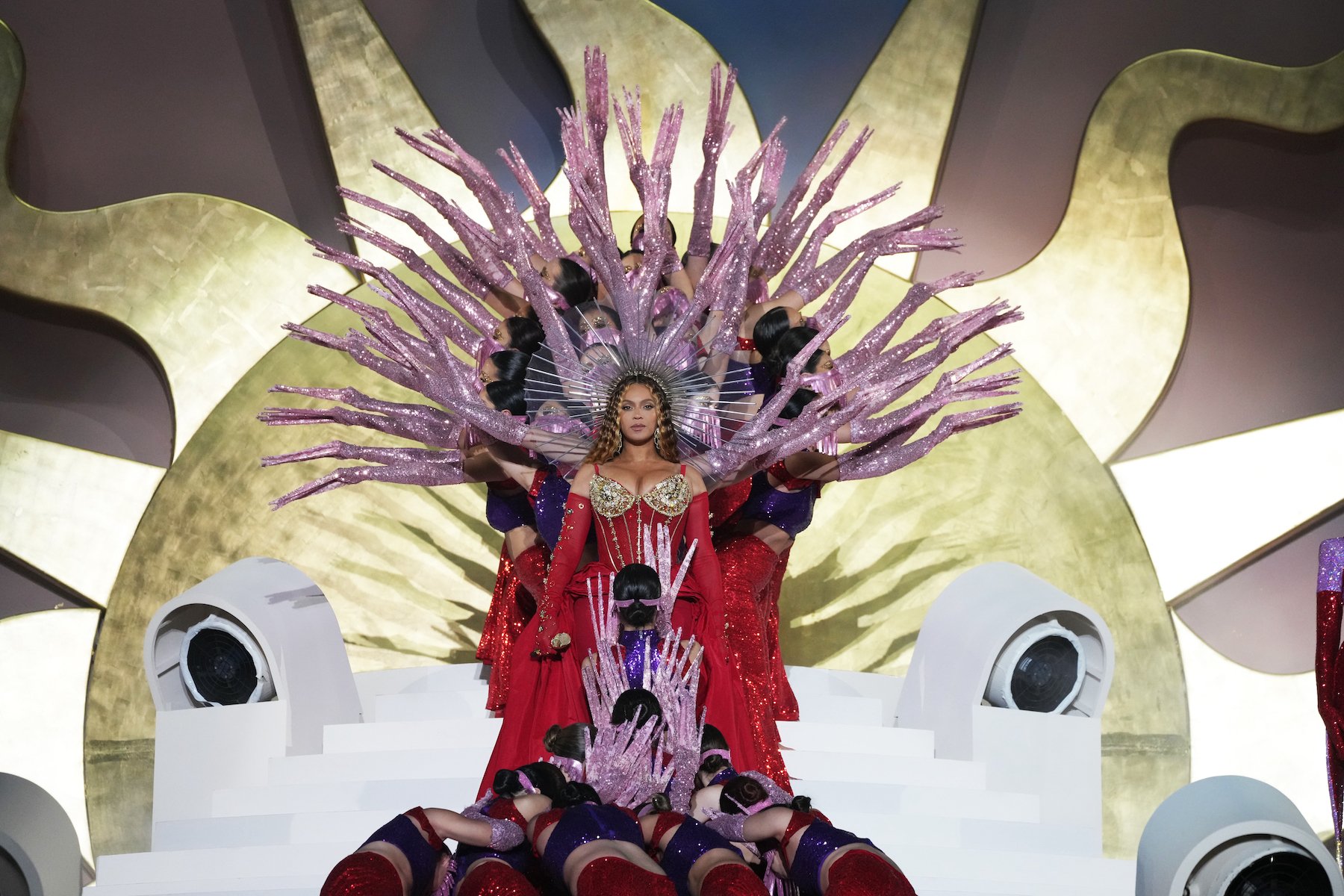 Beyoncé | Kevin Mazur/Getty Images for Atlantis The Royal
Beyoncé performed at Atlantis The Royal hotel in Dubai
Beyoncé's exclusive performance at the opening of Atlantis The Royal hotel in Dubai has dominated social media as leaked clips from the performance make their way online. But despite it being Beyoncé's first live performance in years and her first since the release of her smash seventh studio album Renaissance in July 2022, Beyoncé didn't break out any songs from the new album in her Dubai performance.
Beyoncé | Kevin Mazur/Getty Images for Atlantis The Royal
Beyoncé performed at Atlantis The Royal hotel in Dubai
Beyoncé's performance at the grand opening of the luxurious Atlantis The Royal hotel in Dubai was invite-only, but members of the BeyHive around the world were thrilled about Beyoncé's reemergence on stage regardless of them not being able to experience it in person.
The show featured plenty of unforgettable moments, from Beyoncé's daughter Blue Ivy Carter joining her mom on stage for a rendition of "Brown Skin Girl" to a soaring rendition of her hit song "Drunk in Love."
The show was a lucrative opportunity for Beyoncé. TMZ reported that Bey was paid $24 million USD for her performance at the massive hotel opening. The Daily Mail reported that the figure was as high as $35 million.
Beyoncé didn't perform anything from 'Renaissance' in Dubai
Since the release of her seventh album Renaissance in July 2022, Beyoncé fans have been desperate to hear or see anything from the singer, as she has yet to release any visuals attached to the album. Luckily for them, Beyoncé didn't play any songs from Renaissance, and instead saved the first performances of any Renaissance songs for the purported Renaissance tour coming later this year.
Beyoncé first spoke about the kind of songs that were on Renaissance — and even hinted at the album's eventual title — in a September 2021 interview with Harper's Bazaar. 
"With all the isolation and injustice over the past year, I think we are all ready to escape, travel, love, and laugh again," she said at the time. "I feel a renaissance emerging, and I want to be part of nurturing that escape in any way possible." 
Related
What Jay-Z and Beyoncé Have Said About Their Intimate 2008 Wedding
The setlist for Beyoncé's Dubai performance
Instead of playing anything from Renaissance, Beyoncé performed songs from her entire discography, from her 2003 debut solo album Dangerously In Love through her 2019 album The Lion King: The Gift album. She opened the show with a cover of Etta James' beloved song "At Last" — which she famously performed at the inaugural ball for Barack Obama — and closed the show with her now-viral "Drunk in Love" performance, complete with fireworks and water features. The Lion King: The Gift songs "Brown Skin Girl," "Otherside," "Bigger," and "Spirit" were all performed live by Beyoncé for the first time ever. It also marked the first time in over a decade that she performed her 2006 Shakira collab "Beautiful Liar."
"At …read more
Source:: Showbiz Cheat Sheet
(Visited 1 times, 1 visits today)