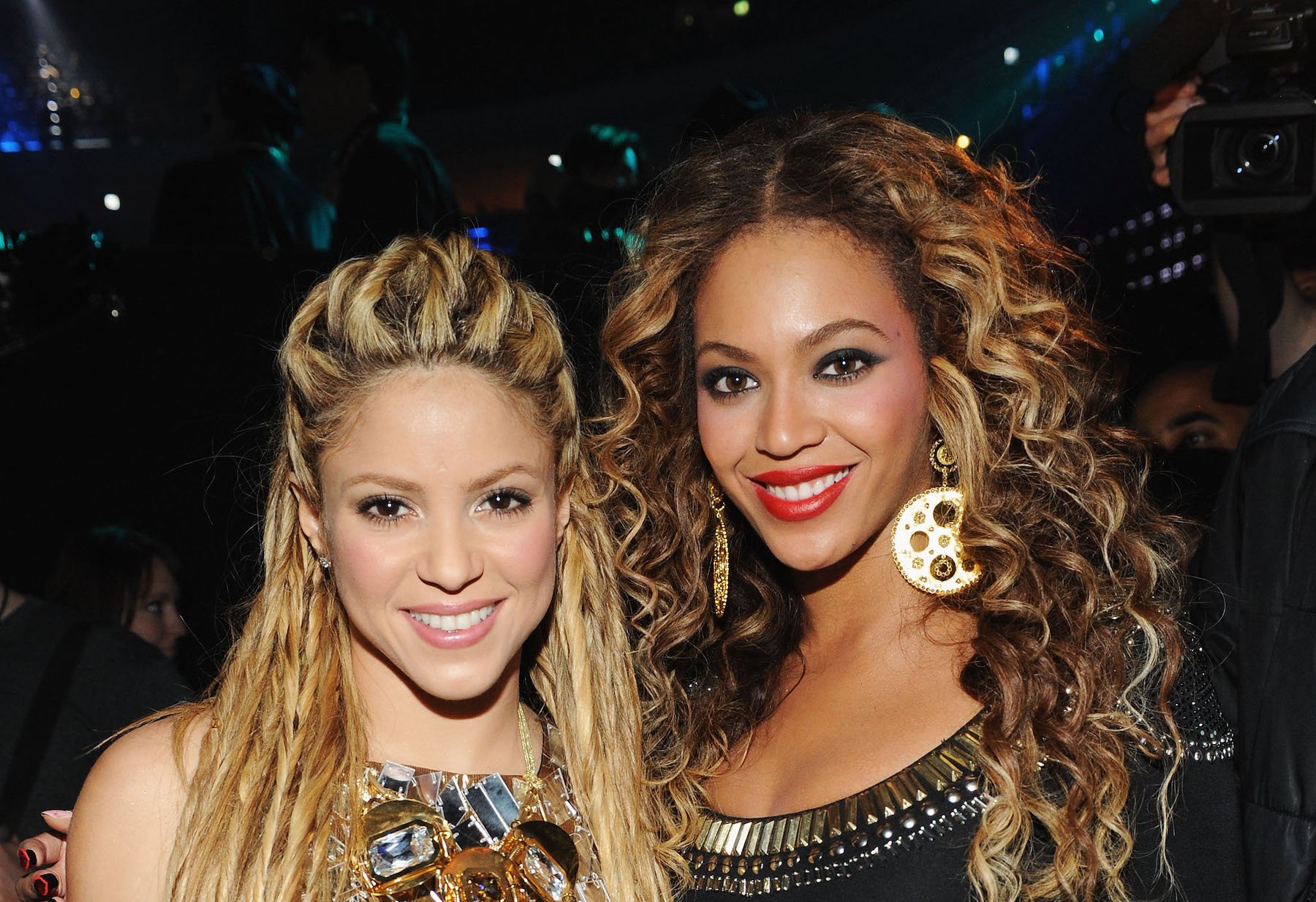 Shakira & Beyoncé | Kevin Mazur/WireImage
Beyoncé and Shakira collaborated for 'Beautiful Liar'
In the mid-2000s, Beyoncé and Shakira were two of the biggest pop stars in the world, with No. 1 hit singles to their name such as "Baby Boy" and "Hips Don't Lie."
Beyoncé's performance at the grand opening of Atlantis The Royal resort in Dubai was a highly-anticipated event by Beyoncé fans around the world, despite the exclusive concert being invite-only. During the show, fans captured snippets of the show (which had a no-phone policy) and the various songs Beyoncé performed. One of them, her 2006 collab with Shakira, "Beautiful Liar," was brought out of retirement from Beyoncé's set lists.
Shakira & Beyoncé | Kevin Mazur/WireImage
Beyoncé and Shakira collaborated for 'Beautiful Liar'
In the mid-2000s, Beyoncé and Shakira were two of the biggest pop stars in the world, with No. 1 hit singles to their name such as "Baby Boy" and "Hips Don't Lie." On her birthday in 2006, Beyoncé released her sophomore album B'Day. The LP contained songs that became smash hit singles, including "Déjà Vu," "Ring the Alarm," "Irreplaceable," "Beautiful Liar," "Get Me Bodied," and "Green Light."
"Beautiful Liar" was produced by pop production duo Stargate, who has been behind hit songs for artists including Michael Jackson, Janet Jackson, Mariah Carey,  Lionel Richie, Britney Spears, and Rihanna. The song was released as a single from B'Day in early 2007 and went on to peak at No. 3 on the Billboard Hot 100 chart.
In a 2007 interview with MTV News, Beyoncé explained that her collaboration with Shakira was born out of a mutual respect and love for each other's artistry. "We always say how much we respect each other and we want to do a song together, and after a couple of years it finally happened," Beyoncé said of her Shakira collab. "We did it 'cause we're both fans of each other and respect each other's work."
Beyoncé performed 'Beautiful Liar' for the first time in 12 years at her Dubai concert
"Beautiful Liar" became a part of Beyoncé's set list on her 2007 world tour, The Beyoncé Experience. Beyoncé has only performed the song live on TV once, and Shakira has never included it in her live performances throughout the years since its release.
For her special concert at Dubai's Atlantis The Royal hotel, Beyoncé brought back "Beautiful Liar" for a mesmerizing performance of her 2007 hit. According to setlist.fm, it was the first time since 2011 that Beyoncé has performed the song. Her last time singing "Beautiful Liar" live, according to setlist.fm, was on the 4 promo tour in Paris in June 2011.
"Beautiful Liar" wasn't the only song from B'Day that Beyoncé performed in Dubai. She also performed "Flaws and All," marking the first time since 2013 that she performed the B'Day deep cut live.
Related
Beyoncé and Jay-Z's Early Quotes About Their Relationship Are So Sweet
Beyoncé's Dubai concert didn't include any new songs
Beyoncé's Dubai show came six months after the release of her acclaimed seventh studio album, Renaissance. Rather than support the album with visuals or other media, Beyoncé has kept her plans for the album a secret. She didn't even perform any songs from …read more
Source:: Showbiz Cheat Sheet
(Visited 1 times, 1 visits today)