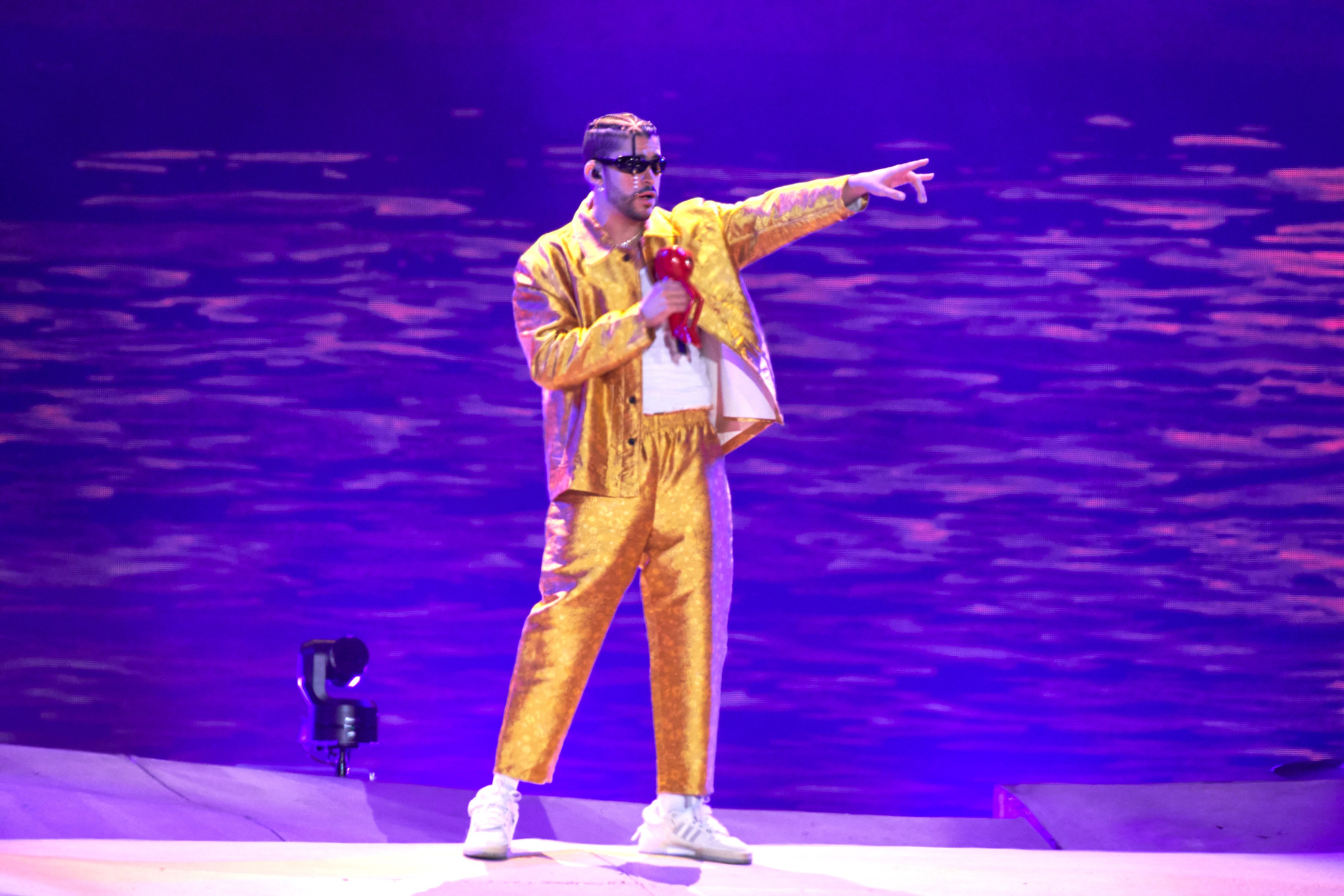 Bad Bunny thinks "Puerto Rico is f****** great," according to his song "El Apagón." The Grammy-nominated artist even performed a free concert there — on top of a Gulf gas station. Here's what we know about this Coachella headliner and his hometown. 
Where is Bad Bunny from?
Bad Bunny performing during his second concert at Azteca Stadium, as a part of World Hottest Tour | Medios y Media/Getty Images
Bad Bunny is the Grammy-nominated artist behind Un Verano Sin Ti, releasing "Me Porto Bonito," "Titi Me Preguntó," and other chart-topping hits. According to Britannica, this artist is from San Juan, Puerto Rico, and attended the University of Puerto Rico. 
Additionally, Bad Bunny (real name Benito Antonio Martinez Ocasio) often mentions his love for Puerto Rico and his fans there performing at the José Miguel Agrelot Coliseum in 2022.
"I just want people to feel like they're really here on the island, in the Caribbean," Bad Bunny said in an Apple Music interview. "The best part of all my accomplishments is when people say, 'yo, but he's from Puerto Rico.'"
"I just want people to understand that you can be Puerto Rican and be a star," he added. "I just want people to remember me as a normal guy. You don't have to change anything about your culture. You don't have to change anything about yourself."
Bad Bunny performed a free concert in Puerto Rico… at a gas station
From sold-out stadiums to the roof of a Gulf gas station — in 2022, Bad Bunny returned to Puerto Rico, giving a free, impromptu concert to the growing crowd. A series of videos were posted to TikTok, the first detailing Bad Bunny with Arcángel performing their recently released collaboration — "La Jumpa."
That was followed by some of Bad Bunny's biggest hits, including "Me Porto Bonito," "Efecto," and "Gato de Noche." All of which featured Bad Bunny dressed in black, addressing the crowd from the Gulf gas station roof. 
Related
Review: Bad Bunny Transforms Made in America Music Festival Into a Beach Party
Bad Bunny released 'El Apagón' and its music video about Puerto Rico
Bad Bunny often mentions his hometown love and Un Verano Sin Ti is no exception. The artist released "El Apagón," with lyrics describing Puerto Rico as the birthplace of reggaeton the "Land of Maelo and Tego Calderón."
The title itself translates to "the Blackout" in English, referencing Puerto Rico's power outages in recent years.
As noted by NBC News, "El Apagón" "resonates with residents who have been grappling with an aging and deteriorating power grid," even before Hurricanes Maria and Fiona — both of which increased prices after a private company took over Puerto Rico's energy transmission and distribution system.
"I don't want to leave here, let them go," Bad Bunny's girlfriend, Gabriela Berlingeri, states in Spanish. "This is my beach, this is my sun. This is my land, this is me."
The music video highlighted the ongoing gentrification and displacement issues in U.S. territory. …read more
Source:: Showbiz Cheat Sheet
(Visited 1 times, 1 visits today)