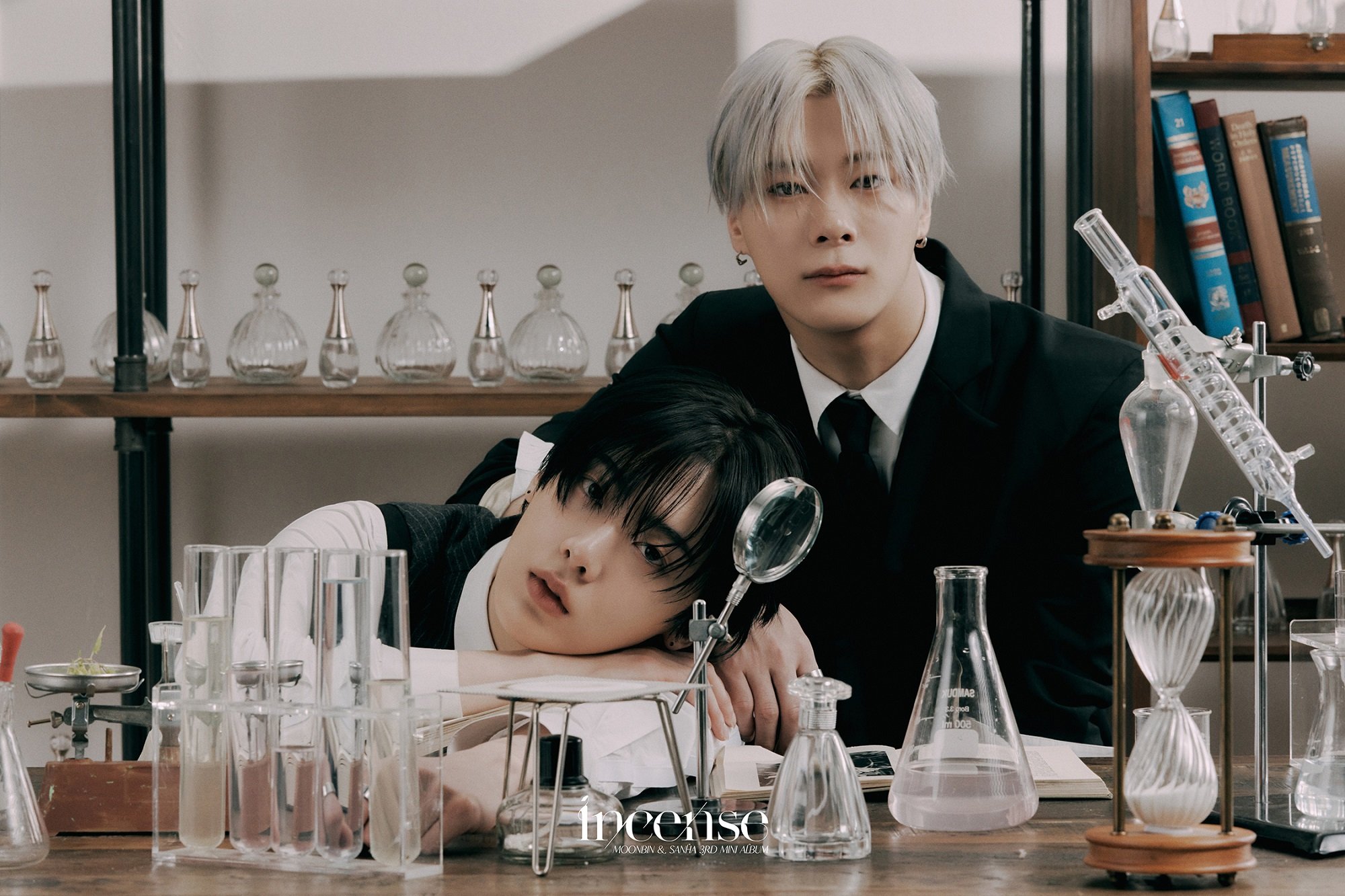 On Jan. 4, ASTRO's sub-unit MOONBIN&SANHA released a new mini-album titled INCENSE. After the K-pop group released INCENSE, Showbiz Cheat Sheet emailed members MOON BIN and YOON SAN-HA questions about the making of the EP.
This interview has been edited and condensed.
MOONBIN&SANHA | FANTAGIO
MOONBIN&SANHA released an EP called 'INCENSE'
Showbiz Cheat Sheet: INCENSE has been out for a few days now. What do you hope fans take away from the EP?
MOON BIN: We would like to imprint MOONBIN&SANHA's unique "INCENSE" so that they're reminded of our "scent" whenever they listen to our music or watch our performances.
Showbiz Cheat Sheet: "Madness" is the EP's title track, and the chorus is super catchy. Why do you think "Madness" makes the best choice to be the lead single?
YOON SAN-HA: We decided to have "Madness" as the title track because we thought that it was the best track to show our charms through lyrics and melody.
What the making of 'INCENSE' was like
Showbiz Cheat Sheet: Do you have a favorite memory or any memorable behind-the-scenes stories from making INCENSE?
MOON BIN: I had a lot of fun while recording! It was especially fun because we did a lot of narration and chorus recordings.
YOON SAN-HA: The recording process was memorable to me as well. I took on new challenges such as rapping and hitting high notes when working on "Madness." There were some challenging parts, but overall it was a great experience.
Showbiz Cheat Sheet: You both contributed to the songwriting on this album. What is your favorite part of songwriting, and what aspect do you find the most difficult?
MOON BIN: I've always been a fan of pop and R&B genres, so I made the melody for "Desire" with another composer and the whole process felt very natural. It was very interesting to compose my own solo track in my go-to genre of music.
YOON SAN-HA: I usually listen to ballads or calm music, and I think such taste in music has impacted me while working on my solo track. It was very fun to work on a genre that I enjoy all the time!
Showbiz Cheat Sheet: When you work on music together, do you both have the same process when it comes to songwriting and learning choreography? Or do you have opposite approaches?
YOON SAN-HA: We have our own style of working. Since it was my first time composing and writing lyrics, I asked BIN to listen to the song when I finished it. Then he gave me helpful feedback and advice to improve the song.
How MOONBIN&SANHA work as a team
Showbiz Cheat Sheet: INCENSE marks your third EP since you debuted in 2020. What have you learned from working together as a sub-unit over the years?
MOON BIN: For the last few years, we wanted to show a different side from ASTRO with MOONBIN&SANHA unit albums. We studied, experienced, and learned a lot focusing on showing various sides of us. Thankfully, we've received positive reactions from many people, and that's how we were able to …read more
Source:: Showbiz Cheat Sheet
(Visited 1 times, 1 visits today)