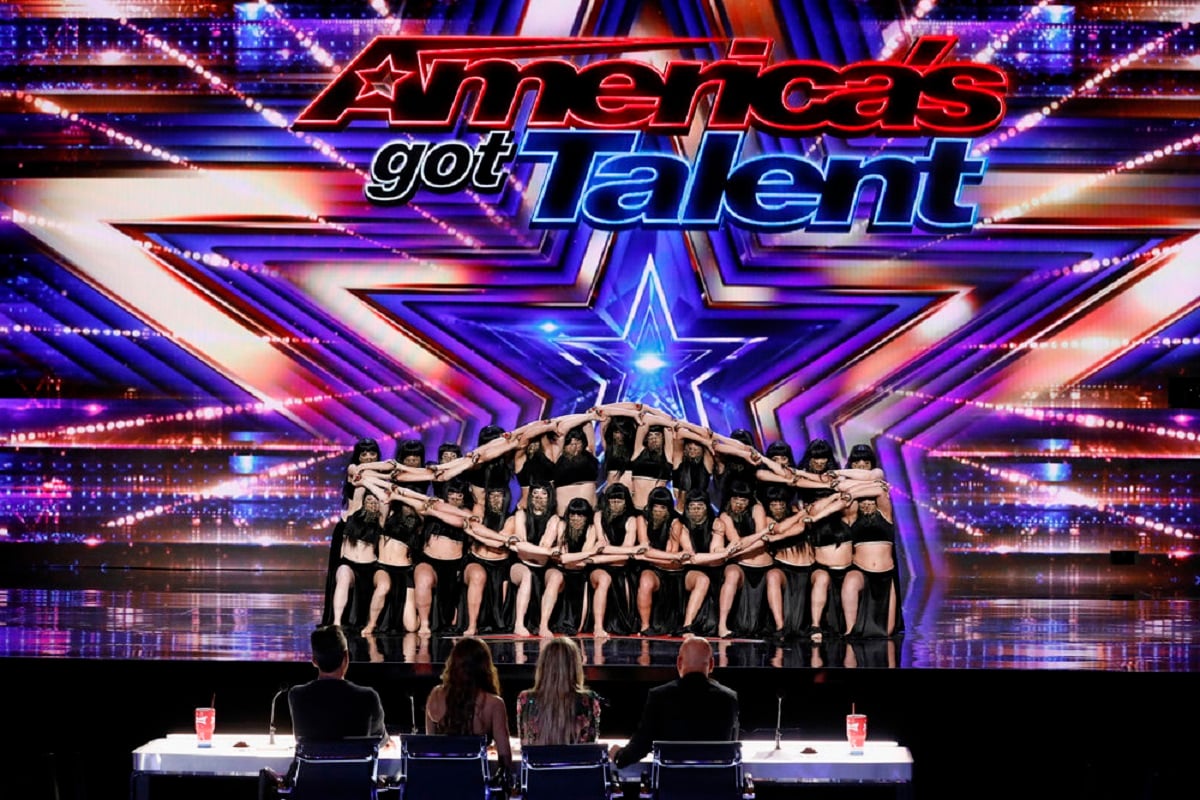 America's Got Talent judge Sofia Vergara pressed the golden buzzer to send the Mayyas dance group from Lebanon straight to the live shows in season 17. However, episode 4 of AGT was not the first time that Simon Cowell saw the Mayyas dance group on a Got Talent stage. The dancers appeared in two other worldwide Got Talent reality TV competitions before auditioning for AGT Season 17.
'America's Got Talent' Season 17: Sofia Vergara golden buzzer winner, the Mayyas, wows the audience and judges
For the last act of the night in America's Got Talent Season 17 Episode 4, the Mayyas dance group took the stage. However, before they danced, the Lebanese group gave some background about their life. 
"Lebanon is not considered a place where you can build a career out of dancing," choreographer Nadim Shierfan explained. "So, it's really hard and harder for women."
The women asked the judges to move closer together so they could see the full effect of their dance. Then they formed a straight line with one woman in the front. Their arms moved together in sync and hypnotized the audience and judges. 
RELATED: 'America's Got Talent': Madison Taylor Baez Sang and Acted in a Netflix Series Before Her Audition for Season 17
"There are no words to explain to you what we are feeling over here," Sofia Vergara exclaimed. "It was the most beautiful creative dancing we have ever seen." 
After all the judges had a moment to comment on the performance, Sofia pressed the golden buzzer to send the Mayyas straight to the America's Got Talent live shows. They do not have to undergo judge cuts, and America will see them dance on stage again.
Simon Cowell judge the Mayyas dance crew in 'Britains Got Talent'
In America's Got Talent Season 17, Simon Cowell didn't seem shocked to see the Mayyas on stage because he had already watched their performance in Britains Got Talent: Champions in 2019.
"This really really will make a difference in so many positive ways," Simon Cowell said after the performance in AGT 2022. "That's one part and then it was arguably the best dance act we are likely to have ever seen. We are honored to have you here. Thank you so much."
However, when Cowell saw the Mayyas for the first time on stage, he was much more in awe.
RELATED: 'AGT' Season 17: Simon Cowell Shared His True Feelings on Twitter About That Daniel Emmet Deepfake
"That was absolutely genius, brilliant, inventive," Simon praised the Mayyas in 2019 in a YouTube video. "I've never seen a dance act like this ever on any of these shows. You can hear from the audience reaction, it was amazing."
They stunned judge Simon Cowell in 2019 but did not make it to the finals of Britains Got Talent: Champions.
'America's Got Talent' Season 17: Sofia's Golden Buzzer Winner, The Mayyas, won 'Arabs Got Talent'
'America's Got Talent' Season 17: Mayyas dance crew | Trae Patton/NBC
The Mayyas dance crew is not a new act to the Got Talent reality competition series worldwide. The Mayyas won Arabs Got Talent Season 6 in April 2019. They also received the golden buzzer from judge Najwa …read more
Source:: Showbiz Cheat Sheet
(Visited 11 times, 1 visits today)