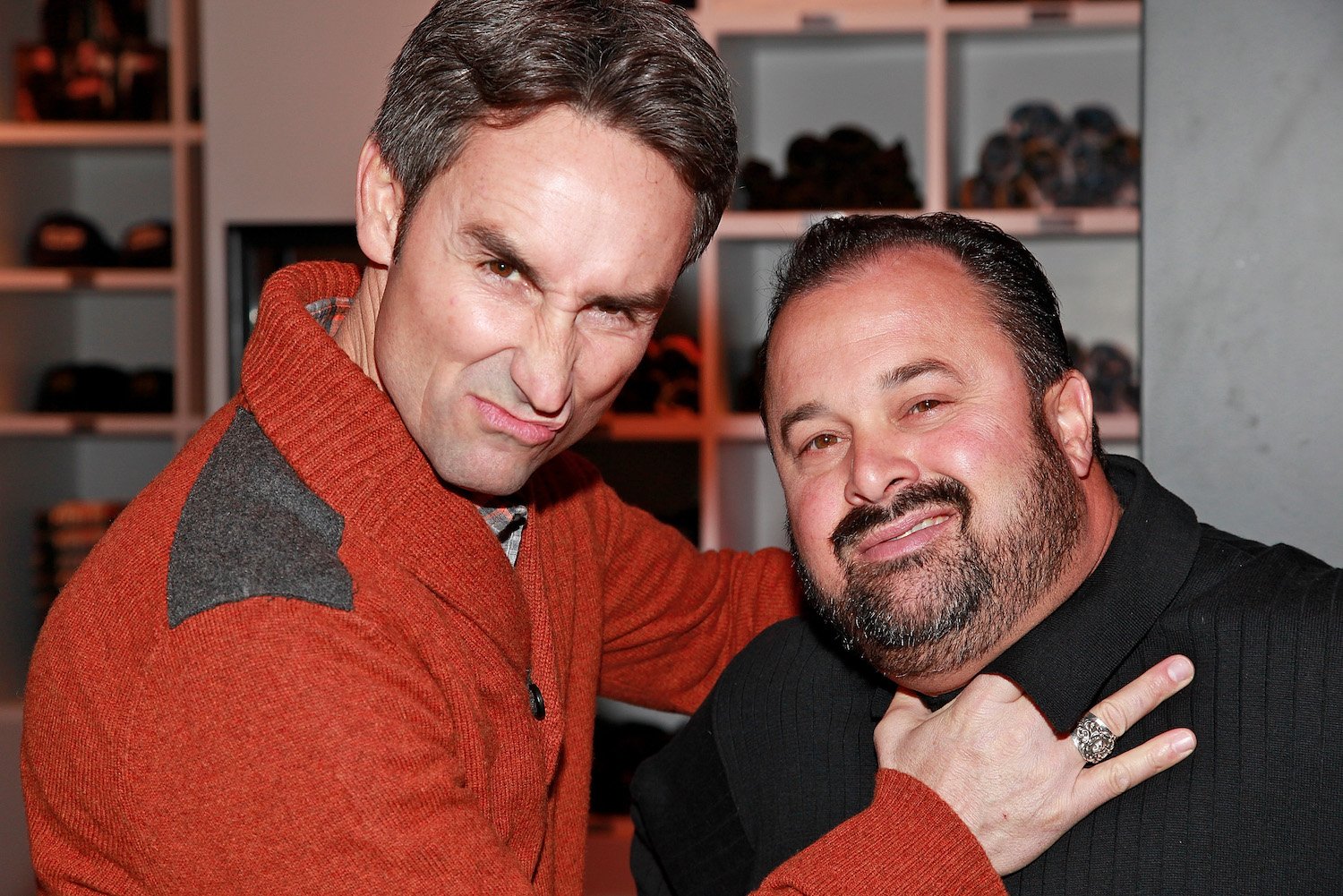 History channel buffs continue to watch Mike Wolfe and Robbie Wolfe co-host the reality series American Pickers. The brothers currently lead the show, but it wasn't always this way. Previously, Mike Wolfe and Frank Fritz co-hosted, but Fritz was relieved from his duties and never invited back. So, who is Robbie Wolfe, and what do fans have to say about him? Here's what to know.
Why is Frank Fritz not on 'American Pickers' anymore?
Mike Wolfe and Frank Fritz | Charles Eshelman/FilmMagic
Frank Fritz is no longer co-hosting American Pickers with Mike Wolfe. So, what happened to the duo?
Mike Wolfe and Frank Fritz starred in 21 seasons of the show together, but midway through season 21, Fritz was missing. The network and Mike didn't address his absence. It turns out Fritz had to get back surgery, and when he recovered, History never invited him to reprise his role.
"I would like to come back to the show, but we will see," Fritz told The Sun. "I was doing it for 11 years, but there is a lot of controversy going on right now. It's up to the network whether I come back on the show. It ain't gonna affect me one bit. I didn't leave the show. I finished shooting and then I had a little back surgery and the pandemic came."
Mike and Fritz were also feuding, which may have led to Fritz not getting the callback. Robbie Wolfe, Mike's brother, took over as co-host.
Who is Robbie Wolfe? Mike Wolfe's brother replaced Frank Fritz on 'American Pickers'
Robbie Wolfe puts the pedal to the metal ? Don't slow down now — there are just two more days until it's the weekend! #AmericanPickers pic.twitter.com/sEF7uyV7qK
— American Pickers (@americanpickers) March 31, 2021
So, who is Robbie Wolfe? He's Mike Wolfe's older brother who now co-hosts American Pickers. The Sun reports Robbie has owned the landscaping business, RJ Wolfe & Sons, in Davenport, Iowa, for over 20 years. He also pursued a career in music, though now, it seems American Pickers is one of his main gigs. He's appeared in over 55 episodes of the show.
The Sun reports Robbie also has an antique store worth $225,000. He bought the store in Iowa in 2021 and sells vintage cars, signs, and memorabilia. Robbie originally bought the space for $200,000 and renovated the roof for nearly $25,000 and redid the plumbing and electricity.
"Garage door makes it all come together," Robbie posted to Instagram. "Love the History of this building built in 1939 as an automotive building in downtown Davenport. It will live on."
Robbie's Instagram also contains photos of the vintage finds he's selling.
Robbie Wolfe was slammed for partying after Frank Fritz's stroke
'American Pickers' Frank Fritz's co-star shares health update after stroke https://t.co/q8XNHnilEa pic.twitter.com/mJ7ZdAFt5v
— New York Post (@nypost) July 27, 2022
Both Robbie Wolfe and Mike …read more
Source:: Showbiz Cheat Sheet
(Visited 73 times, 1 visits today)