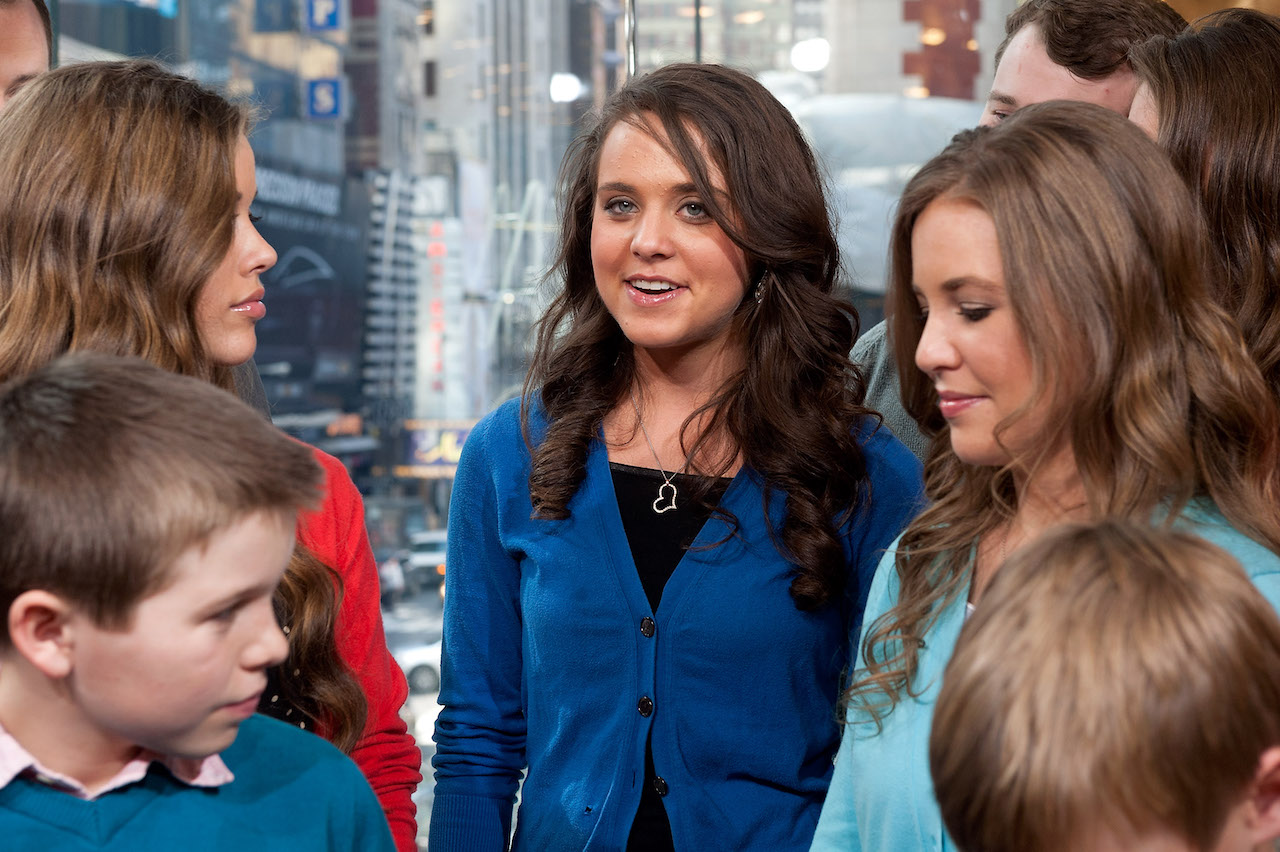 19 Kids and Counting and Counting On alum Jinger Duggar, now Vuolo, has penned a tell-all memoir and is giving candid interviews in preparation for its release. And though she has the support of fans and followers, not many of her adult sisters have commented one way or the other.
Jinger Duggar (C) and members of the Duggar family | D Dipasupil/Getty Images for Extra
Jill Duggar Dillard wished Jinger Duggar Vuolo 'continued peace and strength' in her memoir journey
After being featured in People, Vuolo, who married Jeremy Vuolo in 2016, turned to Instagram to share some pictures and insights. "I had a great conversation with People about my new book Becoming Free Indeed and how I've grown in my journey with God," she wrote in the caption. "This has been such a heavy and, at times, difficult process, but I'm glad to be finally able to share it with you all!" 
Her sister, Jill Duggar, now Dillard, hopped in the replies and shared a message. She started with, "You are gorgeous," before adding, "I love your hair [and] the wardrobe [and] beach vibes! [heart eyes emoji]."
She shared her pride in the couple, noting, "I'm sure you continue to support each other … as you have processed so much … yet continued to cling to each other and Jesus!"
Dillard declared that "walking 'the straight and narrow' as God leads you is harder than walking completely one way or another!"
"Love you!" she concluded. "Praying [for] continued peace and strength for y'all!"
Speculating on the silence from Jinger Duggar Vuolo's other sisters: what could it mean?
Vuolo is one of nine girls in the 19-child family, so having only one adult sister publicly support her journey is noteworthy. Of course, we can't know how they feel about the memoir without hearing it from them, namely fellow adults Jessa Duggar Seewald, Jana Duggar, and Joy-Anna Duggar Forsyth.
However, their silence could indicate that they will continue following their parents' path toward a more strict belief system. In that case, perhaps they aren't as supportive of Vuolo's spiritual realizations and memoir revelations as Dillard. Again, that's totally speculating.
Fans are excited about Jinger Duggar Vuolo's new memoir
Related
Jill Duggar Says She Is 'Proud' of Sister Jinger Duggar's New Memoir
When Vuolo received a printed copy of her new memoir, she jumped on Instagram to share the news with her invested followers. "It finally arrived! I got my first copy of Becoming Free Indeed," she wrote in the caption. "I cannot wait for you to get yours!!!"
Many commenters replied to thank Vuolo for writing the book, sharing their excitement. "… I preordered it and [can't] wait to read it. So, so proud of you and so incredibly thankful for your story [and] testimony," one follower commented.
Another shared, "I grew up under the exact same teachings as you, and now, at 27, I finally know that I don't have to live …read more
Source:: Showbiz Cheat Sheet
(Visited 1 times, 1 visits today)