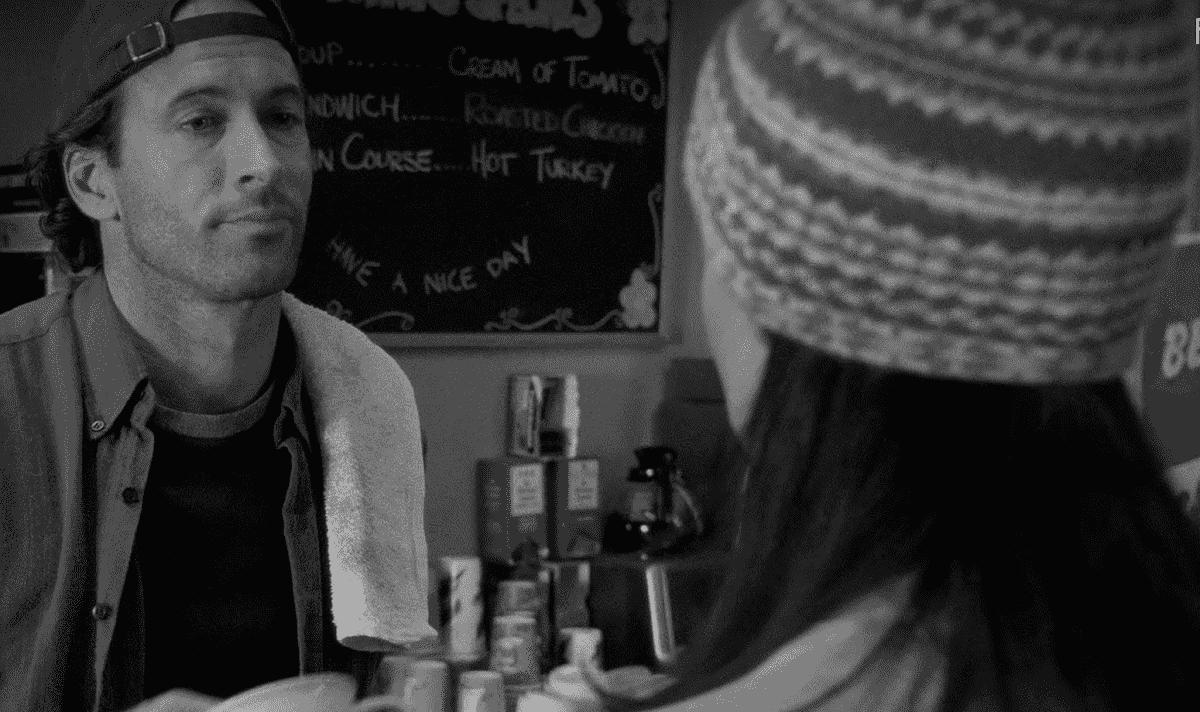 Luke Danes and Lorelai Gilmore | Netlfix/Gilmore Girls
While fans are sure the chemistry between the pals was evident in the show's opening scene, it wasn't intentional. When she penned the role, romance was not on Amy Sherman-Palladino's mind. In fact, Luke Danes was
Luke Danes and Lorelai Gilmore were the endgame couple of Gilmore Girls, and for a good reason. Fans waited four long seasons to see the perky inn owner and the surly diner owner finally kiss. For those four seasons, showrunner Amy Sherman-Palladino turned up the heat on the character's sexual tension. While things started to heat up in season 3, if we look closely, there were a lot of moments that foreshadowed their future love affair in the show's very first season. We've collected the most obvious examples. 
'Gilmore Girls' fans think Amy Sherman-Palladino foreshadowed Luke and Lorelai's relationship in the pilot 
Throughout season 1 of Gilmore Girls, Luke, and Lorelai's future romance was hinted at. Fans are certain the decision was a purposeful one. They even think the opening scene, in which Lorelai begged Luke for another cup of coffee, was the first instance of foreshadowing. While we aren't sure about that, future examples are more obvious. 
Luke Danes and Lorelai Gilmore | Netlfix/Gilmore Girls
While fans are sure the chemistry between the pals was evident in the show's opening scene, it wasn't intentional. When she penned the role, romance was not on Amy Sherman-Palladino's mind. In fact, Luke Danes was a woman named Daisy until network executives asked her to add a male character. She didn't alter the part. She just inserted the name Luke where Daisy had been. 
Emily Gilmore called Luke and Lorelai's relationship in episode 6 
In episode 6, Emily Gilmore called the relationship. At Rory's 16th birthday party, Emily walked in on the duo embracing when the surly diner owner brought ice to the party. Later, Emily questioned her daughter about the nature of her relationship with Luke, asking how long they had been dating. 
Kelly Bishop as Emily Gilmore | Netflix/Gilmore Girls
Lorelai denied there was anything romantic going on, but Emily was not convinced. She even called Lorelai on the fact that she appeared "pleased" that Emily thought Luke had a romantic interest in Lorelai. It was one of the most obvious instances of foreshadowing in the entire series. 
Luke Danes saved the day in episode 10 of 'Gilmore Girls' 
In episode 10, Luke found himself involved with the Gilmore family once more when Lorelai received a call that Richard Gilmore had been taken to the hospital. Without a car, she panicked before Luke stepped in, closed down his diner, and drove her to Hartford. 
During the visit, Luke sat with Emily, who questioned him about his feelings for Lorelai. While he denied anything was going on, it was, once again, obvious to Emily. The moment sealed the deal for Gilmore Girls fans. Luke and Lorelai were the endgame couple from that moment on. 
Amy Sherman-Palladino used other relationships to hint at the future romance 
By midway through season 1 of Gilmore Girls, it was obvious that Amy Sherman-Palladino was committed to making Luke and Lorelai the endgame couple of the series. She even used the couple's other relationships to foreshadow their future together. 
In season 1, Luke's ex-girlfriend, Rachel, returned to Stars Hollow, committed …read more
Source:: Showbiz Cheat Sheet
(Visited 2 times, 1 visits today)