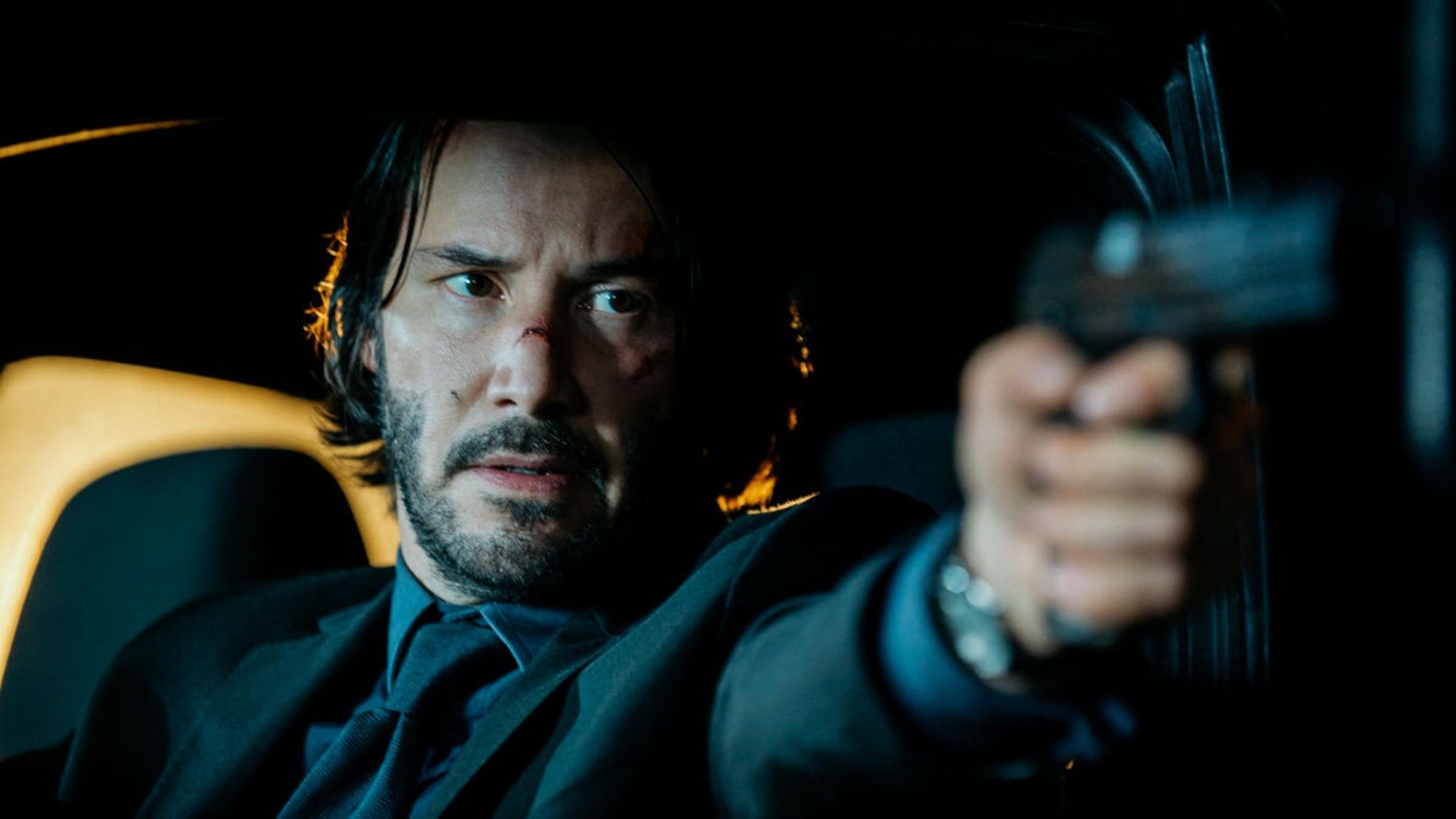 The John Wick franchise beefed up actor Keanu Reeves' filmography with yet another major action spectacle. Its exceptional action set pieces and staggeringly long fight choreography caught the attention of critics and audiences around the world. Here's a look at all of the John Wick movies ranked from worst to best, according to Rotten Tomatoes.
4. 'John Wick' (2014)
Keanu Reeves as John Wick | Lionsgate
Tomato-meter: 86%
Audience Score: 81%
Chad Stahelski's 2014 original John Wick is the film that started it all. Reeves plays Wick, a legendary assassin who retired from his career. to live a peaceful life with his wife. After her death, she leaves him with a loveable puppy, who mobster Iosef Tarasov (Alfie Allen) kills in a robbery. As a result, he goes on a path for vengeance.
John Wick exceeded all expectations, even though the notion of a dog's death at the film's beginning was a bit too much for some audiences. Nevertheless, the intense action set pieces outweighed the hard-to-watch animal violence seen at the beginning. It also pushed Reeves further back into the spotlight, which is never a bad thing.
3. 'John Wick: Chapter 2' (2017)
Keanu Reeves as John Wick | Lionsgate
Tomato-meter: 89%
Audience Score: 85%
Wick is back, as he continues to try and live out the rest of his days in peace. However, it's shortly interrupted by an Italian gangster with a gold marker, forcing him to repay a past favor. Unable to get out of it, Wick must go to Rome and kill the gangster's ruthless sister to complete the assignment.
Critics and audiences alike preferred John Wick: Chapter 2 to its predecessor, believing that it doubled down on the big action stuntwork. It's also a tad longer, allowing viewers to remain in this adrenaline-pumping world for a more extended period of time.
2. 'John Wick: Chapter 3 – Parabellum' (2019)
Keanu Reeves as John Wick | Niko Tevernise /Lionsgate
Tomato-meter: 89%
Audience Score: 86%
Wick did the unthinkable and killed a member of the dangerous High Table international organization. The system fully strips him of all protection and amenities, placing a $14 million bounty on his head. Wick will have to fight his way through seemingly countless foes on the streets of New York City, as he continues to fight for his freedom.
Just when it appeared that the franchise couldn't get any more intense, John Wick: Chapter 3 – Parabellum proved everybody wrong. It matched the previous installment on the Tomato-meter, but it has nearly 80 more critic reviews. Additionally, it has a slightly higher audience score.
1. 'John Wick: Chapter 4' (2023)
Keanu Reeves as John Wick | Lionsgate
Related
'John Wick: Chapter 4' Movie Review: Keanu Reeves Takes High-Octane Action to Another Level
Tomato-meter: 91%*
Audience Score: TBD*
After leaving a trail of bodies behind him, Wick has finally discovered a path to defeating the High Table once and for all. However, he'll have to face some of the fiercest adversaries imaginable in order to even have a shot at achieving his freedom. Wick will have to …read more
Source:: Showbiz Cheat Sheet
(Visited 1 times, 1 visits today)