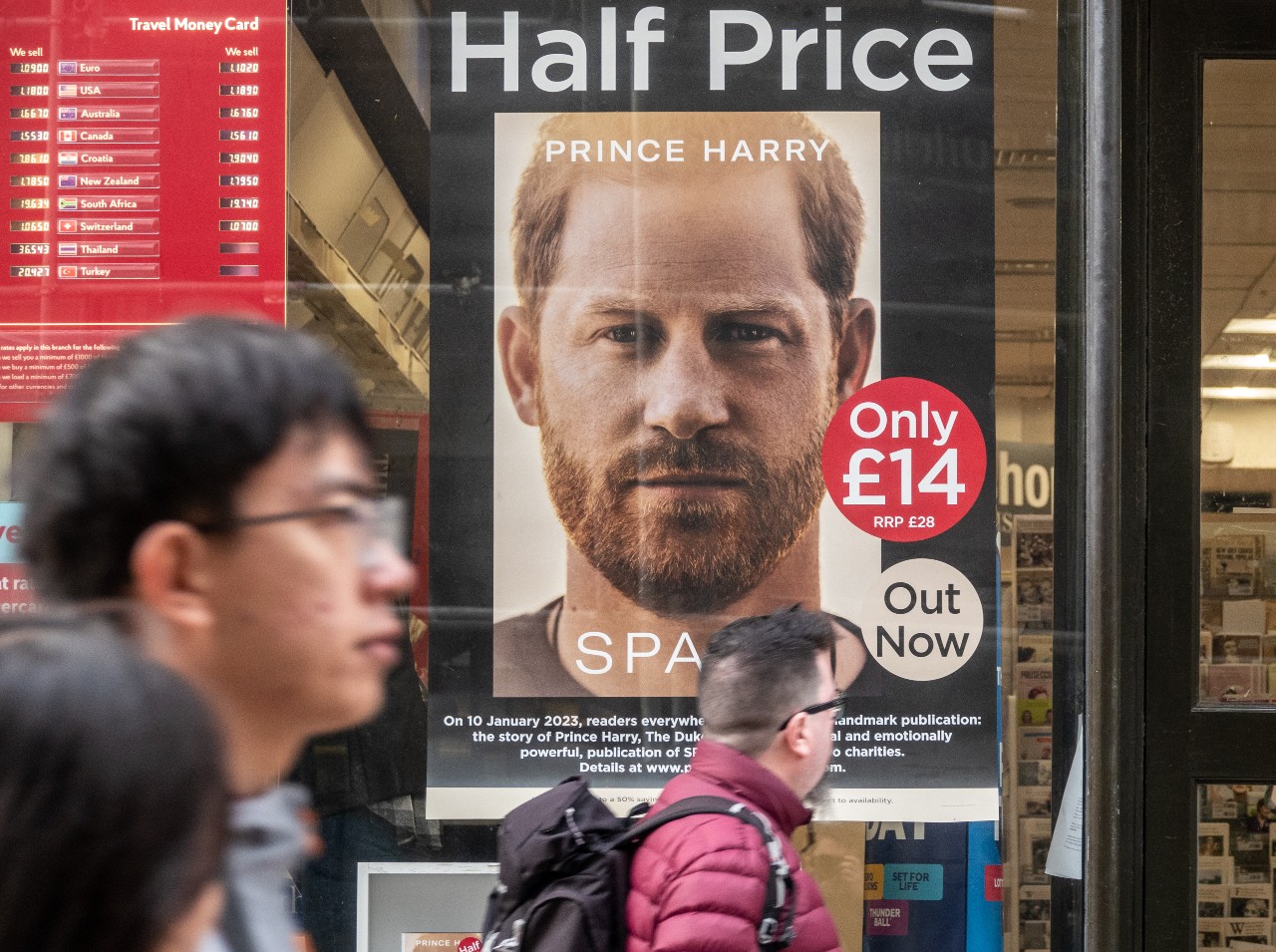 Prince Harry | Matt Cardy/Getty Images
During his interviews, Harry says he's happy now and he's moving on with his life. However, body language expert Judi James says his book cover photo seems to communicate the opposite. According to her, Harry seems to still be carrying around a lot of emotional "baggage."
"This is not a photo to tell us Harry's pain is now no longer baggage he carries with him," James tells Express. "This headshot seems to create a mirror image for the reader, eye-to-eye and face-to-face, and it's not an expression that seems to have been chosen to illustrate that inspirational man who has been saved by the power of love."
James goes on to say Harry doesn't seem to be a carefree family man. She fails to see Harry as "a fun, smiling or playful man" or as "the family man either, hugging his adoring wife and children." James also notes how through the cover image, "we are being invited into Harry's grief, pain, and sadness and
Prince Harry had a lot of people talking after the release of his book, Spare. One thing that caught people's attention was the solemn book cover. A body language expert weighs in on what she noticed and how his photo compares with a picture Meghan Markle recently took.
Prince Harry still seems to have 'baggage' says a body language expert
Prince Harry | Matt Cardy/Getty Images
During his interviews, Harry says he's happy now and he's moving on with his life. However, body language expert Judi James says his book cover photo seems to communicate the opposite. According to her, Harry seems to still be carrying around a lot of emotional "baggage."
"This is not a photo to tell us Harry's pain is now no longer baggage he carries with him," James tells Express. "This headshot seems to create a mirror image for the reader, eye-to-eye and face-to-face, and it's not an expression that seems to have been chosen to illustrate that inspirational man who has been saved by the power of love."
James goes on to say Harry doesn't seem to be a carefree family man. She fails to see Harry as "a fun, smiling or playful man" or as "the family man either, hugging his adoring wife and children." James also notes how through the cover image, "we are being invited into Harry's grief, pain, and sadness and he looks partly as though he is still hurting."
Megyn Kelly says Prince Harry seems 'insecure'
Prince Harry | KOEN VAN WEEL/AFP via Getty Images
Related
Meghan Markle's Behavior 'Totally Goes Against What She's Saying' Says Body Language Expert: 'She's Absolutely Eating It Up'
Megyn Kelly also believes Harry isn't as happy as he says he is. After the Harry & Meghan Netflix documentary was released, she shared her observations. According to her, Harry seems insecure. She says he seems to lack confidence and he's carrying around a lot of "emotional baggage."
"One thing I did find interesting was the amount of emotional baggage Harry still carries," says Kelly during The Megyn Kelly Show. "It's big. Good gracious is this man insecure. Partly because he's a ginger," says Kelly sarcastically.
Kelly asserts Harry continues to carry emotional baggage because he hasn't addressed past trauma. "And partly because he has not worked out the trauma of his mother's premature death," Kelly continues. "Time and time I said to myself while watching this, 'This guy needed therapy.' Not the weird tapping thing he did—a real psychotherapist. That is what he needed. Not a whiny, annoying, woke wife."
During a discussion with Oprah Winfrey in the documentary The Me You Can't See, Prince Harry does say he received therapy. It took him years to do it, but he says he did finally seek professional help.
Meghan Markle seems 'at ease'
Royal and style expert Miranda Holder says Meghan seems happy and "at ease" in her pictures. She analyzed photos from the former Suits star's interview in Variety. According to Holdere, "the actual styling of the couple …read more
Source:: Showbiz Cheat Sheet
(Visited 1 times, 1 visits today)