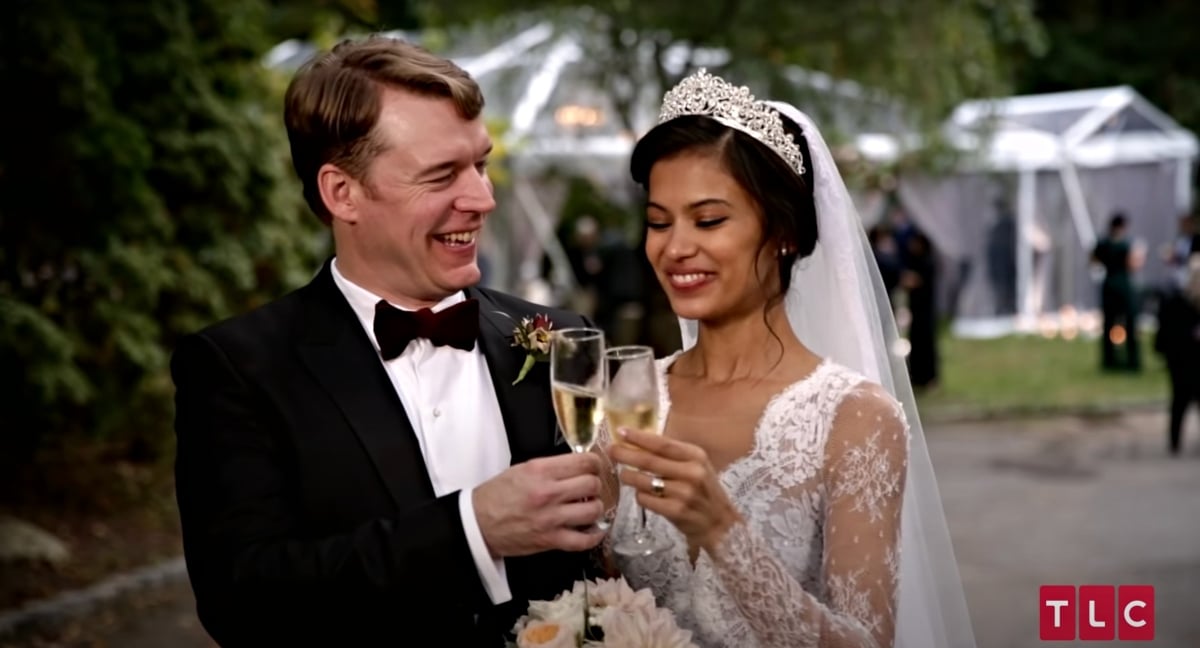 Juliana Custodio and Michael Jessen on '90 Day Fiancé' Season 7 | TLC
Michael Jessen and Juliana Custodio confirm their split
On the 90 Day Fiancé couple's 2nd wedding anniversary, Michael finally confirms the rumors that Juliana and his wife have split. After months of hinting that they were no longer together, he has finally confirmed in an Instagram post what happened. He captioned a photo of him and Juliana at their wedding, "Today is only our second wedding anniversary and, sadly, our last." Check out the full
90 Day Fiancé Season 7 star Michael Jessen confirms he split with Juliana Custodio on their second wedding anniversary. He says that his marriage was just another casualty of the coronavirus (COVID-19) pandemic. Michael also claims he's happy for Juliana as she's moved on and has "quickly found someone new."
Juliana Custodio and Michael Jessen on '90 Day Fiancé' Season 7 | TLCMichael Jessen and Juliana Custodio confirm their split
On the 90 Day Fiancé couple's 2nd wedding anniversary, Michael finally confirms the rumors that Juliana and his wife have split. After months of hinting that they were no longer together, he has finally confirmed in an Instagram post what happened. He captioned a photo of him and Juliana at their wedding, "Today is only our second wedding anniversary and, sadly, our last." Check out the full Instagram post below:
View this post on Instagram
A post shared by Michael Jessen (@michael_jessen_77)
He continues, "Our marriage is a Covid-19 casualty that will not be showing up in any statistics. Thankfully, you are quickly emerging healthier and stronger than ever. Some of the rest of us will likely be staying in intensive care for quite some time.
Michael claims Juliana 'quickly found someone new'
Michael gushed over his estranged wife, writing how he has a "resilience, self-reliance, and independence that allows you to survive, and even thrive, under almost any circumstance." He says that Julianana has "a natural and an incredibly beautiful joy, happiness, and positivity that made me fall in love with you the first time we were ever together."
He continues, "I do not blame you for wanting to leave and for desiring a new start. You are more suited for the life that you had before we met and I can understand why you would want to return. Your happiness is more important to me than me being a part of your unhappiness."
Then Michael claims that Juliana has already moved on. He wrote, "My love for you remains true and will always be there for you. I am happy that you have moved on and have quickly found someone new. I hope that you will have lasting love and happiness and achieve every dream that you set out upon. If anyone can do it, it is you, and I will always be rooting for you."
Michael and Juliana's '90 Day Fiancé' journey
Juliana and Michael began their 90 Day Fiancé journey in season 7. Michael, a 42-year-old wine distributor, met Juliana at a yacht party of a mutual friend in Croatia. The 20-year-old Brazillian beauty had just been signed to a modeling agency, and her career was taking off. After many visa denials, Juliana was finally approved on the K-1 (fiancé) visa.
After Juliana came to the United States, she took on her role as step-mom to MichaMichael's kids, Max and Cece. …read more
Source:: Showbiz Cheat Sheet
(Visited 12 times, 1 visits today)