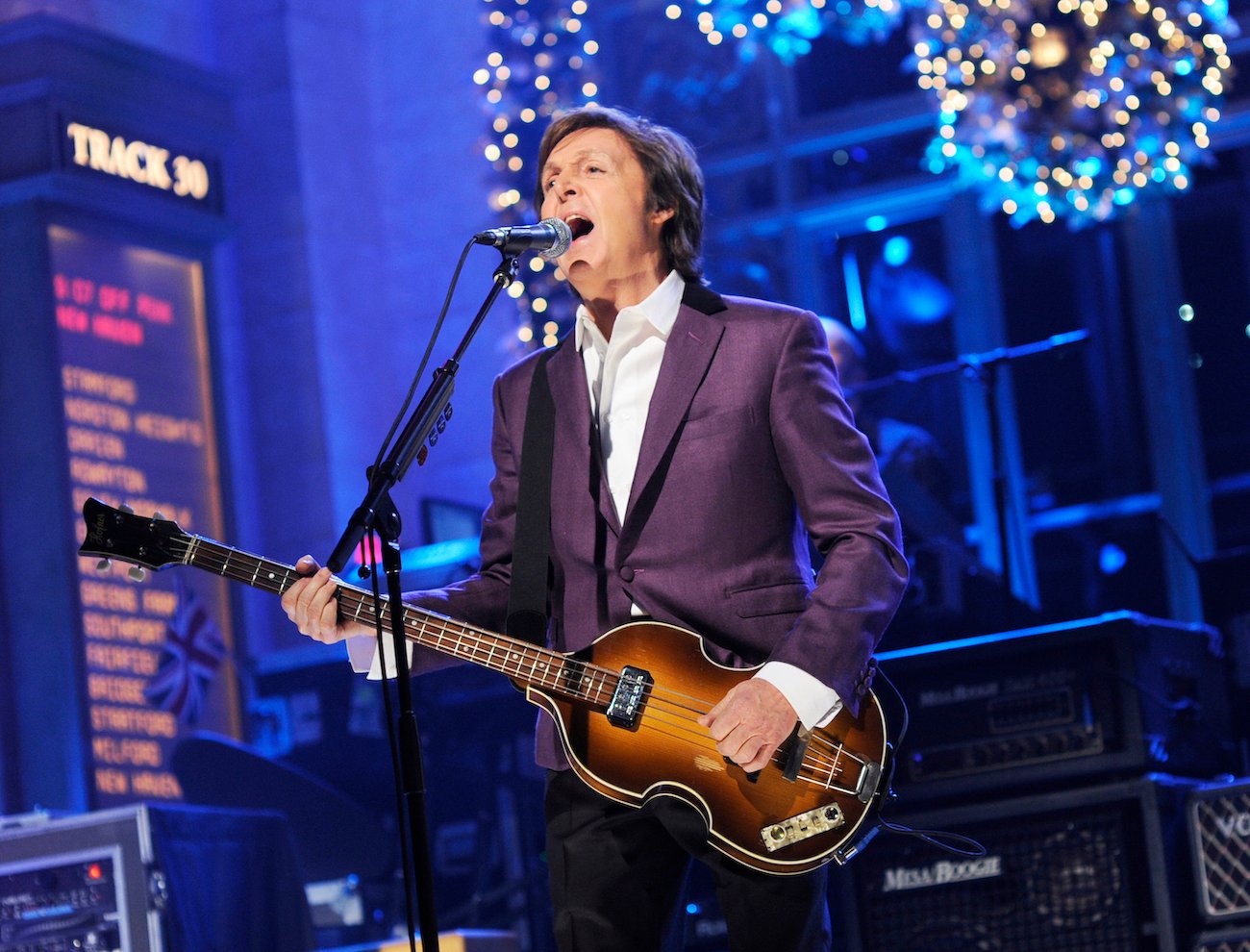 Paul McCartney | Dana Edelson/NBC/NBCU Photo Bank
"Stumblin'" is an SNL digital short from Andy Samberg. The sketch is a parody of
Paul McCartney has appeared on Saturday Night Live several times as a musical guest and considers creator Lorne Michaels a good friend. The late-night sketch comedy series has taken advantage of having the legendary musician on the show and has featured him in a few sketches where the former Beatle can express his funnier side. 
Here are 5 'Saturday Night Live' sketches starring Paul McCartney
Stumblin'
Paul McCartney | Dana Edelson/NBC/NBCU Photo Bank
"Stumblin'" is an SNL digital short from Andy Samberg. The sketch is a parody of Dolly Parton's "9 to 5" where it expands on the opening line, "stumble to the kitchen." Samberg is just stumbling around New York City and is later joined by Rudd. The two nearly fall doing the most basic activities.
McCartney abruptly hops in and sings a parody of Berlin's "Take My Breath Away," where he repeated the line, "Walking in slow motion." He then does a quick harmonica solo before it goes back into the main song. 
The Chris Farley Show
– "You remember when you were with The Beatles?"
– "Sure."
CHRIS FARLEY and PAUL MCCARTNEY on SNL in 1993.
pic.twitter.com/Ts73RD1XOL
— Michael Warburton (@MichaelWarbur17) October 6, 2022
The Chris Farley Show was a recurring SNL sketch featuring the hilarious Farley as a parody of himself interviewing celebrities. The sketch aired three times, with the guests being Jeff Daniels, Martin Scorsese, and Paul McCartney. In the interview, Farley pretends to be a nervous wreck who asks obvious questions and beats himself up if he asks a lousy question. 
McCartney plays off of Farley well and manages to remain in character, despite Farley going off the rails. He doesn't have much to say or do since most of the work is being done by Farley, but it's nice to see McCartney playing along with the joke. 
Paul Rudd's opening monologue
Back in 2010, Paul Rudd hosted Saturday Night Live with Paul McCartney as the musical guest. In his opening monologue, Rudd shared how delighted he was to hear audiences outside chanting, "Paul." McCartney then walks out on stage, and Rudd disappointedly realizes fans weren't chanting for Rudd but for the former Beatle. Featured actor Paul Brittain also appears but quickly leaves when he discovers the other two Pauls have the spotlight. 
Weekend Update
McCartney was knighted by the queen, giving him the title of Sir. However, that didn't stop him from having some fun at the royal family's expense. On a Weekend Update segment, host Seth Meyers discussed Prince Charles and his wife Camilla Parker Bowles being attacked by student protesters in their limo. 
To try and discern the audio, Meyers brought in McCartney to help act out what the two were saying. McCartney plays Camilla and does an over-the-top, high-pitched accent where he pretends to be startled. Fortunately, he didn't lose his title over the joke. 
Holiday Pageant
This Saturday Night Live sketch is impressive because it's both a sketch and a musical performance from Paul McCartney. In this sketch, Martin Short and McCartney are auditioning to be …read more
Source:: Showbiz Cheat Sheet
(Visited 2 times, 1 visits today)