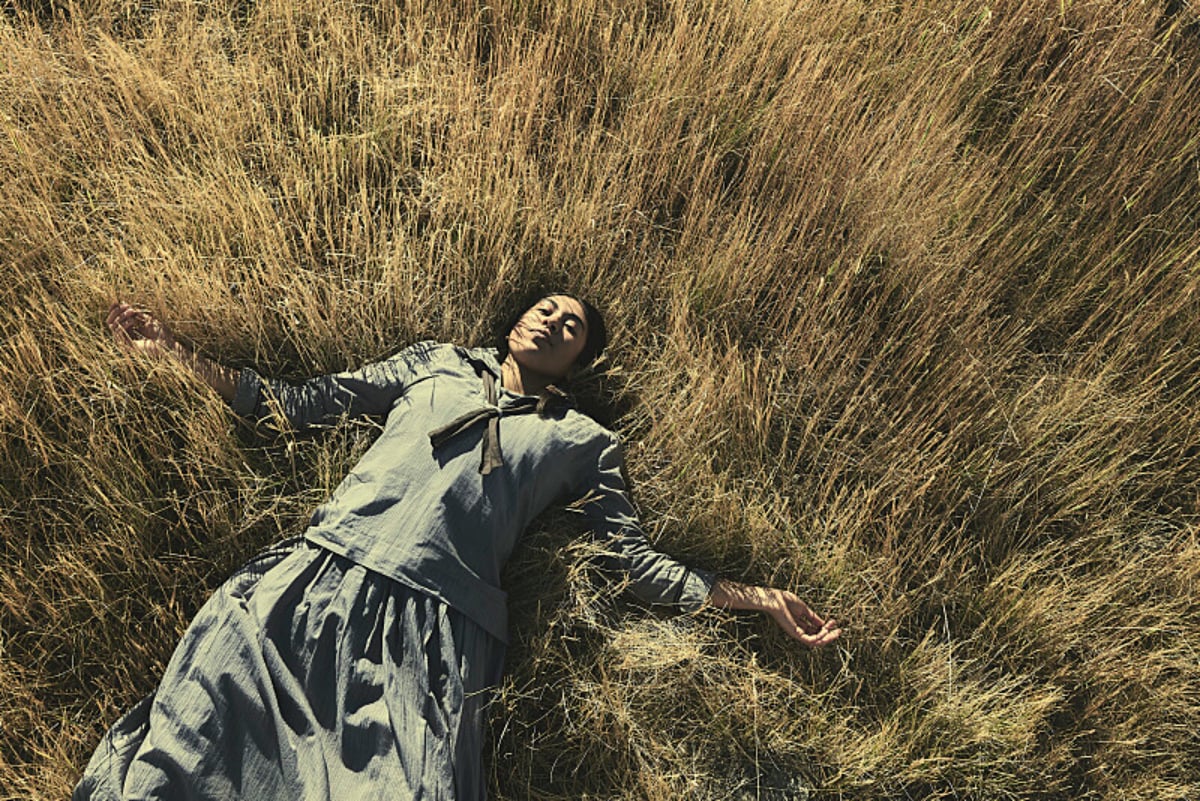 Aminah Nieves as Teonna Rainwater in '1923' | James Minchin III/Paramount+
Teonna Rainwater endures horrific abuse at a Native American boarding school
1923 details one of the most horrific parts of American history. For over a century, Native American children were rounded up and forced to attend government-run boarding schools designed to strip them of their culture and identity. These
Teonna Rainwater endured brutal torture throughout the first half of 1923. The young woman goes head to head with the abusive powers that run the Native American boarding school she is forced to attend. After killing a nun, Teonna flees the school. Though she has a difficult path ahead of her, the trailer for 1923 hints she might finally get some help when the show returns.
Aminah Nieves as Teonna Rainwater in '1923' | James Minchin III/Paramount+
Teonna Rainwater endures horrific abuse at a Native American boarding school
1923 details one of the most horrific parts of American history. For over a century, Native American children were rounded up and forced to attend government-run boarding schools designed to strip them of their culture and identity. These schools were rife with abuse.
Teonna Rainwater (Aminah Nieves) attends one of these schools in 1923. She has a rebellious spirit and refuses to bow down to the tyrants that run the school. This leads to Teonna being beaten, locked in a hotbox, and tortured with steel wool. The nuns who run the school also cut off Teonna's hair.
Jennifer Ehle portrays Sister Mary, the nun who Teonna personally faces off with throughout the series. The actor shared with Decider that she and Nieves were careful to ensure that the other actor felt safe while filming these difficult scenes. "I had to feel safe in order to do those abusive things. Sometimes working the dark stuff is the most fun to do," Ehle told the outlet. "This wasn't fun."
Teonna might finally catch a break when '1923' returns with episode 5
When 1923 left off, Teonna decided she had finally had enough. She killed Sister Mary and fled the horrific boarding school. Unfortunately, the man who runs the school, Father Renaud, won't let Teonna escape easily. The midseason trailer shows him determined to track Teonna down and drag her back to the boarding school.
Father Renaud also interrogates Teonna's friend Baapuxti (Leenah Robinson) about where she might have gone. While speaking with TV Insider, Father Renaud actor Sebastian Roché warned fans that his character's abuse "get's worse" in episode 5. More than likely, the priest has some medieval methods to find Teonna.
Meanwhile, the midseason trailer shows Teonna alone in Montana's wilderness, hiding from a snarling wild animal. Teonna has been fighting her battles alone so far in 1923, but a brief clip hints she might finally get some help.
Related
'1923': Why Is Spencer Dutton in Africa?
In the trailer, Teonna hides among a large herd of sheep. A Native American man on a horse finds Teonna and tells her, "come with me." This man might know Teonna's mother, who was seen trying to help bring her closer to home earlier in the series. Or perhaps he is just a kind soul who will get her out of the elements.
How does Teonna Rainwater connect to the Dutton's story?
So far, 1923 hasn't revealed how Teonna's journey …read more
Source:: Showbiz Cheat Sheet
(Visited 1 times, 1 visits today)