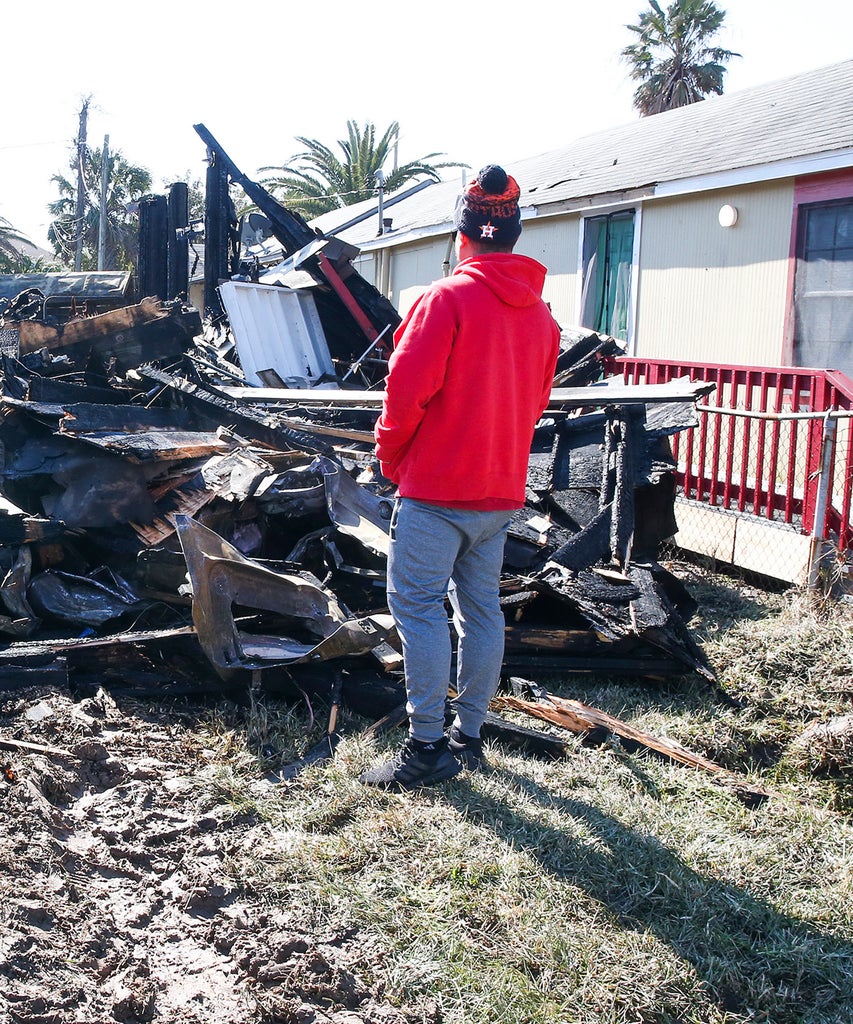 From left to right, Nico Rodrigues, 6, his brother Elijah Rodriguez and their father David Rodriguez walk near the scene of a two story house fire in Galveston, Texas on February 19, 2021. – One person was sent to a hospital for smoke inhalation why three others escaped with no injury . A Winter storm has caused rolling black-outs through out the Galveston and the surrounding areas for the past 5 days. (Photo by Thomas Shea / AFP) (Photo by THOMAS SHEA/AFP via Getty Images)
After an unparalleled winter storm brought snowfall and frigid temperatures to the state of Texas, leaving more than 3 million people without power, heat, and access to clean water, residents are finally starting to see the light at the end of the proverbial tunnel. And after enduring its second coldest week ever, temperatures are finally rising, lights are finally coming back on, and power is returning throughout the state.
But the crisis is far from over: Right now, as many as 10 million people are still unable to access clean drinking water. At least 58 people lost their lives. And now that the power is back on, residents are receiving obscene electric bills — because energy companies have found yet another way to profit off disaster.
According to reporting from The New York Times, the increase in cost is a result of the state's unregulated energy market. Unlike other states, Texas allows customers to "pick their electricity providers among 220 retailers in an entirely market-driven system," according to the Times. These plans allow providers to increase cost as demands increase in an attempt to supposedly encourage residents to "reduce their usage and power suppliers to create more electricity," as argued by those who support the system. But when that system failed during the storm, the Texas Public Utilities commission raised the price cap, causing an increase in price and, in some cases, to more than 50 times the regular cost.
As those capable returned to their homes — some facing extensive water damage, collapsed roofs, and tainted water — the bills started to arrive. Many people shared pictures of their bills online, sparking intense backlash and calls for the state government to intervene.
"When your electric company tells you to switch but there has been a hold on switching for over a week now," one Texas resident tweeted, along with a screenshot of her $3,801.16 electric bill. "Using as little as possible 1300sq ft house and this is my bill. How is this fair. I only paid $1200 for the whole 2020 year." 
When your electric company tells you to switch but there has been a hold on switching for over a week now. Using as little as possible 1300 sq ft house and this is my bill. . How is this fair. I only paid $1200 for the whole 2020 year @FoxNews @wfaa @tedcruz @GovAbbott pic.twitter.com/AylTS4m0j4
— kat and tony (@katandtonyT) February 18, 2021
And that …read more
Source:: Refinery29
(Visited 5 times, 1 visits today)