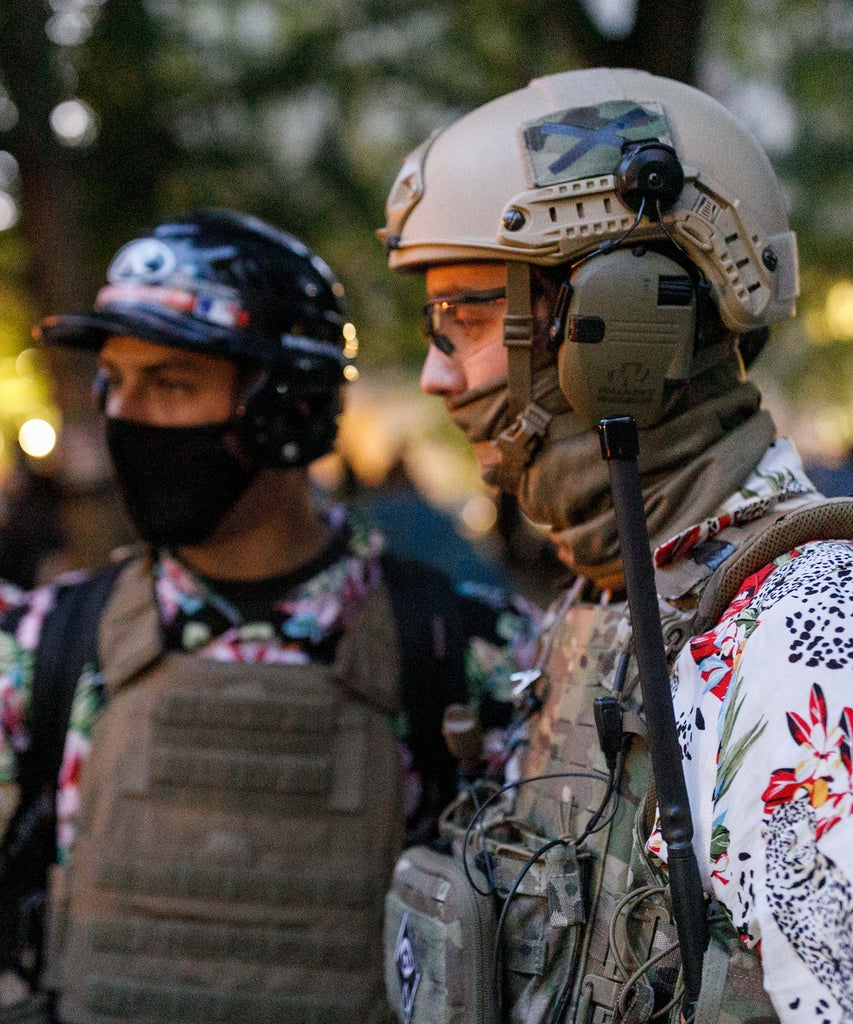 PORTLAND, OREGON, USA – JULY 24: The 'Boogaloo Bois', an armed libertarian group, dress in their signature Hawaiian shirts during a protest on 24, 2020 in Portland, United States. Thousands of people, including mothers, lawyers, health-care workers, and veterans demonstrated in Portland, Oregon on July 24, 2020 for racial justice, and against Donald Trumpâs insertion of Federal officers into Portland, Oregon. (Photo by John Rudoff/Anadolu Agency via Getty Images)
After it was revealed that the FBI stopped an attempt to kidnap Michigan Governor Gretchen Whitmer on Thursday, a group called the "Wolverine Watchmen" militia became a source of immediate public attention. Now, 13 people associated with a militia plot to attack Whitmer and overthrow the government have been charged by the state of Michigan. 
According to the FBI investigation, the group of men began hatching a plot to government takedown plot earlier this year — making their own explosives, practicing combat drills, and shooting. The goal was to end Michigan's lockdown, which has been in place to protect the state's residents during the pandemic. Though Whitmer is currently safe, she has since spoken out against the group who attempted to devise this plan, as well as denouncing President Trump who emboldened them with his calls to "liberate Michigan."
This isn't the first time the Wolverine Watchman has attempted something like this — the group has a terrifying history of plotting attacks like this. According to The Detroit News, the group of men involved in the plot against Whitmer began meeting in June, including at a Second Amendment rally and in a shop basement, in hopes of creating a "self-sufficient" society free from what they see as "unconstitutional state governments." Michigan Assistant Attorney General Gregory Townsend has since called the group "committed to violence" against the government and government officials.
"Wolverine Watchmen is a relatively new group that was spurred to action specifically by the pandemic and by Whitmer's response to it," Amy Cooter, a sociology professor and militia expert at Vanderbilt University, told NBC News.
Seven of the plotting group's members, including Paul Bellar, Shawn Fix, Eric Molitor, Michael Null, William Null, Pete Musico, and Joseph Morrison, are linked to the Wolverine Watchmen militia. Since March, the FBI has been tracking them, after a local police department learned that members were attempting to obtain cops' addresses. Extremism experts, however, say that they've largely flown under the radar, only communicating through private channels.
But a now-deleted website seems to connects the Wolverine Watchmen to the larger Michigan Militia, a paramilitary organization started in the 1990s, according to ABC News. A handbook on the website detailed that the group consists of all citizens that are capable of bearing arms, and that they train with weapons to defend themselves, their families, communities and their state.
So far, testimonies from neighbors and those following members of the group on social media have revealed their connection to the far-right paramilitary movement, saying they constantly gathered on weekends to practice shooting, and that …read more
Source:: Refinery29
(Visited 12 times, 1 visits today)