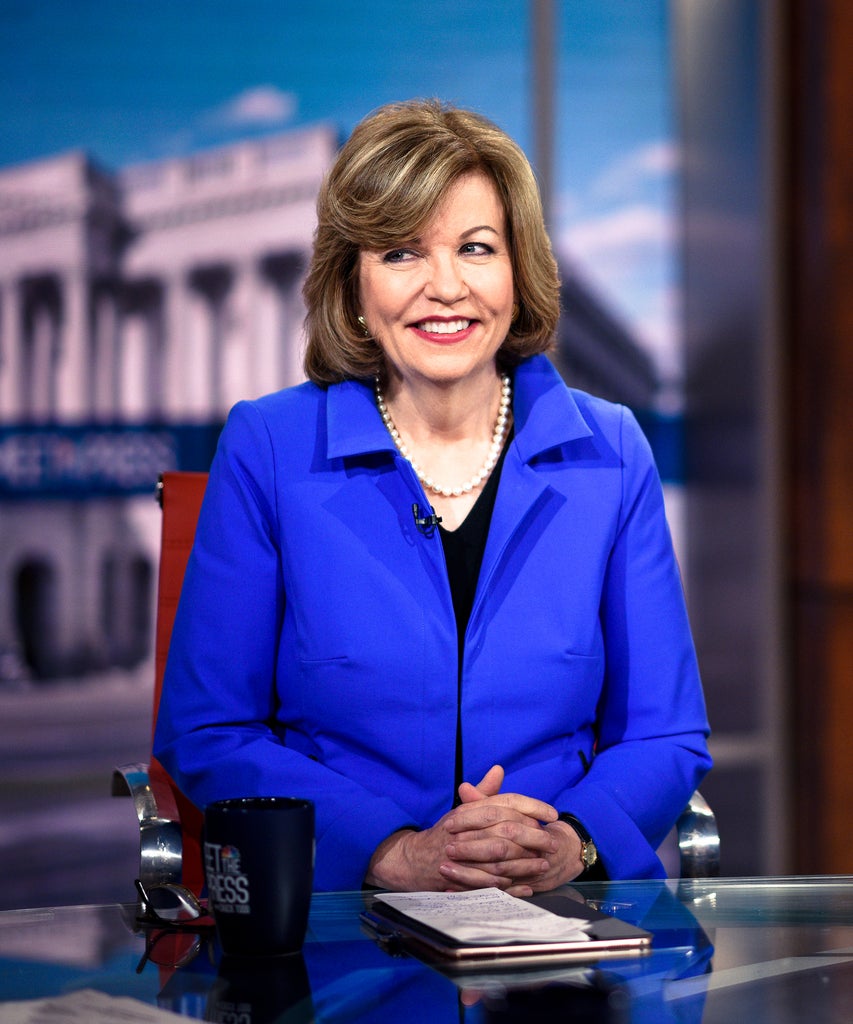 MEET THE PRESS — Pictured: (l-r) Susan Page, Washington Bureau Chief, USA TODAY, and Eugene Robinson, Columnist, The Washington Post, appear on "Meet the Press" in Washington, D.C., Sunday, July 8, 2018. (Photo by: William B. Plowman/NBC/NBC Newswire/NBCUniversal via Getty Images)
Despite the fact that Vice President Mike Pence has been exposed to COVID-19 multiple times, has refused to quarantine, and protested the use of protective plexiglass, tonight's Vice Presidential debate is…a go.
The reality of the public health crisis and the coronavirus outbreak currently spreading through the Republican Party has distracted from what would otherwise be a historic debate — two of the three people on the debate stage Wednesday night will be women, Democratic candidate Joe Biden's running mate Sen. Kamala Harris and moderator Susan Page. Considering Chris Wallace's role in the first Presidential debate of 2020, it's no surprise that many are wondering who Page is and if she's ready for another potentially-heated night.
Page is someone whose name you may or may not be familiar with, but whose work spans generations. As the current Washington bureau chief for USA Today and journalist with decades of experience covering the White House, Page has covered ten presidential campaigns, six White House administrations, and interviewed the past nine presidents. She was the head of the White House Correspondents in 2000 and has provided political analysis and commentary on shows like PBS NewsHour, Face the Nation, Fox News Sunday, and CBS This Morning. She is the first print reporter selected to be a solo moderator for a presidential debate. Essentially, she's one of the most qualified people out there to moderate a presidential debate.
However, some people have expressed concern about her ability to impartially moderate after it was revealed last month that she had hosted an off-the-record, tax-payer funded  "Girls Night Out" event at her home in 2018 to honor two Trump appointees: Seema Verma as head of the Center for Medicare and Medicaid Services and Heather Wilson to head the Air Force. USA Today put out a statement defending the event, telling The Washington Post, "USA Today is fully aware of these long-standing events that recognize the accomplishments of women and fall well within the ethical standards that our journalists are expected to uphold."
Page told USA Today that watching the first presidential debate, largely considered to be a trainwreck, reinforced how necessary it is for the moderator to be prepared. "I've tried to really think through what would be an approach that would work to keep the debate on track," she said. 
The debate will, in fact, occur with plexiglass partitions for protection against the coronavirus, but it will be hard to celebrate what could be a night of watching competent women excel in the political sphere when they could be exposing themselves to a deadly virus while doing it. Even still, here's hoping Page learned a thing or two from watching moderator Chris Wallace fail during the first debate and has a winning …read more
Source:: Refinery29
(Visited 7 times, 1 visits today)