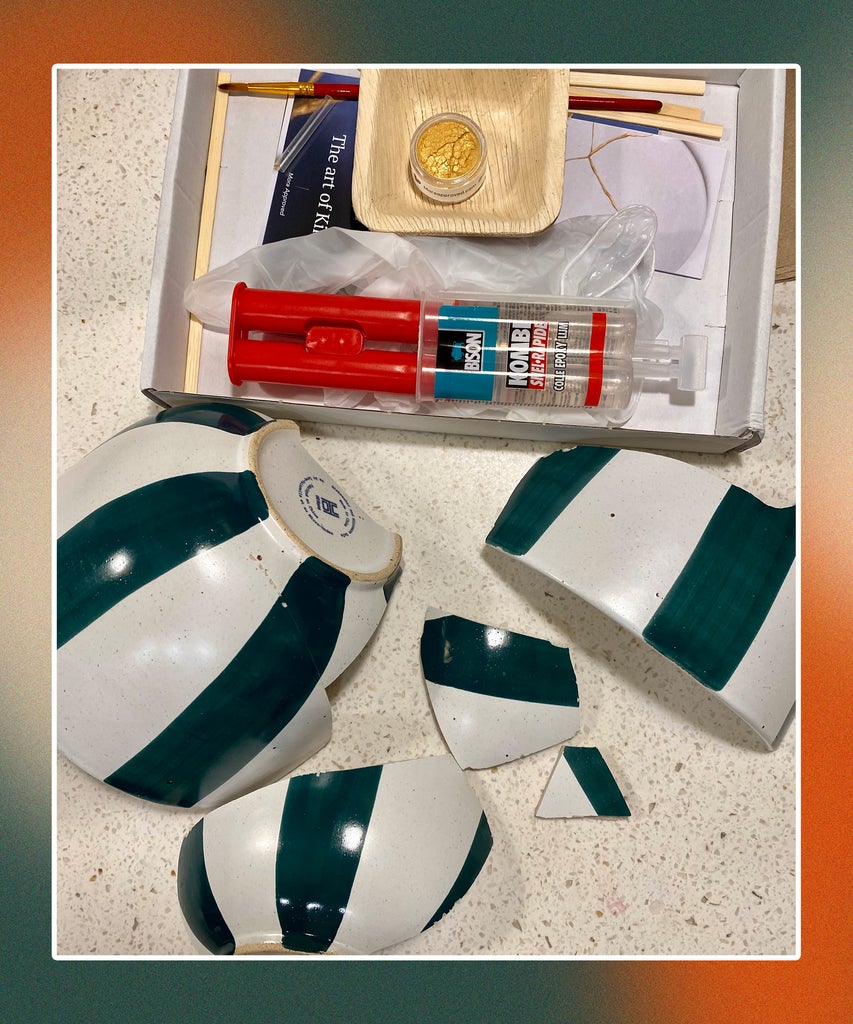 Try as I might, I've just never been a DIY kinda gal. I'm not particularly gifted in the arts and crafts department, so recently when a bowl I bought didn't survive the journey in checked luggage, I didn't think twice before taking the L and bagging it up to be discarded.
However, something didn't let me throw away the pieces just yet. Being the overthinking Virgo I am, I re-examined them and thought to myself, Hey, these actually fit together pretty okay. Maybe not all is lost?
Once the wheels started turning, I began to visualize gluing the pieces back together using kintsugi, the centuries-old technique of mending broken pieces with gold glue. (Historically, sap from an indigenous Japanese tree was used, but nowadays epoxy glue seems to work pretty well.) The repaired pottery showcases the damage beautifully rather than hiding it while also rescuing something that might otherwise be discarded. I loved the idea of not having something go to waste. This is a core Japanese value — as a kid, my grandmother used to tell me that if I didn't eat every last grain of rice in my bowl, my eyes would be sealed shut the next time I went to sleep. Chill vibes!
Anyway, back to me and my shattered bowl. After searching online for a quality, relatively affordable kit, I settled on a highly-rated Etsy find by Netherlands-based seller MoraApproved. At under $30 (including shipping), it came with a vial of epoxy glue, a small pot of non-toxic pigment in your choice of color (I went with traditional gold), a small brush, wooden mixing sticks, plastic gloves, and an instruction postcard.
DashDividers_1_500x100
MoraApproved DIY Kintsugi Kit, $30.97 $21.68
It took about two to three weeks for my kit to arrive (which was fine by me since I wasn't in a rush), so keep that in mind when ordering. As you can see in the image above, everything arrived neatly encased in a slim cardboard box — no unnecessary bells and whistles. The seller offers an optional add-on of a small porcelain heart to practice before tackling your project. I passed, which ended up making the stakes higher when I sat down to start in on piecing my bowl back together. It took a while for me to get the hang of mixing the glue and gold powder together and applying it before the glue began to dry and solidify. In hindsight, I wish I had the extra piece to practice on beforehand. I'm more or else fine with my end results, though — perfection is overrated. I admittedly struggled a bit with not getting the glue everywhere on my bowl (and went through many more pairs of gloves since I got glue and powder on those, too), but that has nothing to do with the kit and everything to do with my user error.
After slowly gluing the pieces back together, I set the bowl upside down on the layer of newspaper I'd laid out on my counter. (This, BTW, is …read more
Source:: Refinery29
(Visited 4 times, 1 visits today)