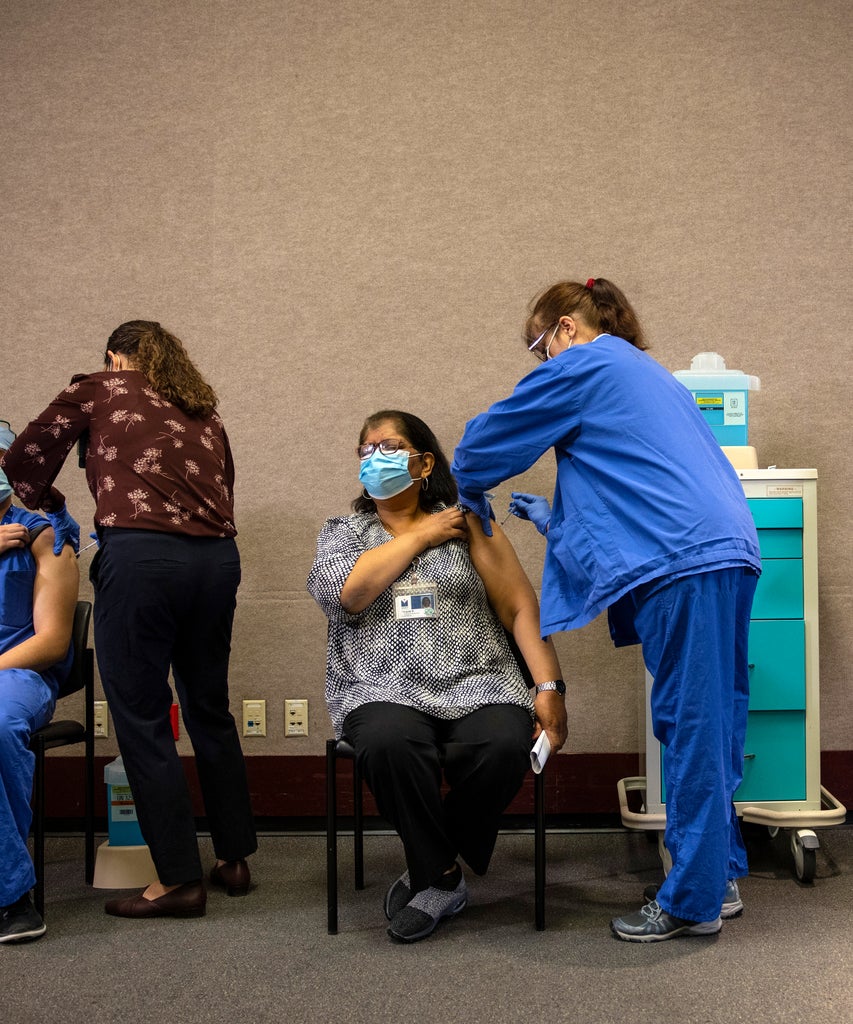 Over the past couple of weeks, some states have expanded eligibility for COVID-19 vaccines to certain age-specific and at-risk groups. The light at the end of the coronavirus tunnel is beginning to feel closer. But while early data is incomplete, a clear divide is already emerging: People in wealthy — often white — communities are getting vaccinated at disproportionately higher rates.
So far, data has shown that low-income communities of color have been hit hardest by coronavirus, so why is it that largely white neighborhoods have been able to flood vaccination appointment systems — or get around them entirely — taking up a considerably outsized share of already limited resources?
According to data released last weekend for New York City, white people have received nearly half of the available doses of the vaccine. Meanwhile, Black and Latinx residents were greatly underrepresented given their respective share of the city's population. In Colorado, 1 of 16 white residents has received the vaccine so far. In comparison, only 1 of 50 Latinx residents have, despite making up 20% of the state's population, reports Colorado Springs' The Gazette. These are just a couple of examples of unequal access nationwide. Furthermore, there are countless examples of wealthy people using connections and creatively skirting requirements to jump the line.
In Florida, board members of a West Palm Beach nursing home showed up to get COVID-19 shots meant for their residents. A SoulCycle instructor in New York publicized getting the vaccine on social media claiming she was an "educator." Had she not, she would not have been qualified to receive the vaccine yet.
Perhaps the clearest example of this inequity, though, is in California. Data shows that of the state's 40 million residents, those in wealthy areas are receiving far more vaccinations than those in poorer neighborhoods. In a study released by the L.A. County Department of Public Health, Bel-Air, Beverly Hills, and Pacific Palisades — some of the area's wealthiest neighborhoods — report some of the highest vaccination rates, with 25% or more residents receiving at least one dose. In comparison, neighborhoods reporting vaccination rates under 9% are among those considered less affluent.
This is in some part due to the appointment registration process. Whoever can devote the most time to getting an appointment is often the one who gets the appointment. It is also affected by a region's ease of distribution. Regions like the San Francisco Bay Area were able to distribute vaccinations more easily by leveraging ample resources, whereas overburdened communities have had to scale back vaccination efforts, according to NBC News, because they simply do not have the power to do more.
"The findings clearly indicate very significant inequities in the distribution of vaccine to date," Dr. Paul Simon, chief science officer for the Los Angeles County …read more
Source:: Refinery29
(Visited 6 times, 1 visits today)