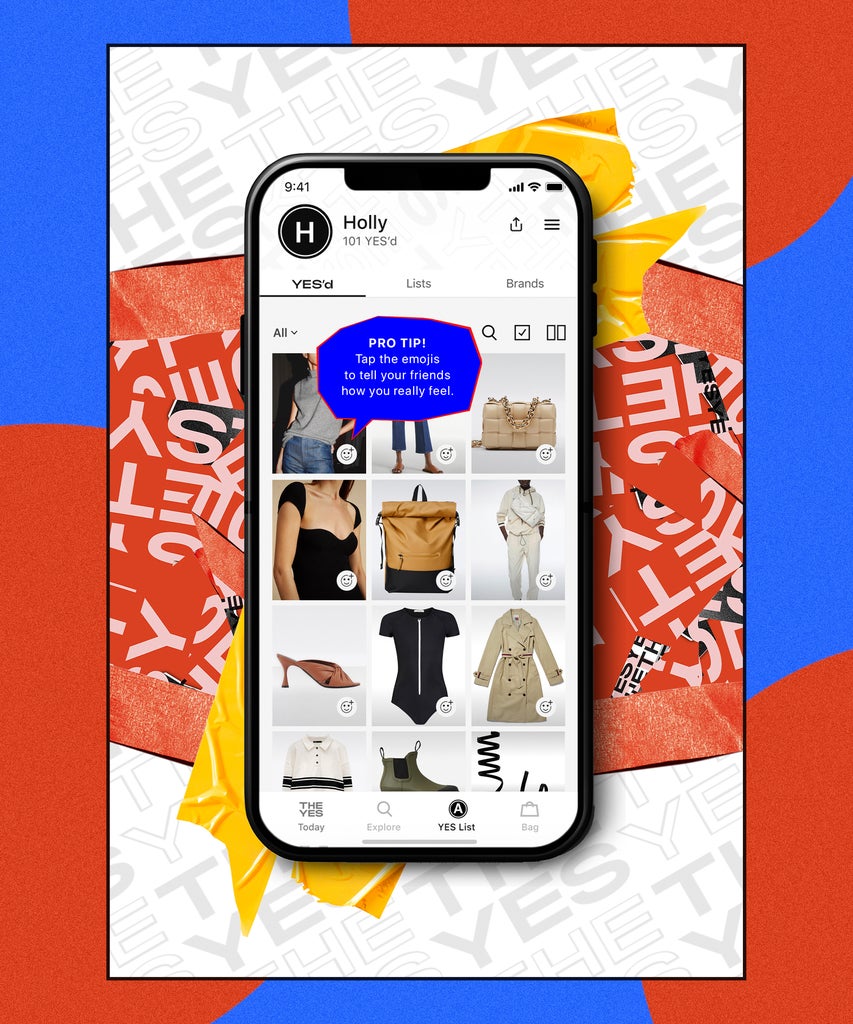 When looking for a new fashion item, how do you shop for it? Maybe you first do a general Google search for "black puffer" or "wedding guest dress." Inevitably, that will lead you to random, non-curated results. So then maybe you go to a few popular clothing retailers to endlessly browse their selections to see what's out there. But, shoot, maybe what you want is sold out in your size and preferred color. Or maybe it's not in your price range. Maybe it's back to the drawing board. Maybe you need a nap.
If shopping feels like a time-consuming scroll, there's a new-ish app on the scene that's designed to make the process a whole lot easier — and a lot more fun. THE YES is both a desktop platform and smartphone app, but for the purposes of this story, we will be talking about the app experience that you can download for iOS.
"THE YES is the first of its kind — an e-commerce platform that creates a personalized shopping experience and actually learns the more you use it," Taylor Tomasi Hill, Creative & Fashion Director at THE YES, tells Refinery29 over email. "We're combining the best parts of online shopping (access to a wide variety of brands, sizes, styles, and price points) with leading AI technology to create fashion-meets-tech harmony. And the best part is the longer we go the more fine-tuned our algorithm and shopping recommendations will be. Like a fine wine, people!"
A search for "duvet coat" on THE YES
Creating an account with THE YES is as intuitive and easy as signing up for a dating app — and even if you've never used a dating app before, you're likely familiar with the motions of liking and disliking options on your phone screen. You're first prompted to enter your sizing details and complete a short personal style quiz, which includes fave-ing brands and designers you love and selecting "yes" or "no" on certain fashion trends. Do you wear bike shorts? Do you wear floral minis? Do you wear kick flares? Do you wear camo print? Do you only wear black? With every tap, the app gets to know more about your personal style, which allows better-curated shopping picks for you.
For instance, say I wanted to buy a new pair of gloves. A search for "gloves" yields results from hundreds of retailers with the top picks culled from both my favorite brands as well as glove styles that THE YES predicts I'll love. So, in addition to being served options from tried-and-true favorites like &Other Stories and Bottega Venata, I'll get to shop options I might not even know to look for based on my own personal style.
A search for "gloves" on THE YES
For me, the aspects I love most using THE YES include the fashion discovery element (THE YES currently …read more
Source:: Refinery29
(Visited 7 times, 1 visits today)