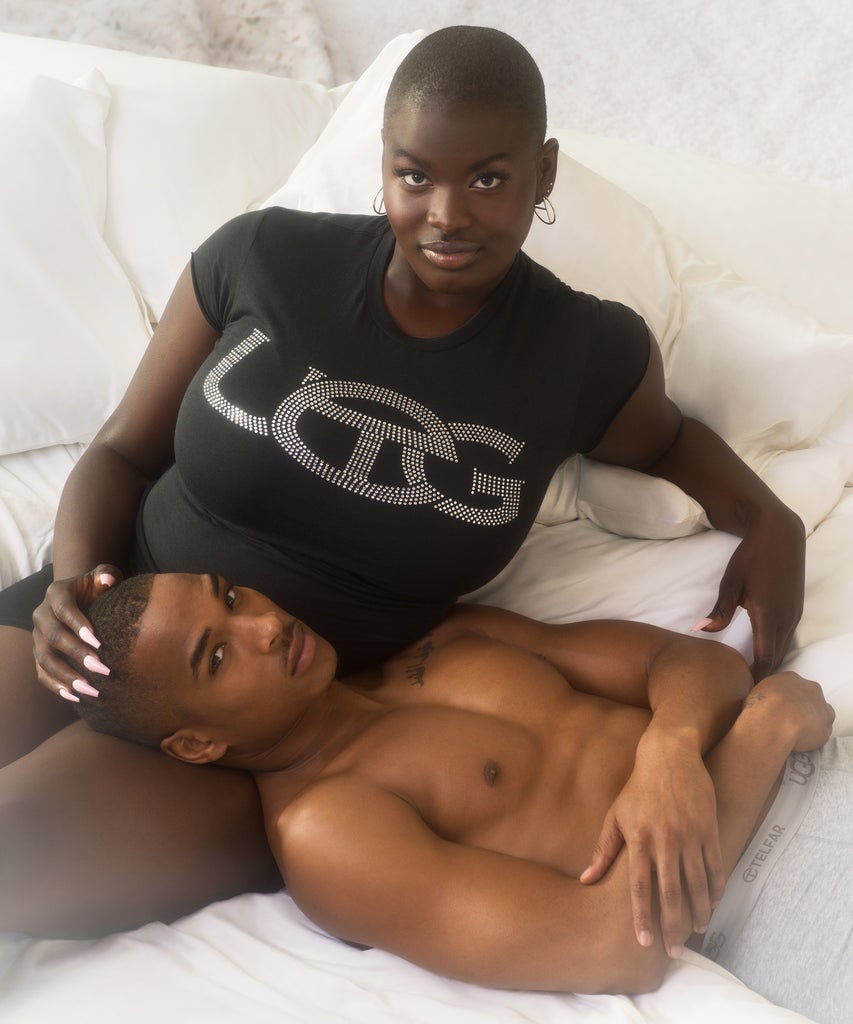 It's been nine months since Telfar Clemens, the designer behind the viral Shopping Bag, announced the UGG x Telfar collaboration. Now, we finally have the details about its actual arrival — and after perusing the collection, we can say with certainty that it was well worth the wait.
According to a press release from both brands, the first UGG x Telfar drop will arrive on shop.telfar.net on Monday, June 14, where it will be sold exclusively for one week. Starting on June 21, pieces from the all-gender collection of shoes, clothing, and underwear will be made available on UGG.com, as well as at various UGG retailers nationwide. 
For the first drop of the collab, Telfar designed four items. The two boot styles, one in UGG's mini height and another in tall, come in heather gray fleece and feature the Brooklyn-based brand's logo and brand name. The two apparel items, a black T-shirt and three pairs of boxer briefs, will be available in heather gray, chestnut, and black. And for $25 (for underwear), $110 (for the crystal tee), and $250 to $390 (for short and tall boots, respectively), they're bound to sell out as soon as they drop.
To celebrate the forthcoming launch, Telfar and UGG tapped the cast of The Real Housewives of Potomac, one of the designer's favorite shows, for a glamorous spread for InStyle. The shoot took place at an $11 million mansion along the Potomac River in Mclean, Virginia, near to where the Queens-born Clemens spent his formative years in Maryland. The cast of the show wore custom Telfar gowns, which were styled with UGG x Telfar T-shirts. Other photos show Clemens heading up what appears to be a Tae Bo class for his RHOP friends, with everyone wearing matching gray workout ensembles from the upcoming drop. 
View this post on Instagram
A post shared by @telfarglobal
As for the more wintery ensembles — the shearling sweatsuits featured in the shoot and a shearling bag teased back in September — those will come later. According to the press release, new items will be announced in September.
Like what you see? How about some more R29 goodness, right here?
UGGs: The "Ugly" Shoe Everyone Loves To Hate
Secure The UGG x Telfar Bag Before It Sells Out
Telfar Won NYFW By Announcing A Collab With UGG
Source:: Refinery29
(Visited 19 times, 1 visits today)