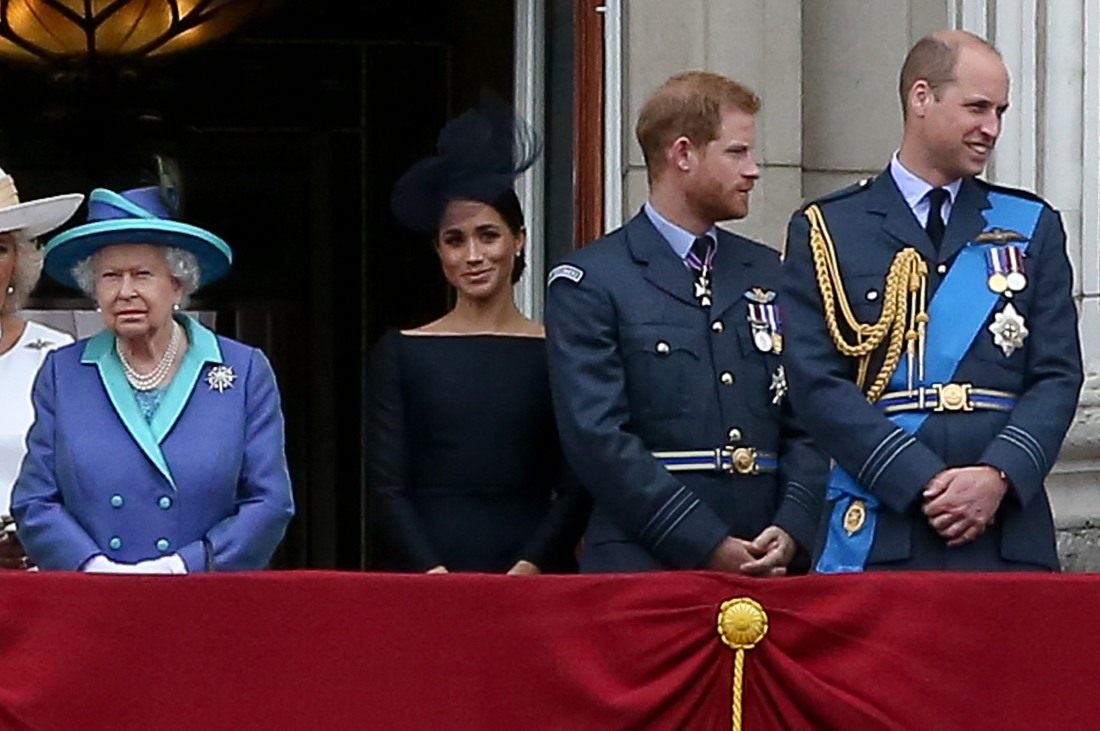 You can really tell that Buckingham Palace is in shambles following the events of the past week and a half. A series of dominoes fell: the Duchess of Sussex won her summary judgment, the Sussexes announced they were expecting another child, they announced the Oprah interview and the Sussexes clapped back at the Palace's statement about service and duty. How can we tell that the Palace is in shambles? Because they can't even get their stories straight about what they knew and when, why Harry is awful, why they're so scared of the Oprah interview, or why they (the Palace officials) spent the past week trying furiously to complete the one-year review. Here are some highlights from the Daily Mail's increasingly hysterical coverage, mostly about the Oprah interview:
Harry didn't tell the Queen about the Oprah interview: The Mail on Sunday has also revealed that Prince Harry did not inform the Queen about the 'tell-all' interview with Oprah Winfrey. Her Majesty was 'blindsided' last week when it emerged that the Duchess of Sussex and her husband had agreed to talk to the American chat show host. She learned of it only when US TV network CBS hurriedly issued a statement on Monday after a producer working for Ms Winfrey mistakenly alerted ITV to the project. Harry not only kept the deal secret, sources question whether he instigated the discussions with the Queen over the Sussexes' 'divorce deal' in order for it to be settled before the interview, which was recorded last Tuesday.
Why did the Queen scramble to complete the one-year review? Insiders insist the Oprah interview did not influence the decision by the Queen to strip Harry and Meghan of their royal patronages and honorary military titles. She sent a letter explaining the decision to her grandson after the Oprah interview had been announced, but had written it some days earlier.
The ITV leak? ITV discovered that the Duke and Duchess were to give an interview with Ms Winfrey when a member of the chat show host's team requested access to news presenter Tom Bradby's 2019 interview with Meghan in which she expressed unhappiness at her treatment by the British media. When ITV approached a spokesman for Harry and Meghan for comment, the decision was made to release a statement revealing the interview. A source said: 'They had kept the interview totally secret. The Queen was not told, the Palace was not told. It seems clear from the sequence of events that they wanted and needed to know the final outcome [of the Queen's decision] before they taped Oprah.'
When the Sussexes recorded the interview: The couple recorded their tell-all sit down with the American chat show host on Wednesday and Thursday [Feb. 17 & 18] – just hours before the couple issued their parting shot. It has also emerged that Oprah had been with the Sussexes immediately before their riposte was released, having taken her £50 milllion Gulfstream jet to Santa Barbara – where she …read more
Source:: Cele|bitchy
(Visited 5 times, 1 visits today)