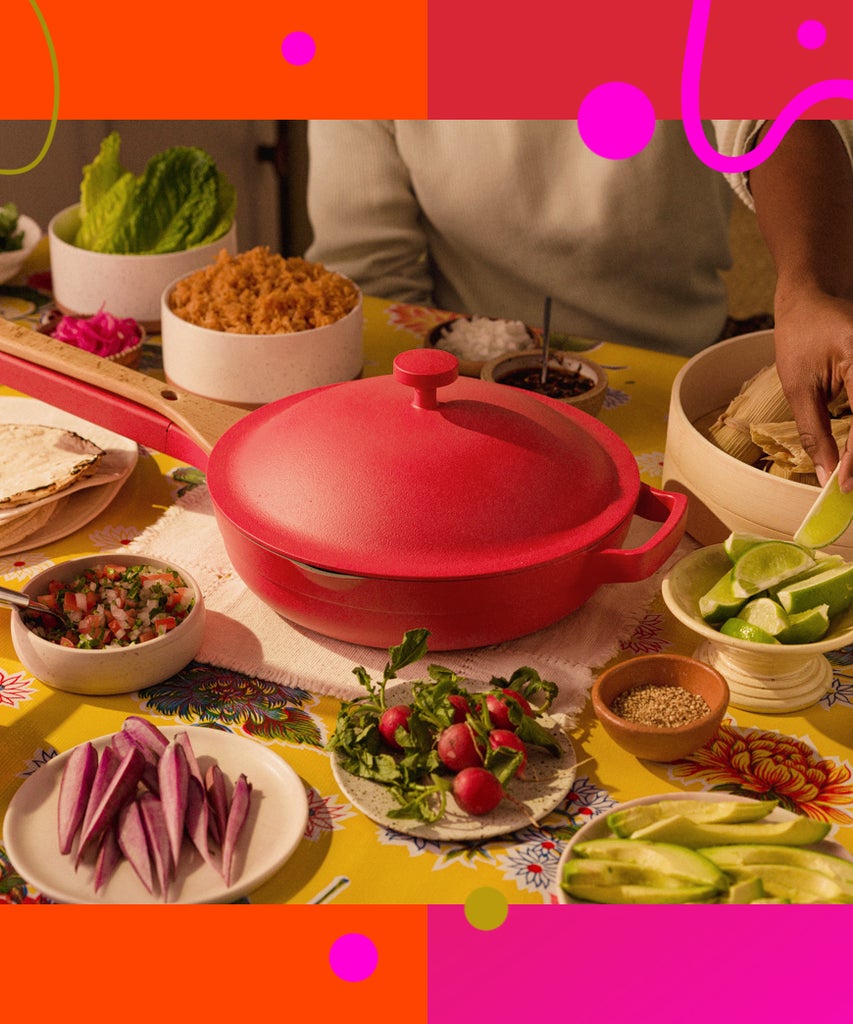 Iconic, cult-favorite, internet-famous, and magic are just a few signifiers that have become interchangeable with eco-chic cookware brand Our Place's most prized creation: the Always Pan. Today, you can go ahead and add SPICY to that list because the multipurpose pot just launched in a sizzlin' new hue. Diehard fans may already recognize the aptly dubbed colorway, Heat, from Our Place's limited-edition Lunar New Year Collection that launched (and subsequently sold out) last January. Now, in the dawn of 2021, the pepper-inspired red Always Pan is making its highly anticipated return. Shoppers can snag the fiery new pan solo (for its usual price of $145) or as part of a special bundle (priced at $175) including the brand's recently launched bamboo-spruce steamer and chopsticks. But, rev your carts: all the other colors are back-ordered, so the stock on this new Heat-hued Always Pan is sure to burn out fast. If you're not privy to this multipurpose pot's trending lore, then let us run you through its stellar highlight reel below.
Our Place Always Pan, $145
DashDividers_1_500x100
What is the Always Pan?
It's a non-toxic, nonstick, all-in-one pan that's crafted from partially recycled materials (including ceramic and heavy gauge cast aluminum) that are ethically sourced from Our Place's female-owned factory partners. The multipurpose design was made to replace eight traditional pieces of cookware — including a fry pan, sauté pan, steamer, skillet, saucier, saucepan, non-stick pan, spatula (made of beechwood), and spoon rest. Currently, the Always Pan is offered in seven different colorways: Spice (a muted millennial pink), Steam (a cloudy oatmeal), Char (a deep charcoal), Sage (a zesty green), Bluesalt (a rich blue), Lavender (a now sold-out pastel purple), and Heat (the new spicy red). Priced at $145, it's not a budget buy — but, when considering its 8-in-1 abilities, it breaks down to around $18 per piece.
DashDividers_1_500x100
What can you cook with it?
Pretty much anything! But, because of its incredible non-stick properties —which Our Place's co-founder, Shiza Shahid, describes as "so slippery that fried eggs practically levitate off the pan! And clean-up is a breeze!" — the Always Pan is especially great for making eggs, pancakes, and one-pot meals that utilize its nested steamer basket. Think everything from pasta dishes to rice medleys, stirfry, or this skillet chicken dish (made by moi).
DashDividers_1_500x100
At Refinery29, we're here to help you navigate this overwhelming world of stuff. All of our market picks are independently selected and curated by the editorial team. If you buy something we link to on our site, Refinery29 may earn commission.
Like what you see? How about …read more
Source:: Refinery29
(Visited 10 times, 1 visits today)