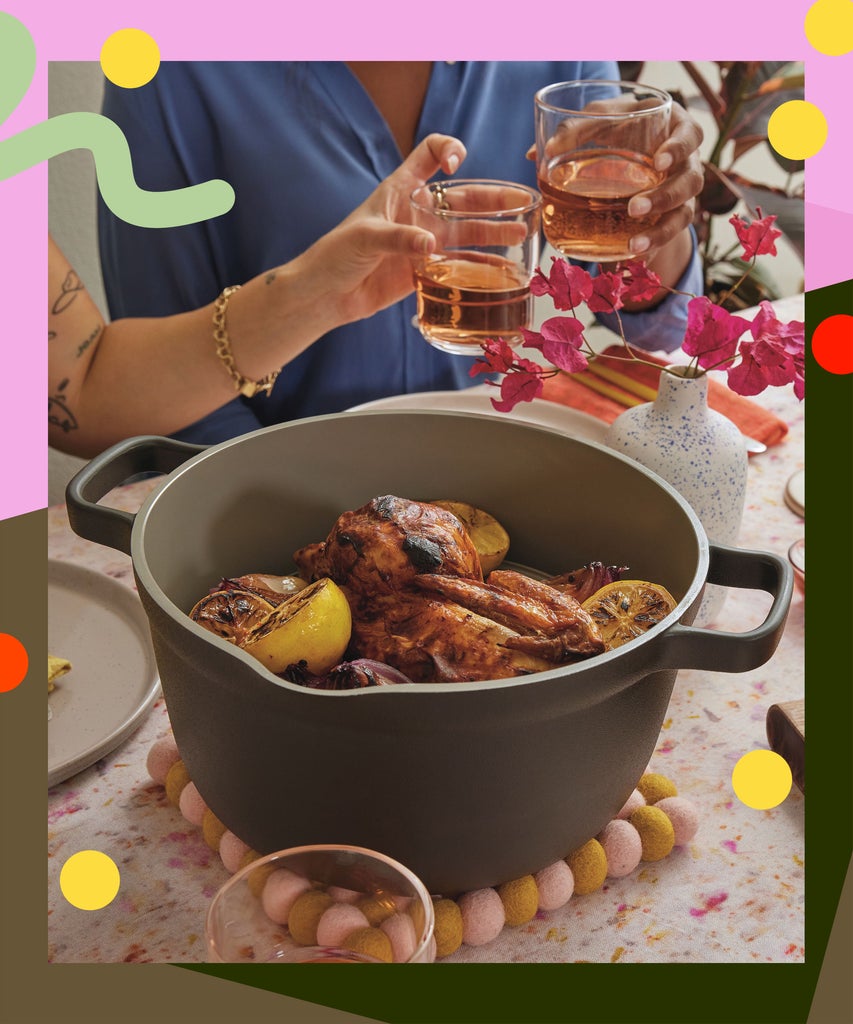 Super Sale Alert: There's a good chance items featured in this story are currently on sale for Black Friday. For more need-to-know details on this year's best deals, peep our guide to shopping the main event here.
Prior to today, the OPCU (Our Place Cinematic Universe) primarily set the scene around its fan-favorite cookware, the Alway's Pan, while occasionally sprinkling in some other quality kitchen essentials — knife + cutting board sets, bamboo steamers, drinkware sets, etc. But, for the first time since debuting in 2019, Our Place's beloved Always Pan has a successor: the Perfect Pot, and it's currently on sale for $40 less in honor of Black Friday. For $125, the new non-stick and non-toxic ceramic dish (dipped in four classic Our Place colorways: Blue Salt, Steam, Char, and Spice) serves as a stockpot, Dutch oven, saucepot, roasting rack, steamer, bread pot, braiser, and spoon rest. This time around, instead of one free-for-all launch, the brand released its first container of Perfect Pots on August 16 via limited daily color drops through August 19 and the rest is history.
According to Our Place's site, this do-it-all dish should give you the creative freedom to boil, crisp, bake, braise, roast, steam, strain, store, serve, pour, and steep whatever your stomach is in the mood for. Sound familiar? Essentially, if you're a fan of the Always Pan's ingenuity, we have a hankering that you'll get a kick out of its fresh out of the oven younger sibling. Read on below for all you need to know about what makes this pot so perfect — including reviews from the very own R29 Shopping team, coming to a computer screen near you.
Our Place Perfect Pot, $165 $125
What is the Perfect Pot?
The Perfect Pot is a larger-than-life Dutch-oven adjacent cookware that covers your basic cooking needs. Its main selling points are its lightweight stature (4.3 pounds), aesthetic appeal, and, unlike the Always Pan, you can pop this guy in the oven up to 425 degrees Fahrenheit. Once you buy, you receive the pot, a beechwood spoon, a biodegradable sponge, and a roasting rack. Rather than including a strainer similar to the one that comes with the pan, the Perfect Pot is equipped with built-in side vents that get the same job done.
What can you cook in the Perfect Pot?
You can tackle anything from chicken roasts to hearty lentil soups, one-pot pasta ensembles, and roasted veggies. If you're looking at your Always Pan wondering if you really need to add this pot to your cabinet, ask yourself if you want the option to bake mac and cheese in the oven, boil up to 5.5 quarts of water, feed your entire family with one dish, and more endless kitchen possibilities.
Our Place Perfect Pot Reviews
"I'm an everyday type of home cook (specializing in breakfast and dinner) who loves a good one-pan meal that can …read more
Source:: Refinery29
(Visited 7 times, 3 visits today)