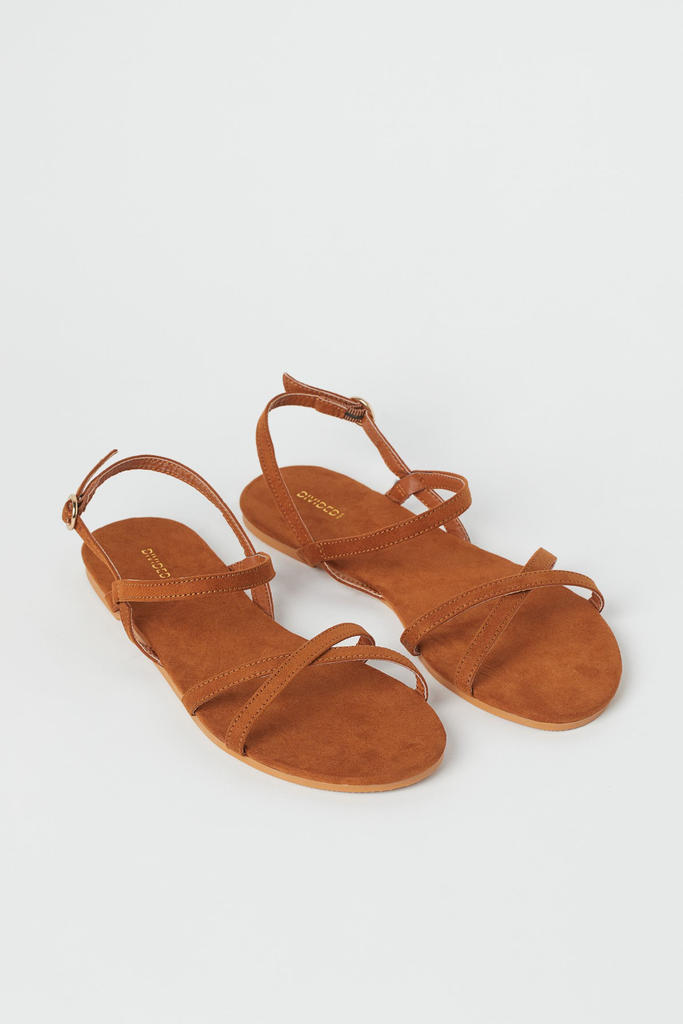 It's summertime, baby, which means it's sandal season. While trends come and go, sandals will always be a warm-weather must-have. From strappy, barely-there sandals to chunky wedges, there's a pair for every style, outfit, and budget. Overwhelmed by all the options? We've consolidated several of our favorite comfortable sandal brands and styles into a best-of-the-best summer sandals guide (and included a few other trends we're loving for our feet).
To make the list, we looked at a number of factors including overall comfort level, trendiness, price point, and use. For instance, we love that our readers are the types to need hiking sandals in the morning and dancefloor-ready heeled sandals in the evening. Or, perhaps there's a practical need for a chic waterproof sandal that's appropriate for both a beach day and a rainy dinner date. Maybe you're a prudent shopper in the market for sensible (and obviously cute) orthopedic sandals that won't cramp your OOTD. Whatever kind of sandal you need, the internet shall deliver.
One major thing to keep in mind is that we are talking shoes, which means that depending on the sandal, a break-in period is absolutely necessary and to be expected. But once that's done, you'll have that perfectly molded-to you shoe ready to take you on all your summer adventures. Ahead, our summer sandals guide provides you with some of the best toe-wiggling, pedicure-friendly styles.
DashDividers_1_500x100
Best Platform Sandals
Let's get high — off the ground, that is. Platform sandals continue to be a favorite summer shoe style because these height-boosters are generally more comfortable than actual heels. Plus, the chunky sole can provide cushioning between you and the hard floor or sidewalk. Check out platform sandals with thick soles made from lightweight natural cork or natural rubber — or for a cute, weaved style, give espadrilles a go. 
DashDividers_1_500x100
Best Cheap, Under-$15 Sandals
Sometimes we just need an unfussy pair of affordable sandals to get us through the season. Luckily, the internet has plenty to offer via fashion hard hitters like H&M, ASOS, Shein, and Old Navy. At such gentle price points, you won't be shy about wearing them to death. 
DashDividers_1_500x100
Best Closed-Toe Sandals
The biggest closed-toe sandal trend this year is the fisherman sandal, which is ideal for anyone who wants to go a little longer between pedicures. Another classic staple in this category is huaraches, which are hand-woven braided sandals originating from Mexico. Also, consider the peep-toe style — like a Menorcan avarca sandal — which has just a wee opening at the front that we promise won't expose whole toes.
DashDividers_1_500x100
Best Hiking & Sport Sandals
Fabulous for hiking, camping, or general sporting, these strappy waterproof sandals are designed to stay secured on your feet at all times — no matter if you're wading in a river or hitting the trails. In terms of being nature-friendly, the best …read more
Source:: Refinery29
(Visited 3 times, 1 visits today)