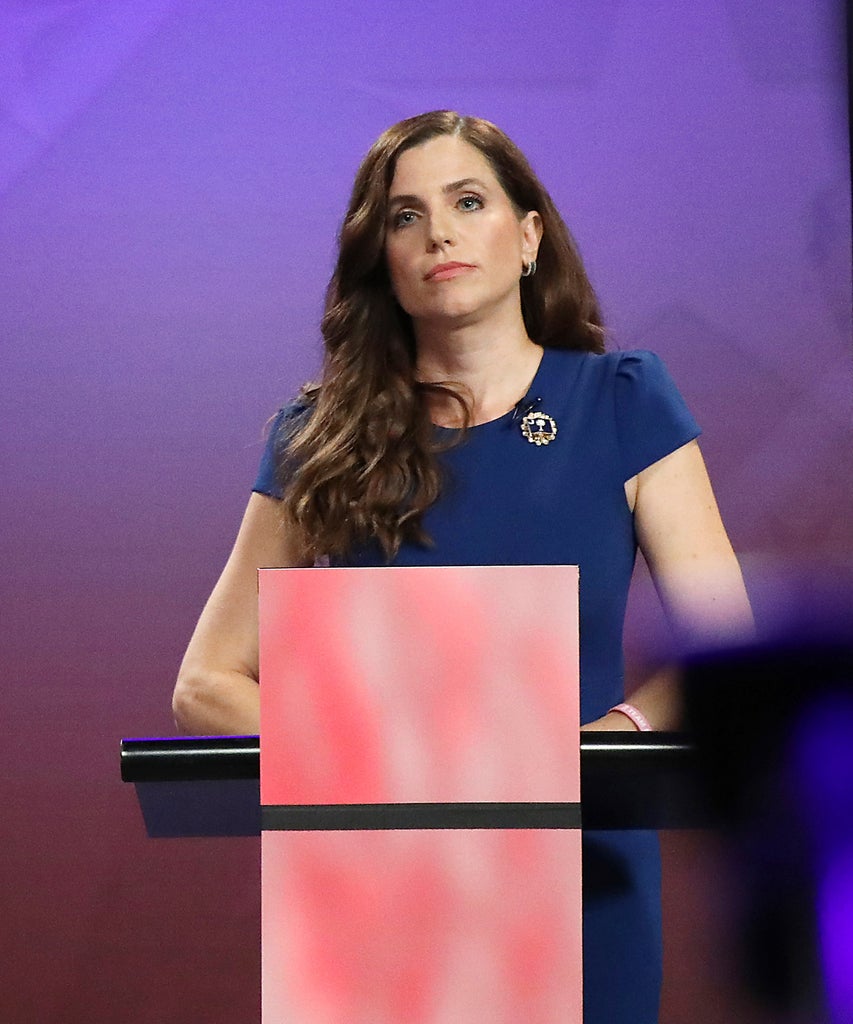 Republican challenger and state Rep. Nancy Mace, right, debates Democratic U.S. Rep. Joe Cunningham, left, Monday, Sept. 28, 2020, at the SCETV studios in Beaufort, S.C., in South Carolina's 1st Congressional District seat race. (Grace Beahm Alford/The Post And Courier via AP)
When a Republican leader starts to quote Dr. Martin Luther King out of context, you just know you're about to hear something that is, at best, vague and void of any responsibility. Wednesday morning, on the House floor, South Carolina Rep. Nancy Mace admitted that Donald Trump must be held accountable for last week's attack on the Capitol — but she seemed to also blame Democrats and leftists for the riot started, perpetrated, and incited by Trump's camp. 
"Remember the words of the legendary great leader in this country, Dr. Martin Luther King, who once said, 'The time is always right to do what is right.' And if we're serious about healing the divisions in this country, Republicans and Democrats need to acknowledge this is not the first day of violence we've seen," Mace said. "We've seen violence across our country for the last nine months. And we need to recognize, number one, that our words have consequences, that there is violence on both sides of the aisle."
As the House moves to impeach Trump for incitement of insurrection, Mace isn't the only Republican congressperson trying to shift blame onto "both sides." In a Wednesday morning interview with CNN, Colorado Rep. Ken Buck argued that it wasn't just "one speech or incident" that caused the events of last week. "The level of animosity and the level of, really, vitriol between these two sides has been building for five or six years now," he said. "What I'm trying to suggest to you is that both sides are at fault."
Technically, a small part of Buck's statement is correct: Trump's supporters didn't suddenly become emboldened after one speech or tweet, and last week's riot wasn't just the result of one single incident. But the incessant, building vitriol and animosity that led to the attack didn't come from both sides — it came from Trump, and from his administration. 
Since beginning his political career, Trump has refused to condemn white supremacists and protect at-risk Americans. After taking office, Trump quickly began to stoke division by denouncing reliable media sources and spreading lies about prominent Democratic leaders. And after losing reelection, he declined to concede, creating more tension, challenging democracy, and — yes — encouraging the violence that happened on January 6.
Republicans love to blame "both sides," as if fascism and anti-fascism are just two extreme entities instead of, you know, an immediate threat to our lives and a necessary response to that threat. The protests and riots we've seen from Democrats this year were reactions to police brutality, institutional racism, and a government that upholds white supremacy. And another stark, undeniable difference between these events and the attack on Capitol Hill is that protestors were tear-gassed, shot with rubber …read more
Source:: Refinery29
(Visited 6 times, 1 visits today)