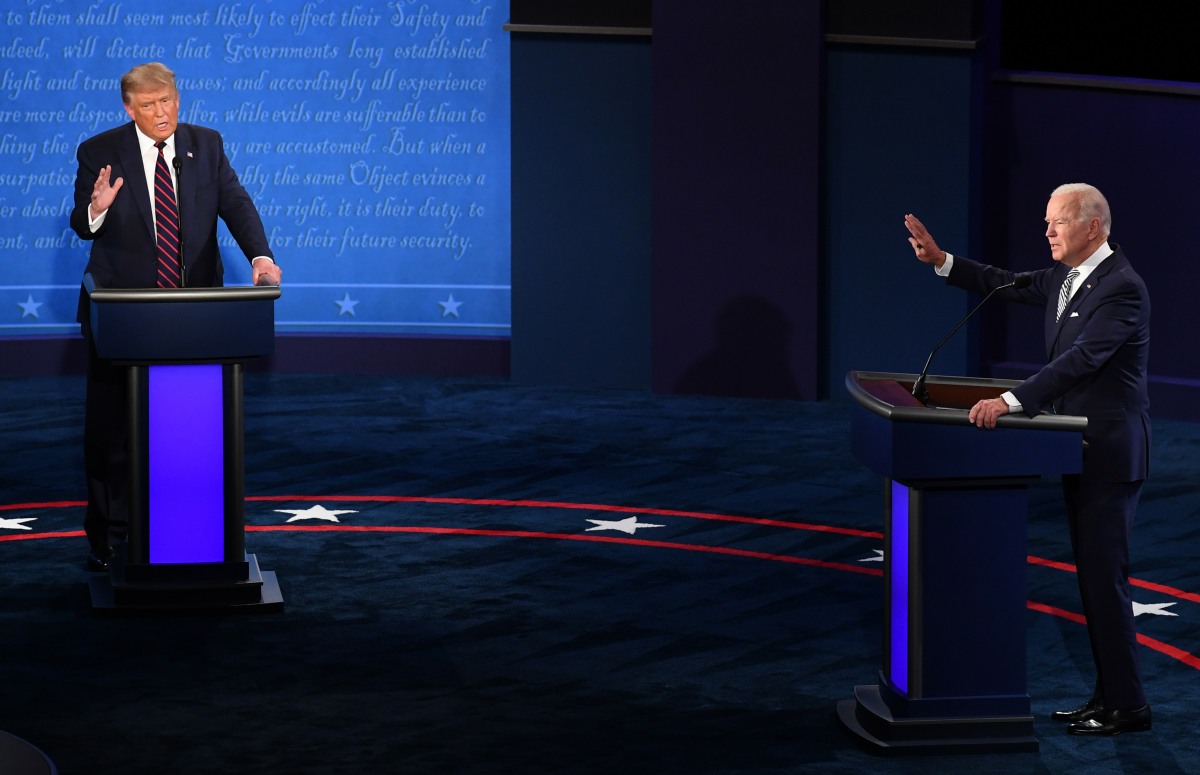 So yesterday, I was actively trying NOT to follow all of the bulls–t news that was "breaking" or "just in" or whatever. I would love to be able to take a pill and wake up the day after Election Day because the next 19 days are for sure going to feature the four horsemen of the apocalypse. But I guess we have to pretend to pay attention or else everything else will fall apart and just… whatever. The news came out yesterday: NBC invited Donald Trump to do a 90-minute town hall on what would have been the night of the second debate. The debate commission wanted to do the debate virtually, but Don the Coward said no and stomped his feet a little. The thing is, ABC had already invited Joe Biden to do a town hall on their network, and NBC positioned their "ask" specifically for the same timeslot. So now instead of fighting over Amy Coney Barrett's assholery, we're talking about… television ratings.
After Joe Biden's campaign announced a town hall with ABC News following President Donald Trump's declaration that he wouldn't participate in the second debate, the president and his team sensed an opportunity for another media spectacle. On Wednesday, NBC News delivered. The network announced that it will hold a town hall with the president on Thursday at the same exact time that a town hall with former Vice President Joe Biden will air on ABC News. NBC's programming decision, critics complained shortly after the network touted it, plays into Trump's hands.
According to multiple sources familiar with the president's thinking, Trump has told close associates that he wishes to counter-program the Biden town hall and score higher TV viewership numbers, and then use such a contrast in ratings to humiliate his Democratic opponent. Predictably, Trump also wants his 2020 team to make a big deal out of pushing out those numbers, should his hour's ratings beat Biden's 90-minute event.
"He looks at this the same way he looks at attendance at his rallies versus the [turnout] Biden gets for his events," one of these people told The Daily Beast. "He obviously wants to blow Biden out of the water."
The brazen move to counter-program the previously announced Biden town hall almost immediately sparked backlash against NBC News. The network's leadership faced a barrage of condemnation on Wednesday after the last-minute announcement that the broadcast network—along with its sister cable outlets MSNBC, CNBC, and Telemundo, and their digital platforms such as NBC News NOW and the new streaming service Peacock—would air the live event on Thursday night during the same hour as ABC News' previously scheduled town hall with Biden.
"It's an irresponsible and selfish move by NBC," a source close to the Biden campaign texted The Daily Beast. "If they're going to allow Donald Trump an hour of air time to spread disinformation about COVID and repeat his greatest hits of lies and conspiracy theories, they ought to at least do …read more
Source:: Cele|bitchy
(Visited 5 times, 1 visits today)