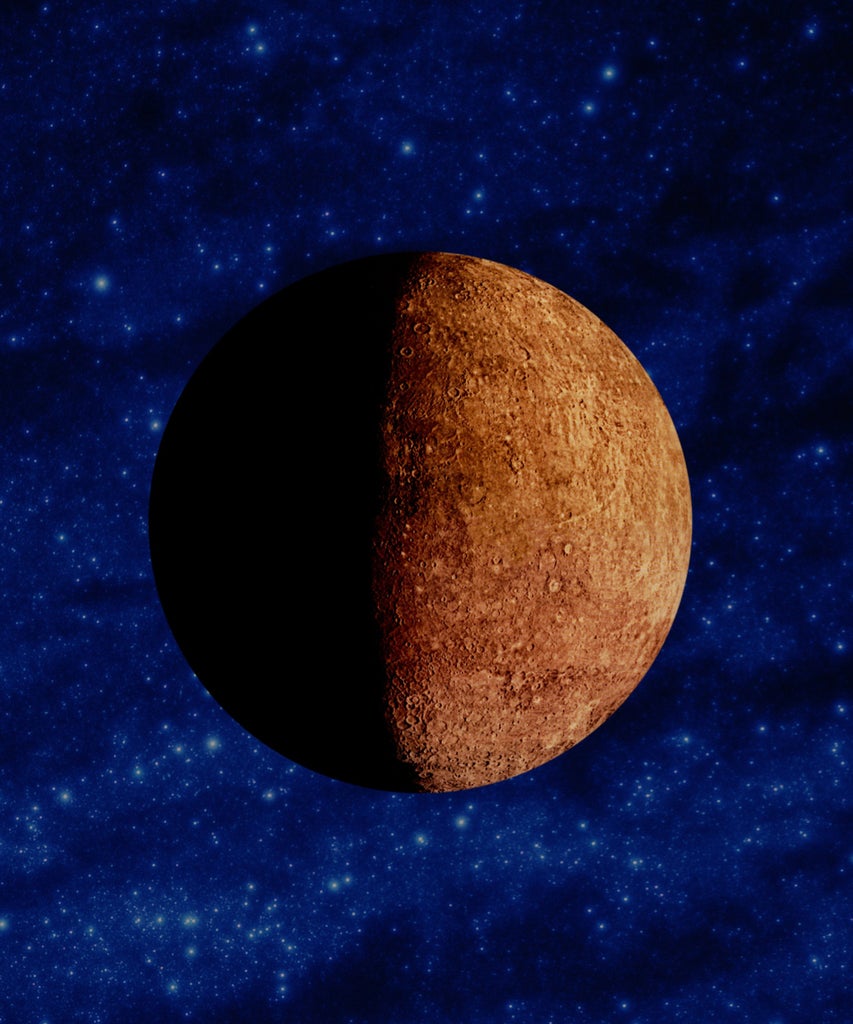 It's here: The last Mercury retrograde of 2020, starting on October 13 and, ominously, ending on November 3 — Election Day. We've been through a lot this year astrologically (and… not astrologically) and it's time to buckle up for one last wild ride.
As you may already be aware, Mercury retrograde is known to wreak havoc and bring confusion to all during its planetary moonwalk, astrologer Lisa Stardust tells Refinery29. "When the planet of communication, Mercury, starts slowing down in the cosmos, situations become more complex, ambiguous, and changeable here on Earth," she says.
Until November 13, the planet of Mars is also retrograde, and the combination of the two planets moving backwards is, honestly, not so great. "The first days of Mercury retrograde will be stressful due to the sun in Libra forming a challenging opposition with Mars retrograde in Aries," Narayana Montúfar, senior astrologer for SunSigns.com, tells Refinery29. She also points out that this transit is happening mostly in Scorpio, a sign that Mars traditionally rules, making the energy more intense. A good move during the first days of Mercury retrograde would be to keep your schedule light to avoid feeling overwhelmed and stretched too thin.
More on the Scorpio of it all: Montúfar says that since the passionate sign is nocturnal, it prefers quiet and solitude. So while we'll find ourselves experiencing textbook Mercury retrograde problems (misunderstandings, tech issues, exes resurfacing — you know the drill), instead of reacting and trying to put out fires, it's best to retreat, think, and ruminate about the situations at hand.
Mercury will square Saturn on November 1 as it's preparing to go direct, Montúfar says. "There will be obstacles and pressure along the way, most likely from authority figures," she says. "It will be important to de-stress, focus on self-care, and ask for help when we need it." She's serious about that last one: "The helpful sextile Mercury will be forming with Venus from October 13 to 17 indicates that people will be able to help us along the way, if we dare to ask for it."
Mercury's backwards dance will move from Scorpio into Libra on October 27, Leslie Hale, psychic astrologer at Keen.com, tells Refinery29. "Our focus will change to relationships and partnerships at this time," she says. "During Mercury's time in this sign, we will re-consider our closest partnerships and what we are getting out of them." Remember: It's not a great time for communication, so it may be better to wait until after the planet turns direct to tackle your relationship issues head on. But this is a good time to think about your partnership and ask yourself if you're getting what you need.
Mercury turns direct on arguably one of the most important days of the year: Election Day. The last time Mercury stationed direct on Election Day, Stardust points out, was during the 2000 election, when Al Gore won …read more
Source:: Refinery29
(Visited 4 times, 1 visits today)