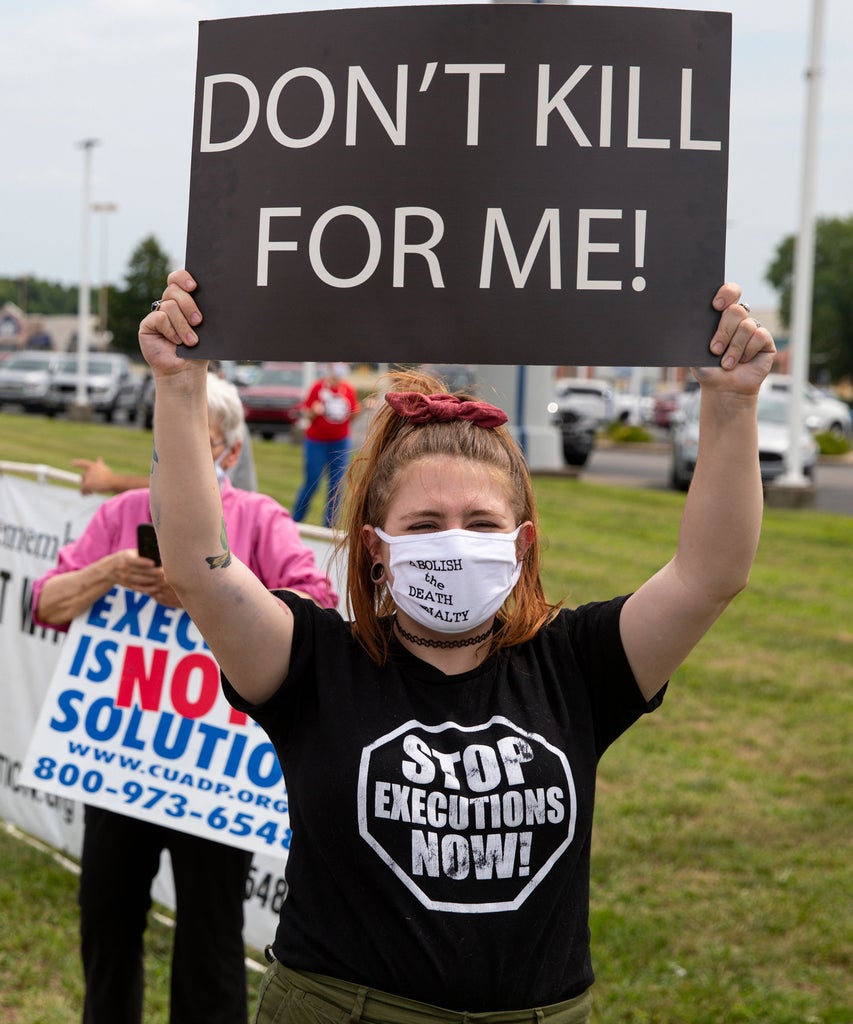 Mandatory Credit: Photo by Michael Conroy/AP/Shutterstock (10712579d)
Protesters against the death penalty gather in Terre Haute, Ind., . Wesley Ira Purkey, convicted of a gruesome 1998 kidnapping and killing, is scheduled to be executed Wednesday evening at the federal prison in Terre Haute
Federal Executions, Terre Haute, United States – 15 Jul 2020
Update: Lisa Montgomery, who was scheduled to be executed today at the United States Penitentiary  in Terre Haute, Indiana, filed a petition against her execution. Her motion to stay has officially been granted, and the execution will not proceed. However, President Trump has three more executions scheduled for this week at Terre Haute. Many continue to plea with Attorney General Rosen to stop all remaining executions this week.
This story was originally published on December 22, 2020.
Next month, Lisa Montgomery is scheduled to be killed by the United States government. After 17 years of no federal executions, the U.S. has recently started carrying them out again — with Brandon Bernard being killed this past month. Montgomery is the only woman on federal death row, and one of only 51 women on death rows across the country. If she is killed, she will be the first woman executed by the federal government since 1953.
But, President Donald Trump has decided to go on something of a killing spree before he leaves office, and chose to move ahead with six executions in his lame-duck period, including Bernard's. Montgomery has been sentenced to die by lethal injection on January 12, 2021 for the 2004 murder of Bobbie Jo Stinnett, a pregnant woman whom Montgomery strangled, before cutting open her stomach and kidnapping the baby within. The child survived and was found when Montgomery was arrested.
Make no mistake: Montgomery is guilty of this horrific crime. But she was also the victim of horrific crimes herself; and moreover, as the New York Times reports in a recent piece on her: "She was sentenced to death because her trial lawyers, uninformed about gender violence, didn't seem to understand how to defend her."
From infancy and through adolescence, Montgomery endured horrific domestic abuse from her mother and sexual assault at the hands of her stepfather in addition to other forms of abuse, including forced prostitution. Addled with trauma, Montgomery developed, the Times reports, "bipolar disorder, temporal lobe epilepsy, complex post-traumatic stress disorder (c-PTSD), dissociative disorder, psychosis, traumatic brain injury, and likely fetal alcohol syndrome." She was also "born into a family rife with mental illness, including schizophrenia, bipolar disorder and depression."
These extenuating circumstances could and should have been used by her attorneys to demonstrate that, no matter the severity of her crimes, Montgomery should not be given the death penalty. But, during her jury in her 2007 trial, her attorneys — all men — didn't give the jury …read more
Source:: Refinery29
(Visited 4 times, 1 visits today)