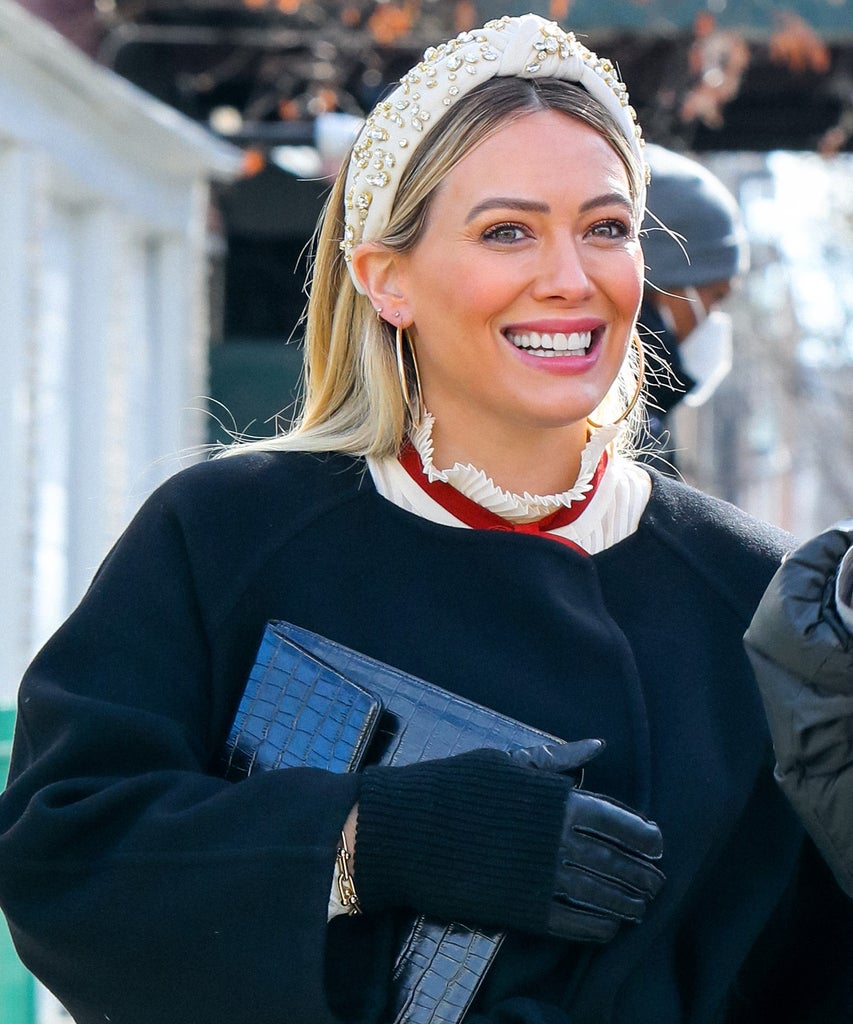 Just before the weekend, Hilary Duff decided to once again delve into the world of bright and bold hair colors. With the help of a team of stylists, the actress went from her signature buttery blonde to vibrant cotton-candy blue. 
"Well…. you guessed it," Duff wrote on her Instagram on Friday. "The minute I got home from New York I needed a change." She gave a gushing shoutout to her L.A.-based stylists Nikki Lee and Riawna Capri for making her hair-color itch a reality. For anyone wondering if Duff, who is currently pregnant, chose blue as a sneaky gender reveal, not so fast. "I swear this doesn't mean I'm having a boy," the actress clarified. "My mom thought I was trying to tell everyone something!"
View this post on Instagram
A post shared by Hilary Duff (@hilaryduff)
Not only did Lee and Capri create the coolest shade of icy blue for the Younger star, but they shared their process so stylists could recreate the look. Though you should be warned: Duff says this color took "all damn day."
To achieve true blue and not a variation of green, Lee had to begin by bleaching Duff's hair to remove any yellow-blonde pigment. A word from the wise: Never forget color theory when dyeing your hair. "We did a quick pre-tone to kick out any unwanted yellow before applying the blue," Lee explained to Refinery29 via email after the fact. "This was an important step, as blue mixed with yellow could've gone green."
To go from bleach to blue, Lee then used Joico Color Intensity Dye in the shades True Blue and Mermaid Blue — specifically, one part True Blue, one part Mermaid Blue, and two parts Clear to dilute — and applied that mixture from roots to the mid-shaft. For the ends, she cocktailed the Mermaid Blue with "just a splash" of Peacock Green for dimension. To make sure Duff's hair came out glossy, smooth, and healthy, Lee and Capri finished off the process by using In Common Crystal Cashmere deep-conditioning treatment to both seal in the color and rehydrate the hair (which is a very important step after the hair's been hit with bleach and dye).
If you're a licensed colorist or a trained salon professional, you can use this product guide. However, Lee would not recommend taking a DIY approach to cotton-candy hair color. Instead, she offers that a safer option would be a semi-permanent dye, like Garnier Nutrisse Ultra Color in the shade Light Cool Denim. Unless you have some experience, you might want to leave the bleaching …read more
Source:: Refinery29
(Visited 5 times, 1 visits today)