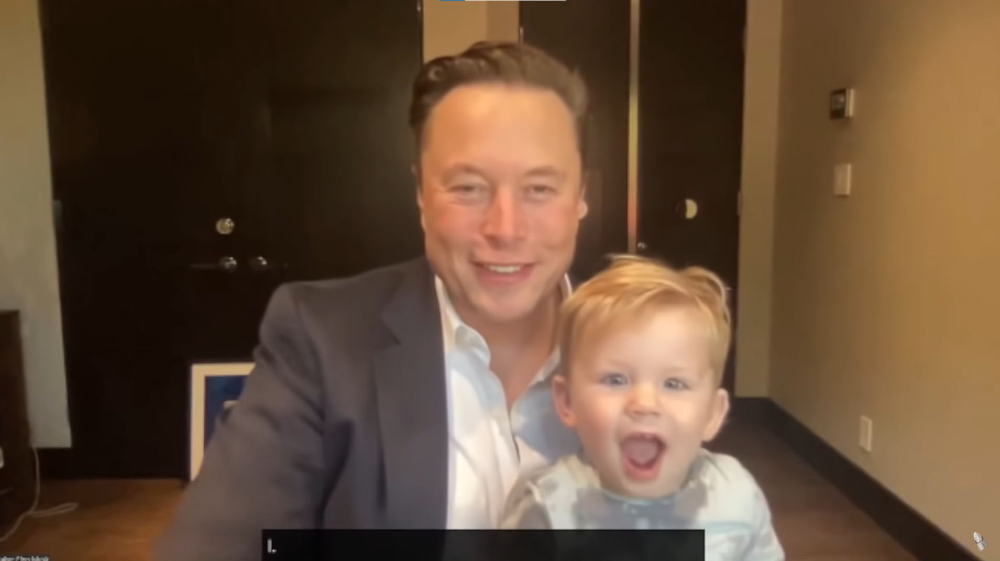 Elon Musk held an online SpaceX presentation at the National Academy of Sciences, Engineering and Medicine last Wednesday. The video was to show the developments in Starship, his reusable spacecraft. But the biggest surprise was that Elon showed up with his youngest child, X AE A-Xii, on his lap for the first two minutes of the demonstration. As the video played, or rather, experienced technical difficulties, X took the opportunity to vamp for the camera, giving his own commentary of what we were seeing on the screen. Most of his thoughts consisted of "Caa," "Oh, and "Hi." But given he was the only audio at the time, he was adorable and truly fascinated by what he was watching.
Elon Musk is an out-of-this-world father.
On Wednesday, Nov. 17, the 50-year-old entrepreneur, Tesla, and SpaceX founder delivered a virtual presentation at the National Academy of Sciences, Engineering and Medicine with a very special guest in attendance: his son, X AE A-Xii Musk.
As Elon shared the latest developments surrounding SpaceX's reusable spacecraft, Starship, baby X was all smiles as he happily listened to the presentation while sitting on his dad's lap.
The 18-month-old, whom Elon welcomed with ex-partner Grimes back in May 2020, cuddled in close as he watched a video segment from his dad's talk, adorably babbling throughout the entire clip and pointing at the spaceships in the sky with excitement.
When the video ended, X raised his hand in the air and showed off his own presentation skills by joining his dad's talk and greeting the other attendees, saying: "hi!" He followed up his introduction with a cute little dance, which made Elon laugh.
[From E!]
I posted the video below. X is on in the beginning and he's only on for a few minutes. As soon as Musk realized X was lapping him in personality, he had one of his minions cart him off. Fortunately for X, it was a human and not one of Musk's prototype grocery-shopping robots. Probably because the robot keeps putting the baby back on the wrong shelf.
Two things are prominent in the video: 1) Why the hell can't SpaceX figure out how to run a video? I don't have commercial space travel money but if I did, I'd want to know my space travel company could get themselves off mute. 2) X is adorable. I don't know why Musk trotted him out for this appearance but I'm glad he did because he's precious. Okay, I have one idea. I think X's sudden appearance might have had something to do with Musk's Twitter exchange last week. He got mad at Bernie Sanders – over taxes, of course – and made a nasty comment in which he said, "I keep forgetting you're still alive." Everyone sub-tweeted Musk's reply with some version of "Elon Musk when his kids call." So while I'm thrilled to see baby X, this does look like …read more
Source:: Cele|bitchy
(Visited 8 times, 1 visits today)