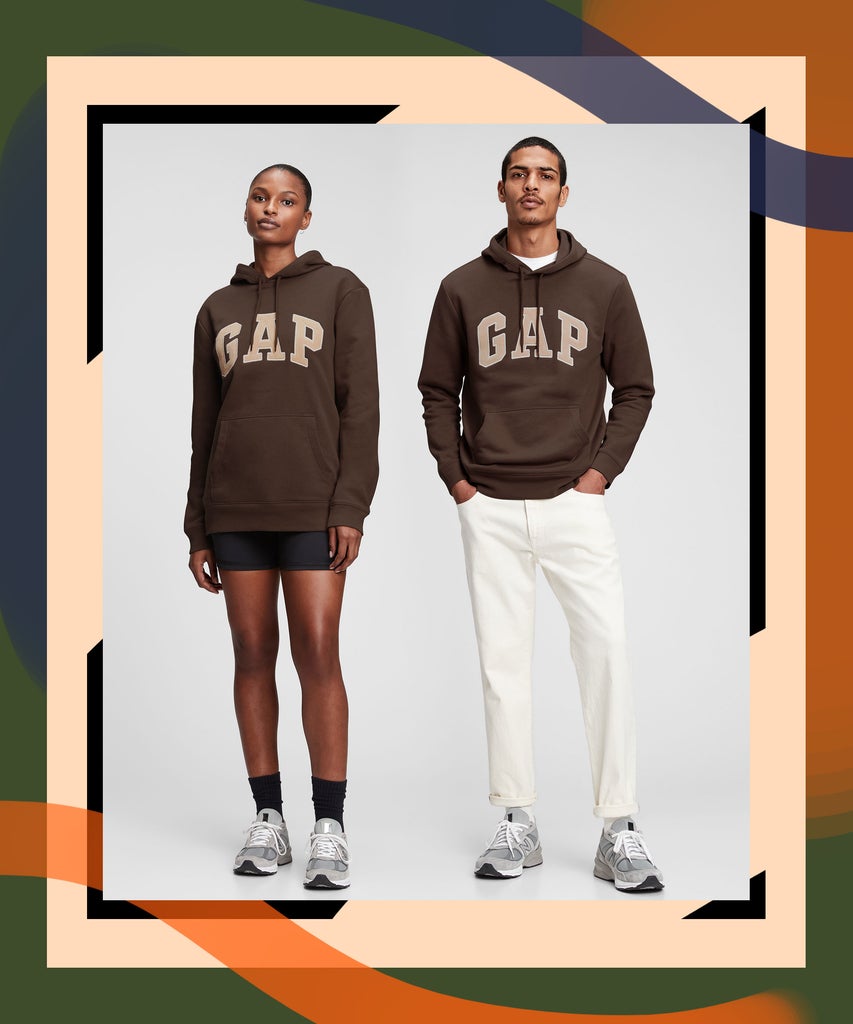 Gap, the ubiquitous San Francisco-based clothing retailer that's been around since 1969, is on the brink. In October, seven months into lockdown, as shifts in consumer spending due to the pandemic shuttered beloved brands like Need Supply and Sies Marjan and bankrupted retail kingpins like J.Crew and Neiman Marcus, Gap announced that it would be closing 350 Gap and Banana Republic stores in North America by the end of 2023, by which point, an estimated 870 stores will remain, compared to 1,216 in 2019, according to Insider. Sad times for the retailer that once united your favorite '90s supermodels, suburban dads, and tweens on a budget. 
View this post on Instagram
A post shared by emma chamberlain (@emmachamberlain)
But amid this trajectory were some bright spots that hint at Gap's future. In June 2020, Gap announced a decade-long deal with Kanye West's popular fashion brand Yeezy. (Two items from the Gap Yeezy collab — a cloud-like puffer coat available in blue and black — have since been released and met with both raised eyebrows and opened wallets.) In September 2020, Internet personality Emma Chamberlain posted photos of herself on Instagram, wearing white bikini bottoms and a thrifted Gap logo hoodie. She wore the latter in a post a few days later. Combined, Chamberlain's odes to Gap's navy blue sweatshirt garnered 4 million likes and over 12,000 comments on her Instagram. In turn, her fans newly designated Gap as "cool."
Roughly 20 years after its most recent heyday — a time when Naomi Campbell and Cindy Crawford wore Gap jeans on the cover of Vogue's 100th anniversary issue, stars like Sarah Jessica Parker and Madonna appeared in company ads, and Sharon Stone styled pieces from the brand alongside Vera Wang at the Oscars — people — young people, specifically — were once again talking about Gap. 
@barbarakristoffersen
fits
♬ Ski Mask The Slump God – Foot Fungus – Kiersten
Fashion and beauty TikToker Lola Clinton Hayward, who has over 78,000 followers, predicted in December that Gap would make a comeback. In a video titled, "Trend Predictions for 2021 Part 2," which has been viewed more than 397,000 times and has over 61,000 likes, Hayward included Gap as one of her bets for 2021, alongside fur-collared cardigans and patchwork tops, both of which have proven to be big this year. "I know some are already on trend, but they will be sm bigger trust me," the caption read. A month later, Barbara Kristoffersen, who has 265,000 followers on the platform, posted
Source:: Refinery29
(Visited 5 times, 1 visits today)