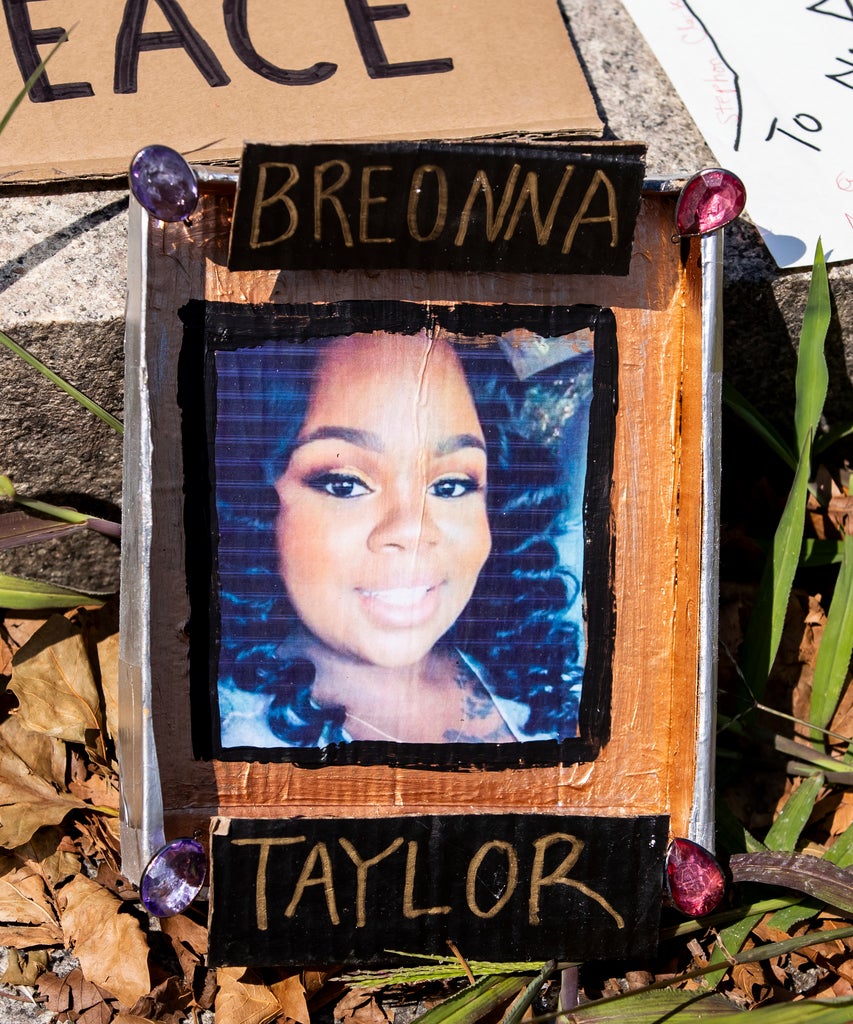 Breonna Taylor's family and the city of Louisville have reached a $12 million settlement almost exactly six months after she was killed by police in her apartment. In the largest amount ever paid out for a Black person killed by police in the United States, the civil suit is reportedly being kept separate from Attorney General Daniel Cameron's investigation, which will determine if the three officers involved in killing Taylor will face criminal charges. 
In a Tuesday press conference at Mayor Greg Fischer's office, they announced proposed police reforms and the $12 million payout. Among the reforms was a mandate to have a commanding officer sign off on all search warrants. In addition, there will be an expansion of drug testing for officers, updates to the process of investigating officers, and a new housing credit program to incentivize officers to live in low-income areas. 
The lawsuit waged by her family — and the new reforms — stem from allegations that the Louisville Metro Police Department used incorrect information to obtain a "no knock" warrant related to a drug investigation into Taylor's former boyfriend. After weeks of private negotiations with her family, they are speaking out on the settlement and governmental changes to say that while this is a start, they will still demand justice for Taylor's death.
"As significant as today is, it's only the beginning of getting full justice for Breonna. We must not lose focus on what the real drive is. It's time to move forward with the criminal charges because she deserves that and much more. Her beautiful spirit and personality is working through all of us on the ground, so please continue to say her name: Breonna Taylor," her mother Tamika L. Palmer said at the conference. 
That sentiment was the theme of the settlement announcement, with many who spoke, including civil rights attorney Ben Crump, making clear that while the settlement is important, the fight is not over. Tamika Mallory, an organizer with Until Freedom pushing for reforms in Louisville, spoke directly to Mayor Fischer. Mallory said that if the officers are not indicted, the community fully expects that every officer involved will be fired.
"The officers, Brett Hankinson, Myles Cosgrove, John Mattingly and Joshua Jaynes must be arrested," she stated. Closing out the event, an attorney with the ACLU of Kentucky, Katurah Herron, also demanded that the protestors in Louisville facing felony charges for seeking justice for Taylor be exonerated as a next step.
In addition to the settlement terms announced today, the Louisville Metro Council recently voted unanimously to ban no-knock warrants. The night Breonna Taylor was killed, the police who entered her home used a no-knock warrant to and claim to have announced themselves — a claim that Taylor's boyfriend Kenneth Walker, who was with her, has disputed. Now, it seems that Palmer, along with Taylor's whole family and community, will continue to apply pressure to the attorney general to bring forth criminal charges against the officers who killed her. …read more
Source:: Refinery29
(Visited 7 times, 1 visits today)