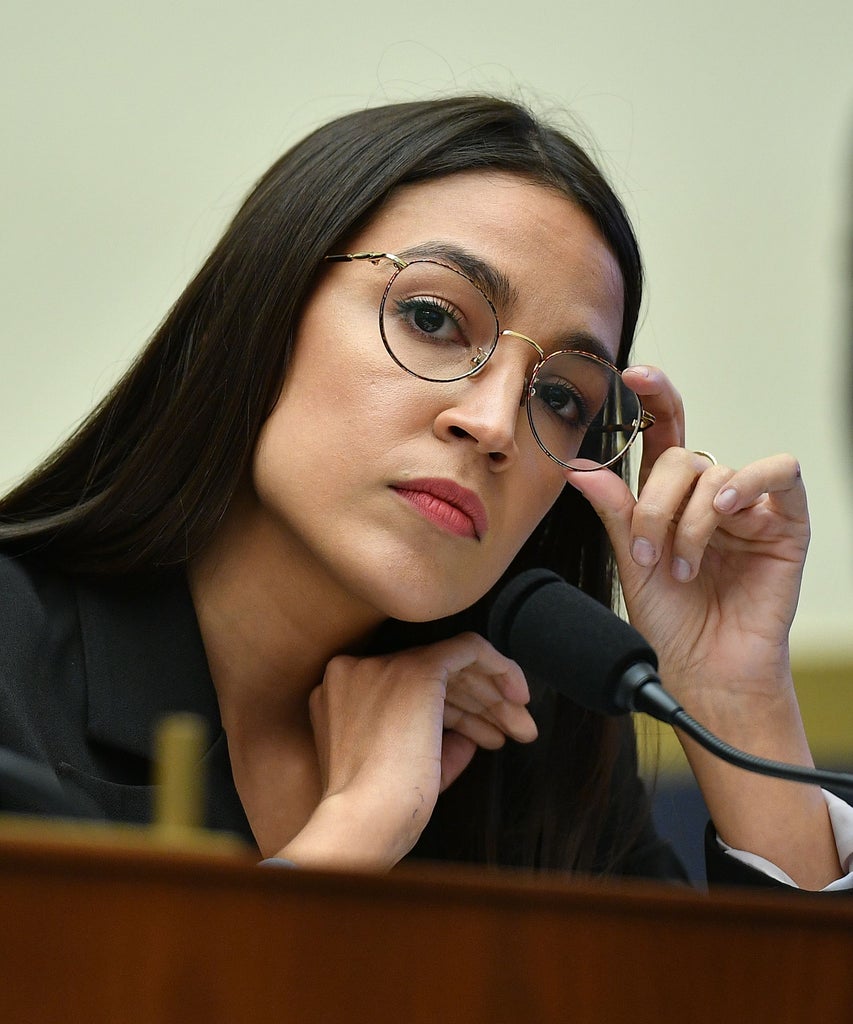 Rep. Alexandria Ocasio-Cortez(D-NY) listens as Facebook Chairman and CEO Mark Zuckerberg testifies before the House Financial Services Committee on "An Examination of Facebook and Its Impact on the Financial Services and Housing Sectors" in the Rayburn House Office Building in Washington, DC on October 23, 2019. (Photo by MANDEL NGAN / AFP) (Photo by MANDEL NGAN/AFP via Getty Images)
In an alarming video addressing the attack on the Capitol last week, Rep. Alexandria Ocasio-Cortez said that she did not know if she was going to "make it to the end of that day alive" after Trump supporters and extremist groups stormed the building where members of Congress were certifying the Electoral College votes. Between descriptions of her experience and that of fellow "Squad" member, Rep. Ayanna Pressley, some are suspecting that there are those on the inside who cannot be trusted.
"I myself did not feel safe going to that extraction point, because there were QAnon and white supremacist sympathizers and, frankly, white supremacist members of Congress in that extraction point who I know, and who I felt would disclose my location, who would create opportunities to allow me to be hurt, kidnapped, etc," Ocasio-Cortez said during her Instagram Live on Tuesday night. "And so, I didn't even feel safe around other members of Congress." At another point in the livestream, AOC said that she did not feel like it was an exaggeration to say that "many members of the House were nearly assassinated."
She did not provide further details about her experience on January 6, saying that she wasn't sure she could, given security issues. Throughout the violent insurrection, many Congress members were forced to evacuate either to designated safe areas or to barricade themselves in offices. "There was a sense that something was wrong," Ocasio-Cortez continued. "Obvious with the violence, but there was a sense that something was wrong from the inside."
While others rushed to other buildings on the Capitol grounds, members of Pressley's office barricaded themselves in, using furniture and extra water jugs that had accumulated during the pandemic. Pressley's chief of staff, Sarah Groh, said that during the attack they made an unsettling discovery. "Every panic button in my office had been torn out – the whole unit," Groh said, adding that she had used them before in that office. As Groh, Pressley, and her husband were escorted to several different secure locations, Groh said they were not only worried about the rioters, but because they didn't know which law enforcement officers they could trust.
Ocasio-Cortez echoed a similar experience saying, "But next to that, there was also acts of betrayal. And to run in the Capitol in our nation's capital and not knowing if an officer is there to help you or to harm you is also quite traumatizing." Whether she was referring to the Capitol officers who reportedly appeared to have joined the ranks of …read more
Source:: Refinery29
(Visited 10 times, 2 visits today)