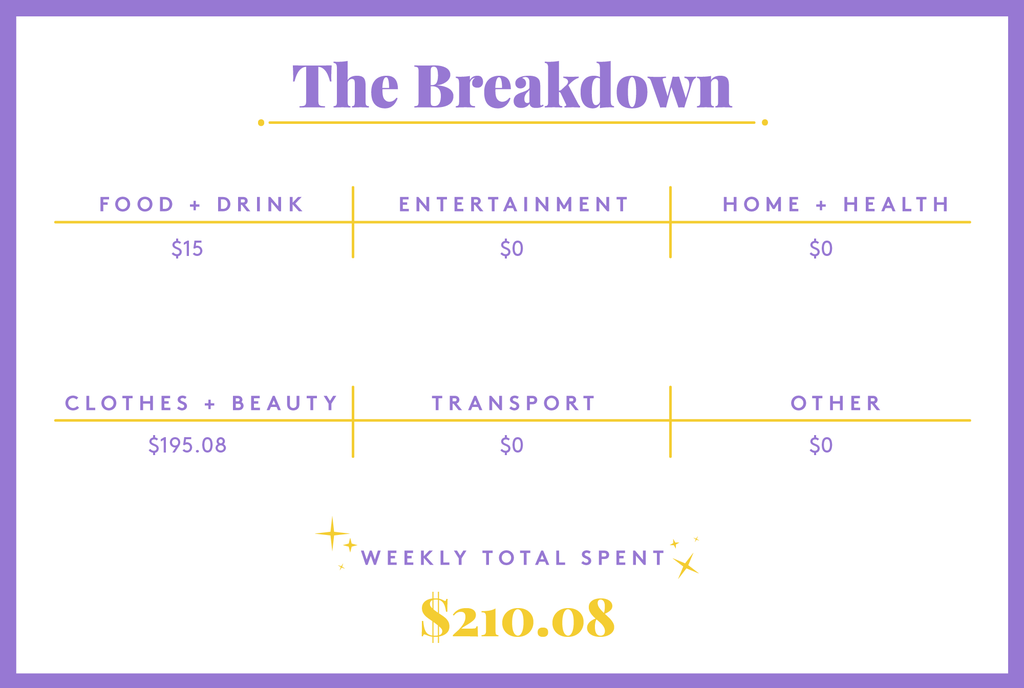 Welcome to Money Diaries where we are tackling the ever-present taboo that is money. We're asking real people how they spend their hard-earned money during a seven-day period — and we're tracking every last dollar.
Today: a consultant who makes $165,000 per year and spends some of her money this week on a J.Crew cashmere sweater.
Occupation: Consultant
Industry: Consulting
Age: 29
Location: Ski Town, CO
Salary: $165,000 base + $30,000-$40,000 annual bonus
Paycheck Amount (2x/month): $4,900
Net Worth: $55,700 (Assets minus liabilities) Assets: ~$20,000 in my checking account, $75,000 in a 401(k), and $35,000 in mutual funds. Total Debts/Liabilities: $74,231 to my parents. (Grad school was very expensive, but also worth it as my salary more than doubled. I am lucky that my parents gave me a loan with 3% interest, which is significantly below market rate.)
Debt: $74,231 (Student loans, mentioned above)
Pronouns: She/her
Monthly Expenses
Rent: $0. I'm currently living with my parents during the pandemic so I can pay off my student loans faster.
Debt Payment: $5,000 (I'm overpaying this right now because I'm not paying rent)
Storage Units: $150 (for all my things until I move out of my parents' house and back into my own apt)
Donations: ~$50-$100 (NPR, She Should Run, the Biden campaign, and Planned Parenthood)
Cell Phone: $0 (work pays)
Peleton App: $0 (sister pays)
Netflix: $0 (parents pay)
Medical/Vision/Dental Insurance: $187
Mutual Fund Investment: $3,400
401(k): ~$1,200 with an extra 3% of my salary matched by my employer
Was there an expectation for you to attend higher education? Did you participate in any form of higher education? If yes, how did you pay for it?
Absolutely. While both my parents came from middle-class families (my dad was a first-generation college student and my mom grew up without much guidance or support), they both paid their own way through college and graduate school. My parents always told us that they wanted to pay 100% for our undergraduate college education. Graduate school was paid for on my own dime, but they fronted the money.
Growing up, what kind of conversations did you have about money? Did your parent/guardian(s) educate you about finances?
Money was a common, open topic growing up. We grew up learning that "not buying a latte today will allow you to buy two in ten years." I was given an allowance but was expected to use that money to fund any discretionary purchases, aka going to the movies, presents, beauty products, and "fun" clothes. In kindergarten, my mom took me to the bank to open up a bank account and that was when I began saving.
What was your first job and why did you get it?
My first job was as a summer camp counselor in ninth grade. My first real job was as a sales associate at Gap between my freshman and sophomore year of college. I worked in retail every summer during college to supplement the menial (and in some cases non-existent) pay I received from political internships in D.C. Up until then, my parents gave me an allowance to pay for any personal purchases/expenses.
Did you worry about money growing up?
Not …read more
Source:: Refinery29
(Visited 7 times, 1 visits today)