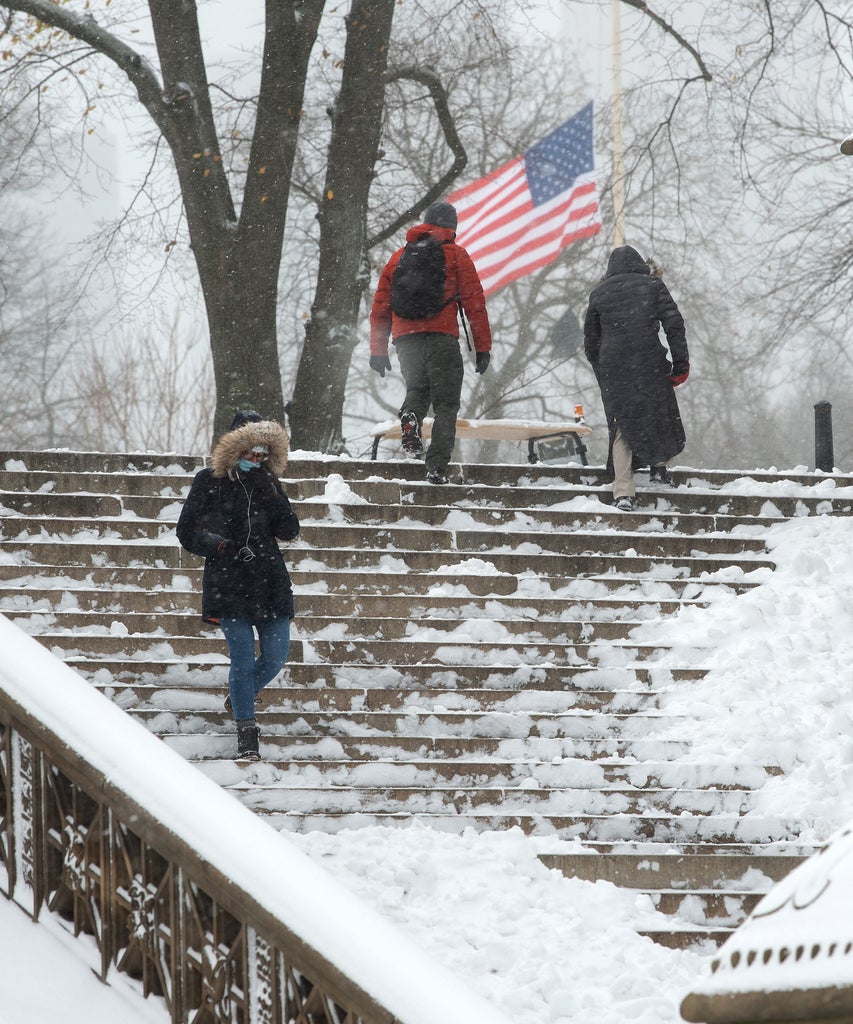 NEW YORK, NEW YORK – DECEMBER 17: A woman wearing a mask walks down the stairs during a snow storm at Bethesda Terrace Central Park on December 17, 2020 in New York City. New York City received 6 to 8 inches of snow in an overnight storm that resulted in local power outages and transportation delays during the first North Eastern storm of the season. The pandemic continues to cause long-term repercussions throughout the tourism and entertainment industries. (Photo by Alexi Rosenfeld/Getty Images)
It was roughly mid-August when it first occurred to me how much I was dreading winter in a pandemic. It was a feeling akin to the Sunday scaries. By September, I could feel the apprehension settling in, even though winter was a ways away.
I wasn't alone in my trepidation. In November, Vice President Elect Kamala Harris tweeted, "We are facing a dark winter if we don't get coronavirus under control." Of course, she was right. On the first official day of winter, 1,963 people died in the U.S. Now, in January, the number of deaths per day have roughly doubled.
Although I tried to focus on the positive vaccine rollout news and distract myself by rewatching Home Alone, my stress has only grown — and post-holidays, has turned into something like despair. "The sense of loss for people is more apparent in winter," says Steven Meyers, PhD, a clinical psychologist and professor at Roosevelt University in Chicago. "The pivot to winter is going to be more difficult, because even though the stress is going to stay relatively consistent, the outlets for coping that many people have used are going to be increasingly hard to come by."
He gives this analogy: "Imagine you're walking around in your daily life carrying a backpack that has 40 or 50 pounds of weight," he says. At times, you forget you're even wearing it. But it's always there, and if you're handed any additional weight (a violent, racist, and anti-Semitic attack on the nation's Capitol, for instance), and not given any chances to set it down (no more opportunities for safe outdoor meet-ups as the weather gets colder), it can grow to become unbearable.
While our routines do have to change during the winter, there are things you can do to lighten your stress load and make your first pandemic winter more bearable. Start with these expert-backed strategies.
Aim for "mental moderation"
"Some people are imagining this to be the worst time of their lives, creating anticipatory anxiety that may add burden on top of what they're already experiencing now," Dr. Meyers says. Others may be leaning too far in the other direction, and in their determination to stay upbeat are actually falling into a "toxic positivity" mindset. "The middle is the best," Dr. Meyers says. "Have the mindset that there will be challenges, but you can be resourceful and you can get through this."
Setting mindful intentions for yourself can keep you from tipping too …read more
Source:: Refinery29
(Visited 8 times, 1 visits today)