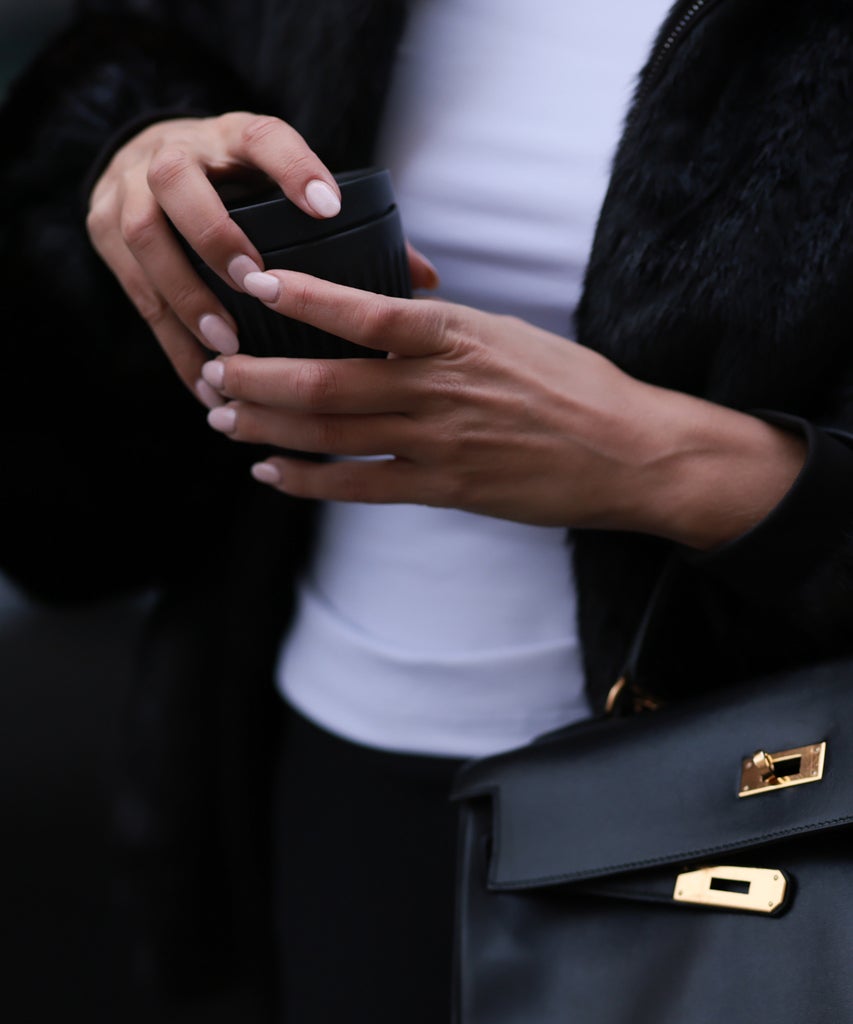 BERLIN, GERMANY – NOVEMBER 14: Alessa Winter seen wearing Weekday white cotton top, The Frankie Shop black fluffy fake fur jacket, Saint Laurent black silk long skirt, Hermès Kelly black leather bag, on November 14, 2023 in Berlin, Germany. (Photo by Jeremy Moeller/Getty Images)
The art of the manicure is all about experimentation. This fall maybe you got into the "natural nail" aesthetic, doing your nails at home to save money and time sitting at a salon. It's possible that TikTok influenced you to try the red-nail theory that had many of us wearing (and considering the subliminal messaging of) Big Apple Red.
There are so many trends to try. Given the state of the economy, it stands to reason that many of us will be DIYing the designs, trying our hand (literally) at a simple, single color manicure. Here, we give you a mix, so whether you're heading to a salon before the holidays or painting your nails at home — realistically, you'll do both this season — here are some ideas to inspire.
Four-point star
View this post on Instagram
A post shared by Lauren Ladnier (@laurenladnier)
The biggest nail-art trend of the moment reminds me of Troye Sivan's Vinnpatararin tank top in the "Got Me Started" music video (which Timothée Chalamet went on to parody on SNL). It's essentially a four-point star in the center of the nail. You can get creative with your color combo. This manicure on influencer Lauren Ladniera, a black star over a natural nail, is a minimalist take on the trend. Add a crystal for accent.
Snake print
View this post on Instagram
A post shared by Queenie Nguyen | elevated nail artist (@nailartbyqueenie)
While the tortoiseshell manicure tends to peak in the fall and winter months, this year we're seeing a different print take hold: the snake print. This is not only mesmerizing to watch (check out this tutorial) but the scaled effect is a bit more unexpected than a brown tortoiseshell. Plus, it incorporates greens, browns, and black tones.
Cherry mocha
View this post on Instagram
A post shared by Marianna Mäkelä (@mariannnan)
This manicure follows the makeup trend known as "cherry cola" lips, which involves lining your lips with a brown lip liner and filling them in with a sheer red gloss. Where nails are concerned, "cherry mocha" is all about sourcing a glossy shade of red with a brown undertone. Basically, we're talking about a good burgundy nail polish. Some of our …read more
Source:: Refinery29
(Visited 5 times, 1 visits today)