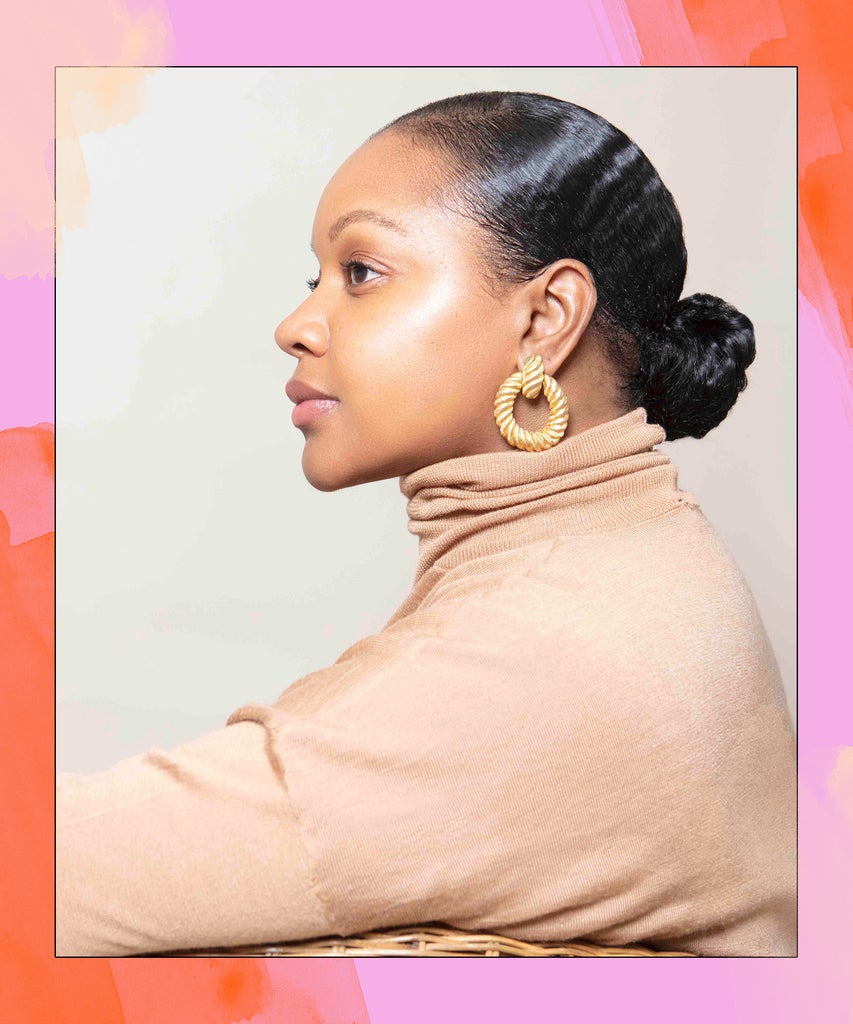 Lesley Thornton is an LA-based holistic esthetician & founder of eco-inclusive sustainable skincare line, KLUR. It is one of the very first Black, esthetician-owned lines to ever be sold in a major retailer, with a heavy focus on botanical ingredients and inclusive formulas. To Thornton, KLUR is more than just quality products and a conscious ethos. It's about a human connection. Here, Thornton walks Refinery29 through a week in her beauty routine. The following interview was told to Amanda Mitchell and has been edited for length and clarity.
Monday
I wake up at around 7am and drink 8-10 ounces of water with lemon and trace minerals, which I keep in a mason jar next to my bed. The first hour of the morning is all about my wellbeing. My morning skincare is short and effective, focused on hydration and protection. I splash water on my face and use Klur Symmetry Fluid which works well under the La Roche-Posay Toleriane Double Repair Face Moisturizer UV.
I prepare herbal tea. I drink it every day and love the ritual. Then I go outside and enjoy my tea, water plants or put my bare feet in the grass. I always try to get in some level movement in the morning, even if it's just 15 minutes on my Sunny Stepper, which is like a mini Stairmaster. At around 8am, I prepare my food, so when I need to eat it's ready, and I am at my computer by 9am. I return emails, check socials and plan with Team Klur for the week. I work for a couple hours and take a coffee break at around noon.
I follow up with more calls and emails and then take some time to eat lunch at around 1pm: a huge veggie bowl with protein legumes and sprouts. I always take a 10-minute walk around the block. This keeps my glucose balanced and helps my digestion. I call my mom while on my walk and we chat about what we are making for dinner. 
Once I'm back home, I handle my personal affairs, clean up my office and take meetings. Around 4pm, I'll take a very short nap and then head to the gym where I sit in the infrared sauna. I take La Roche-Posay Thermal Spring Water Mist, peppermint essential oil and listen to a podcast followed by a 30 minute power walk. 
Tuesday
Tuesdays are busy, but I always make the time for a quick morning routine consisting of mineralized water, Nettle tea, 15 mins of movement and 5 minutes of oil pulling and tongue scraping. I always wear a little makeup for Zoom calls. I use Merit Foundation & Concealer Stick in Amber, MAC mascara and brow gel, Merit Lipstick in Tiger, Ami Cole Lip Oil, and NARS concealer. 
I make a protein coffee with dandelion and
Source:: Refinery29
(Visited 1 times, 1 visits today)