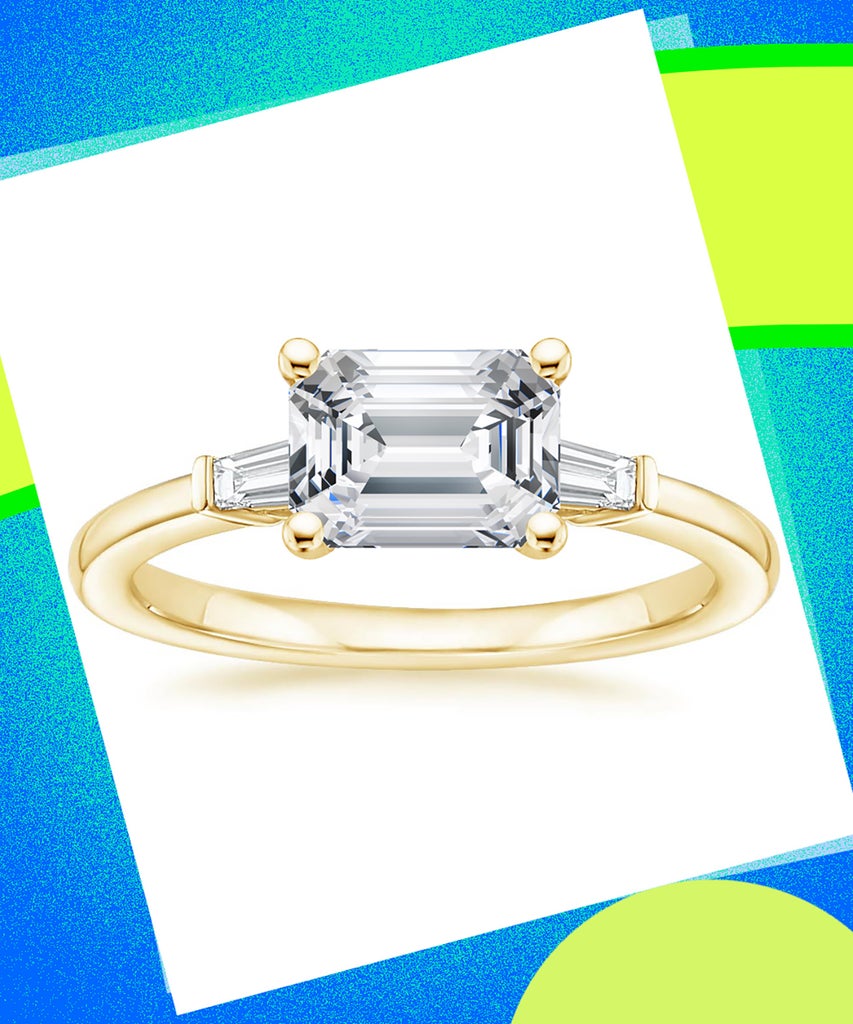 Unlike popular runway styles, engagement ring trends tend to move on a slower, subtler track (there's not a wedding ring equivalent of a butterfly top or leather harness, after all).  Even so, options are still diverse and run the gamut, ranging from traditional designs like solitaire settings all the way to modern interpretations like black diamond ring rings or bezel-set bands. This year, experts are pointing to a similarly varied array of ring trends that will be seen everywhere, with options that both die-hard minimalists and those with bolder tastes can envision slipping on their fingers.
If you happen to be in the market for an engagement ring and find yourself overwhelmed by choosing one style to wear for the rest of your life — don't. "Often people put a lot of pressure on an engagement ring, thinking they have to love it forever, so they end up choosing something traditional," Meadowlark co-founder Claire Hammon says. "But things change, and you can remodel your ring in the future as your style evolves."
When looking for an engagement ring that resonates with your personal style, designer Ashley Zhang says to begin with a digital mood board of sorts. "Save screenshots of any and all styles of rings you like. After a few weeks you might be surprised to find that a few of them have similar looks or elements," she says. Once you have a general sense of the vibe you're going for, according to GIA expert Nellie Barnett, you should focus on the center stone, asking questions like: "Are you a dazzling diamond type of person or attracted to a pop of color using emerald, morganite, or a different kind of gemstone?" From there, she adds, look for a gemstone with a report. 
All of this to say, choosing an engagement ring that's right for you isn't a perfect science. It's a mix of gut instinct and what's available in the current market. If you're not sure where to start, ahead, seven trends that have taken over 2023. 
Rings With Colored Stones
Non-diamond center stones have steadily climbed in popularity over the last few years and experts point to this trend as one that will only continue to grow. "Colored stones will be going strong for a long time," Hammon predicts. Zhang notes that her team has also been receiving more requests for colored stones than ever before. "These can either be as the center and main stone or as accents," she says. "Using colored gemstones is a great way to have a unique look… These rings still feel bridal and special but also bold and different." 
Yellow Gold Bands
While Sex and the City's Carrie Bradshaw had a bone to pick with her yellow gold engagement ring band, the trend has become a preferred option in recent years. "Yellow gold is our most requested metal," Zhang says. "I think this choice in settings will stay strong. The contrast of the yellow with white diamonds really makes them pop." …read more
Source:: Refinery29
(Visited 2 times, 1 visits today)