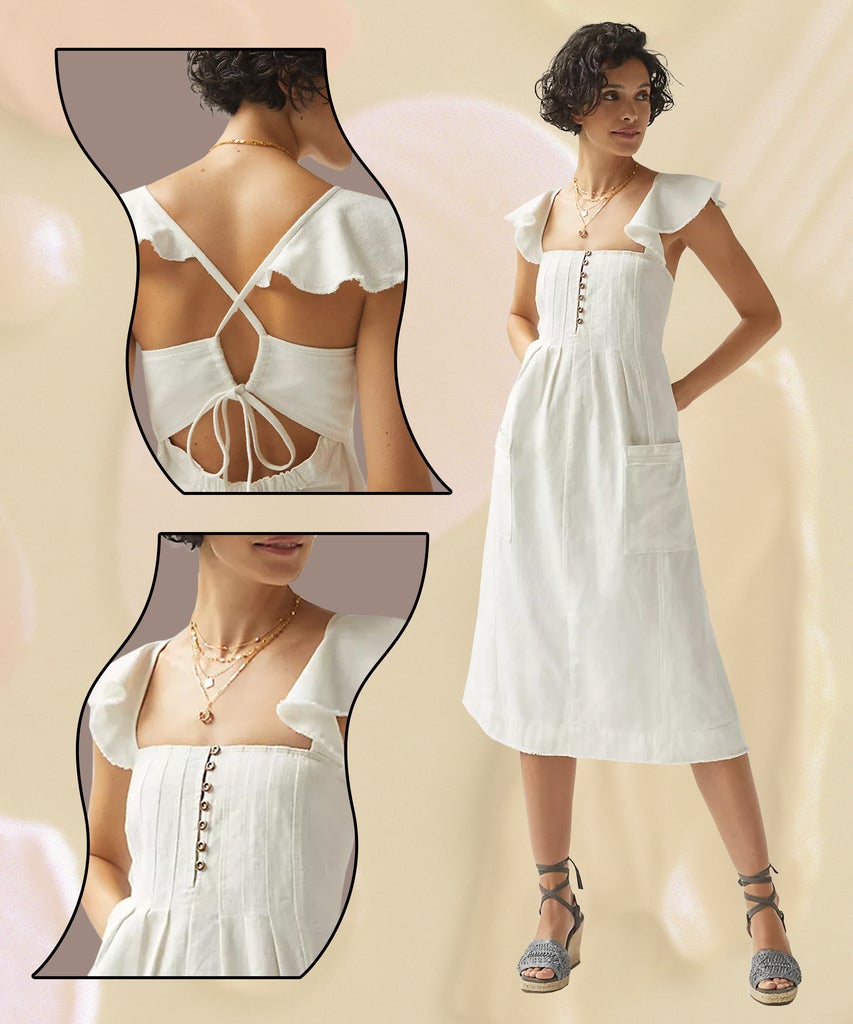 Do you ever find yourself clicking past page after page of a brand's sale section, utterly and completely bored? Worry not, fair readers. We did all the deal-related heavy lifting and brought you only the best that sales sections have to offer from some of your favorite brands. Whether it's up to 60% off on must-have summer outfits from J. Crew and Anthropologie or up to 70% off sofas and outdoor furniture from West Elm and Wayfair, these are the crème de la crème of brands that are always running a promotion. Trust us: These deals are so good you won't be able to stop yourself from adding them all to cart. So, keep scrolling to see which sale sections are the ones that are totally worth checking out.
DashDividers_1_500x100
Extra 60% Off J. Crew Sale
Whether you're shopping for flattering swimsuits, casual dresses, or office-appropriate outfits, J. Crew has got you covered and with a major discount. You can count on the brand to have some extra percent off its already on-sale section. This week, save an extra 60% off with the promo code SHOPSALE.
DashDividers_1_500x100
Extra 40% Off Anthropologie Sale
If the stars aligned correctly and you're lucky enough to catch Anthropologie's extra discount on its sale section (like right now with its extra 40% off promotion), congratulations! If not, don't worry. Anthropologie's normal sale section is full of cute clothes, home decor, bedding, and more.
DashDividers_1_500x100
Up To 87% Off At Ella Paradis
In need of some new extra-fun toys? Ella Paradis always has a sale going — some better than others, of course — there's never a need to pay full price for anything. This week, pick between the up-to-87%-off promo on all Better Love toys or the up to 70% off sitewide with promo code PRIDE.
DashDividers_1_500x100
Up To 60% Off Nordstrom
You know we love Nordstrom's sale section. With new styles added all the time, there's never a reason to get bored exploring all the up-to-60%-off super-discounted items — from breezy dresses and pastel heels to home decor and fragrance.
DashDividers_1_500x100
Up To 50% Off At West Elm
You might not know that West Elm's sale section is actually a worth-checking-out spot when shopping for furniture and home decor. This week, get up to 50% off select in-stock and ready-to-ship items and save up to 40% off on ready-to-ship furniture.
DashDividers_1_500x100
Up To 70% Off At Wayfair
Of course, this list would be incomplete without mentioning everyone's favorite always-on-sale retailer: Wayfair. If you're redecorating your living room, office space, or patio, count on Wayfair have a promotion running. This week, the brand has the Warehouse Clearout event — which includes styles for up to 70% off — and its regular up-to-50% sale section,
DashDividers_1_500x100
At Refinery29, we're here to help you navigate this overwhelming world of stuff. All of …read more
Source:: Refinery29
(Visited 8 times, 1 visits today)