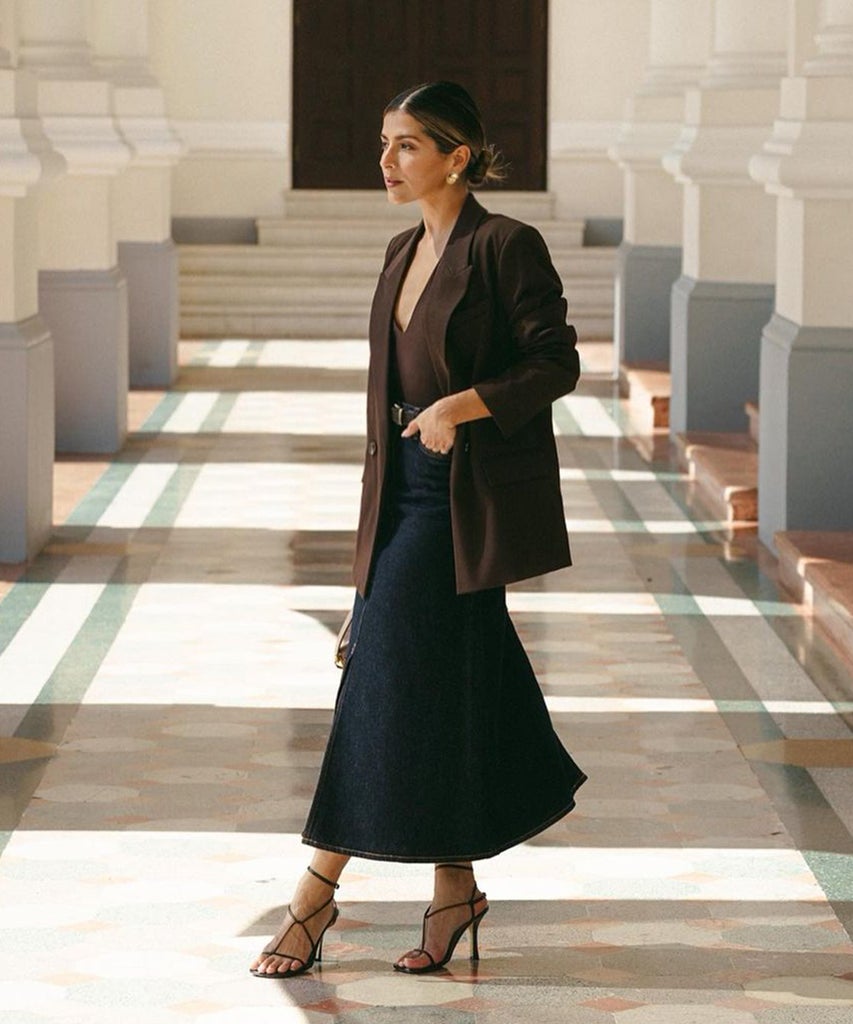 As a fashion editor, I tend to lean on 10 key items when getting dressed for work during the year's coldest months. From midi skirts, to knee-high boots, to versatile knitwear, I know I can put an outfit together in the (literal) dark, as long as I have these items at hand. 
Dressing for the office is a skill that can be tricky to master. It's easy to get bored with our rotations of suit trousers and blazers, or feel stuck between wanting to express ourselves and sticking to the office dress code. While it sounds like a separate, curated work wardrobe is the solution (i.e., a lot less stress in the mornings) it's not always realistic—especially if you're trying to curb your consumption or, like many of us, don't have that much disposable income. 
When it comes to dressing for work during the winter, a whole new set of struggles crops up. Like—how do you stay warm and cozy while still looking professional? Are there ways to creatively style summer dresses and tops for the colder months? How do you keep fashion fun when you're commuting to work in rain, snow, and below-zero temperatures?
The good news is, there are tons of ways to make office fashion easier and more fun this winter. 
Scroll on for ideas on how to revamp your winter office wardrobe, along with inspiration from 10 stylish content creators.
Midi skirt
View this post on Instagram
A post shared by Pam Arias (@pamarias)
The versatility of the midi skirt is endless. From denim midis, to flowy, peasant-styles, to tailored midis for more corporate settings, these are definitely a key player for winter days at the office. Pair your midi skirt with a bodysuit and blazer like Pam Arias does here, or with a sweater or long-sleeved top. Just layer with tights (or jeans if you're daring!) and you're sorted.
A well-cut blazer
View this post on Instagram
A post shared by MECCA JAMES-WILLIAMS (@meccajw)
You'll likely have a few blazers already hanging in your closet (or perhaps, too many to count) but ask yourself, "Am I actually wearing them, or are they simply collecting dust?" The problem many of us have with blazers is that we haven't found the right cut or shape for our bodies. One rule of thumb: your blazer should align with your everyday style, and work effortlessly with the rest of your wardrobe. There's the oversized dad look, the slim style, the cropped alternative, and so many more to play with. Don't shy from color either, as Mecca James-Williams breezily demonstrates, transforming jeans and a white vest into a pitch-perfect office look. 
Chunky boots
Source:: Refinery29
(Visited 2 times, 1 visits today)